India, Thailand Boost Ties With Prayut's Visit
The two sides reaffirm a vision of cooperation on maritime security and economic connectivity.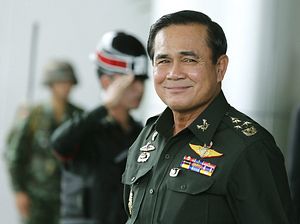 For the first time after a military coup deposed the civilian government of Yingluck Shinawatra, Thailand's new head of state and military ruler Prayut Chan-o-cha visited India on Thursday. New Delhi has been looking forward to the Thai delegation, which will further boost ties with the Southeast Asian nation.
According to local media reports, maritime security cooperation in the Indian Ocean was high on Prayut's agenda for the three-day visit.
On his first day, the Thai prime minister attended discussions with the Thailand team based in India on policy and assignments. On Friday, he met Indian Prime Minister Narendra Modi, along with External Affairs Minister Sushma Swaraj. During the visit, the two leaders discussed the progress made in the construction of the India-Myanmar-Thailand trilateral highway and renewed commitments to expedite the project.
The two leaders "are fully aware that smooth flow of goods, services, capital and human resources between our economies needs a strong network of air, land and sea links," Modi said in a press statement. The summit "prioritized completion of India-Myanmar-Thailand Trilateral highway; and early signing of the Motor Vehicles Agreement between our three countries."
Previously, Bangkok has expressed interest in tapping into the Modi government's initiatives such as "Make in India" and "Smart Cities" to boost its stagnating economy.
Thailand's delegation signed three major agreements during the visit, including an action plan for cultural exchange and two MoUs; between Nagaland University and Chiang Mai University for further cooperation in education, and between India's Axis Bank and Thailand's Kasikorn Bank.
The latter marked the first time that financial institutions of the two countries have entered an agreement. "This agreement will create [a] platform for partnership development in various spheres of inter-banking cooperation and facilitate joint projects as well as trade flows between India and Thailand," Preedee Daochai, president of Kasikorn Bank, said in a statement.
In a bid to boost tourism from Thailand, the Indian prime minister also announced double entry e-tourist visas for Thai tourists, which will soon come into effect.
New Delhi is seeking closer ties with Southeast Asian nations and Thailand's central position makes it a strategically important partner. Nehginpao Kipgen, a political scientist and executive director of the Center for Southeast Asian Studies at Jindal School of International Affairs, believes that "India's engagement with her Southeast Asian neighbors has not been robust."
However, "the fact that the Thai territory has not been used as a safe haven by forces (insurgents or terrorists) against India is … progress," he added.
Since the military junta came to power in Thailand, India has lost ground due to Prayut's tilt toward Beijing. As far as China's role is concerned, Kipgen said if the two sides share "a mutual desire to improve bilateral ties between New Delhi and Bangkok, the role of Beijing will be insignificant and will not be a hindrance. The Indian government must use its soft power to stay closer to Thailand."
A more pressing concern is the military junta itself, which has sparked human rights concerns in other democracies. Thailand's 6-4-6-4 plan for democracy doesn't seem to be making much progress. However, the form of another country's government is hardly ever a defining factor in relations with India and, Kipgen says, is "less significant in the shaping of India's foreign policy."
Kipgen has reiterated other analysts saying that as the largest democracy and a regional power, "India can use the opportunity to highlight its concerns on human rights and the country's need to restore democracy."
Aditya Sharma is an author at the news website India.com. He tweets at @aditya1869.
This piece was previously published at India.com and is reprinted here with permission.