Thailand's Relevance for India's Act East Policy
Thailand can be India's gateway to Southeast Asia.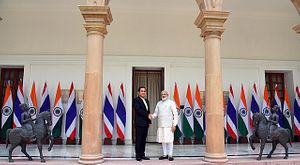 Over the past two decades, India has strengthened its outreach towards Southeast Asia, in both economic and strategic spheres. ASEAN has become India's fourth largest trading partner. Trade between India and ASEAN is now estimated at $70 billion in 2016-17.
Recently, India extended an invitation for the leaders of the 10 ASEAN member states to visit the country for the Republic Day celebrations on January 26, 2018. 2017 marks the 25th anniversary of ASEAN-India relations.
Thailand's significance has increased in recent years. Not only is it a neighbor of Myanmar, which India has also sought to court, but also shares some growing discomfort with China's rise. The two countries have historic links, particularly through Buddhism, and there is a large Indian diaspora in Thailand.
In recent years, there have been renewed efforts to increase land connectivity between India and Southeast Asia, via Myanmar. The India-Myanmar-Thailand trilateral highway will help in connecting South Asia with Southeast Asia. An India-Myanmar-Thailand trilateral, which has been spoken of for some time, is becoming increasingly imperative, not just in the context of this highway, but the Dawei Project as well.
The Dawei Project has acquired equal importance with the highway in the context of trade and connectivity. Dawei is a port city in southeastern Myanmar. Myanmar and Thailand are jointly developing it as a deep sea port and special economic zone with a whopping investment of $8 billion. India is also planning to connect the port with Chennai, it will not only provide India an alternative sea route to Southeast Asia, but also will reduce dependency on the congested Strait of Malacca, cutting transport time.
People-to-people contacts are reasonable, with over a million Indians visiting Thailand every year. During Thai Prime Minister Prayut Chan-o-cha's visit in June 2016, the joint statement categorically stated:
The ties between the two countries are intertwined and deep rooted in history, with interactions in multidimensional fronts, and extensive people-to-people contacts. In addition to the wide range of cooperation, Thailand and India have compatible strategies of Look West and Act East respectively, now evolved into a comprehensive partnership
If one were to look at the economic sphere, trade between the two countries is estimated at over $7 billion in 2016. Both sides had agreed to establish an FTA in 2010, but it hit significant roadblocks. In 2006, both sides agreed to remove tariffs on over 80 items (including food products, auto products, electronic goods, jewelry) under the Early Harvest Scheme. Talks on the FTA are still ongoing.
Thai investment in India is currently estimated at $164 million. One of the major projects which Thailand has undertaken is the Kolkata airport. According to the Thai embassy in India "Major Thai companies active in India include Charoen Pokphand (CP) Group, Italian-Thai Development (ITD), Delta Electronics, Rockworth Office Furniture, Krung Thai Bank, Thai Summit Auto, Pruksa Real Estate, Thai Airways International, and SCG Trading."
During his 2016 visit, the Thai prime minister's offered to facilitate Indian investments into ASEAN. He remarked, "there are many opportunities for Indian business in the wider Asean(Association for Southeast Asian Nations) region. Thailand can be like a forward base for Indian investors to Asean."
Political leadership

Manmohan Singh, whose contributions towards strengthening ties with Southeast Asia were significant, invited then-Thai Prime Minister Yingluck Shinawatra for  the Republic Day Parade in 2012. In May 2013, Singh visited Thailand and a number of issues were discussed including the participation of Thailand in India's infrastructural development. The joint statement stated:
India invited participation of the Thai private sector in India's plans to modernize and upgrade manufacturing and infrastructure sectors, especially in Delhi-Mumbai and Chennai-Bangalore Industrial Corridors, the Buddhist circuit and the North-East States of India. India also welcomed Thai investment particularly in sectors such as ports and highways, electronics, automobile components, food processing and power generation, as well as tourism and hospitality facilities.
Current Indian Prime Minister Narendra Modi also realizes the strategic importance of Thailand. During Prayut Chan-o-cha's visit in June 2016, Modi spoke about the relevance of deeper defence and maritime cooperation between both countries. En route Japan, Modi also made a stop over at Thailand in November 2016,  to pay his respects to King Bhumibol, who died in October 2016 after a protracted illness.
While there is significant progress in bilateral ties a number of steps need to be taken to move the relationship forward.
First, the region's changing geopolitical dynamics are obstructing the completion of a Free Trade Agreement (FTA). Deft political handling of remaining issues is necessary. During the Thai prime minister's visit in June 2016, Modi made it unequivocally clear that his government will seek to push through the FTA. This will help not only in improving bilateral ties, but also in creating greater opportunities for India in the ASEAN region as a whole, since Thailand can be a good gateway for India to the rest of Southeast Asia.
Second, it is important to effectively promote Indian soft power. While there has been an increasing emphasis on promoting India studies in Thai universities, with centers for India studies popping up, it is important to ensure that they are effective institutions.
Lastly, a greater role needs to be given to Indian state governments which have historical connections as well as economic interests in Thailand. Tamil Nadu, for instance, is important because of the efforts to connect Dawei Port with Chennai. States like West Bengal have both historic and economic connections with Thailand, while Bihar and Thailand can build close links through Buddhism.
Given Thailand's geostrategic location, economic interests and apprehensions about China it is time that New Delhi seek to cash in on the goodwill it has in Bangkok. Indian should also work at strengthening the India-Thailand-Myanmar trilateral as this will yeild benefits for the intersecting bilateral relationships as well.
Tridivesh Singh Maini is a New Delhi-based policy analyst associated with the Jindal School of International Affairs, OP Jindal Global University – Sonipat. Sandeep Sachdeva is an independent policy analyst.