Indian PM Modi Kicks Off 5 Country Tour, Visiting Afghanistan, Qatar
The Indian prime minister begins June with a five-day, five-nation tour, stopping in Afghanistan and Qatar first.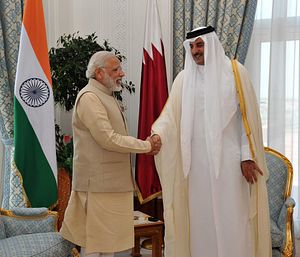 On Saturday and Sunday, with stops in Afghanistan and Qatar, Indian Prime Minister Narendra Modi wrapped up the first two legs of a busy five-day, five-nation tour. On Sunday evening, Modi departed to Switzerland, after which he will head to the United States and Mexico.
In Afghanistan, Modi and President Ashraf Ghani inaugurated the $290 million Salma Dam hydroelectric power project in Herat province. The meeting between the two leaders is the second in a span of weeks. In late-May, Ghani had traveled to Iran for the signing of the trilateral India-Iran-Afghanistan agreement for the development of the Chabahar port. Moreover, on Saturday, Modi emphasized India's ongoing commitment to Afghanistan's development and thanked Afghanistan's military and police forces for protecting Indians in Afghanistan.
In Qatar, where he arrived Saturday evening, Modi met with Qatari Prime Minister Abdullah bin Nasser bin Khalifa Al Thani and Emir Sheikh Tamim bin Hamad Al-Thani, among other officials. The visit to the small but wealthy Middle Eastern country continues a streak of Indian engagement with the Middle East over the past few months. In April, Modi visited Saudi Arabia and, in May, Modi conferred with Iranian officials, becoming the first Indian prime minister to visit Tehran for a state visit in over a decade.
In Qatar, like in Saudi Arabia and Iran, energy issues featured prominently on the agenda. Last year, India imported 65 percent of its liquefied natural gas (LNG) from Qatar, making the state its largest provider. Qatar, therefore, is an important partner for India. Likewise, for Qatar, India, as one of Asia's largest LNG importers, is an important energy market.
Keeping in line with his tendency to pitch India as a destination for foreign investment, Modi outlined opportunities in the country for Qatari business leaders on Sunday. He pushed for expanded business ties between the two countries. He additionally addressed an audience of Indian expatriates living abroad in Qatar.
The two countries signed a range of agreements, including memorandums on tourism, financial cooperation, infrastructure investment, cultural cooperation, and health care cooperation. Per one memorandum of understanding signed during the visit, Qatar will invest in India's National Investment and Infrastructure Fund. Moreover, Modi and his Qatari counterpart discussed broader strategic issues facing the region.
With the conclusion of his visit to Qatar, Modi continues his busy week of diplomacy by flying to Switzerland, where he'll discuss financial transparency issues among other topics before heading to Washington. In the United States, Modi will address a joint session of Congress, becoming the fifth Indian prime minister to do so. The last time an Indian prime minister addressed a joint session of Congress was in 2005.