India's First Hijra Music Group Roars to Victory in Cannes
6 Pack Band has put the stigmatized transgender community on the global creative map. But there's a long way to go.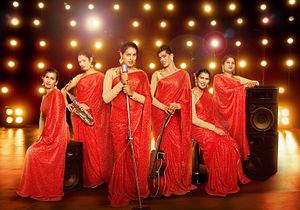 India's transgender (Hijra) community celebrated a win last week. Unlike the Supreme Court's vote to create a legal category for a third gender in 2014 – becoming the seventh country in the world to do so – this time the victory took place far from New Delhi at The Cannes Lions International Festival of Creativity.
Mindshare Mumbai, a creative agency, won the Cannes Grand Prix Glass Lion for collaborating with Y films to launch 6 Pack Band, India's first transgender music group, for Hindustan Unilever's Brooke Bond Red Label brand.
"It's a fantastic sign for a band of this nature to have picked up the most prestigious creative award in the world. It certainly puts us on the map," Raisa Ghosh of Y films told The Diplomat. "It's also a great confidence booster for brands and agencies to punt on content like this… Most importantly it gets a lot of conversation going about this hugely marginalized community into the mainstream which was the objective. And we're already seeing that happen."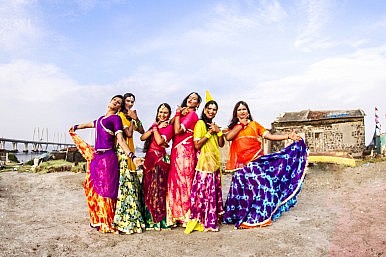 The Glass Lion honors campaigns in the worlds of advertising and creativity that aim to change the cultural conversation around entrenched gender biases and inequality. Indian campaigns won three Glass Lions of six total, with the other two by BBDO India and Ogilvy and Mather, respectively challenging gender norms in the realm of household chores and the availability of acid used to disfigure women in horrific attacks.
The Grand Prix winning 6 Pack Band took India by storm in January with "Hum Hain Happy," its video cover of Pharrell Williams' hit song "Happy." Beyond YouTube, the track quickly spread, being streamed on a number of homegrown music apps and turned into a ringtone by some of the country's more progressive mobile operators. The video has 1.9 million views on YouTube at the time of writing, and an estimated reach of 25 million people. The group's second track, "Sab Rab De Bande," has gained even more attention with nearly 3.6 million views. These numbers may seem like small ripples in an ocean of 1.2 billion people, but the group's formation signals a fundamental shift underway in India today.
6 Pack Band – comprising members Komal Jagtap, Bhavika Patil, Fida Khan, Chandrika Suvarnakar, Asha Jagtap and Ravina Jagtap – was launched in the spring of 2015 by Ashish Patil, head of Y films, the youth division of Bollywood blockbuster producer Yash Raj Films. While transgender rights have become a hot topic globally in recent years, the community has ancient roots in India. Today the country is home to an estimated 1.9 million hijras, who occupy a complex position in society that has shifted dramatically over the centuries. Hijra, an Urdu-Hindustani word, has been adopted into Hindi. The connotation is appropriate: the label is derived from the Semitic Arabic root hir ("leaving one's tribe").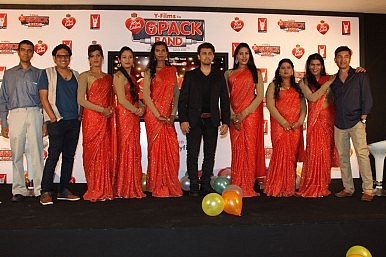 The name is appropriate, as they are often forced to leave. Hijras were criminalized under the British Raj and subsequently became routine victims of violence and discrimination. The harrowing account of Rudrani Chettri Chauhan, a hijra model based in Delhi, and her boyfriend being beat up last October puts the plight of hijras in stark relief. Underscoring the regional nature of hijras' struggle, prominent transgender woman and activist Alisha was tragically murdered in Pakistan this May. In such a hostile social climate, begging and sex work are among the only ways that many hijras can make money.
Banding together for survival, most hijras live in self-contained communities overseen by a guru. They typically hold syncretic religious beliefs, incorporating devotion to the mother goddess Bahuchara Mata, Lord Shiva, or some combination of the two. Every year in April/May, a reminder of the vitality of the hijra community occurs in the village of Koovagam, in the southern state of Tamil Nadu, where thousands of hijras make a singular pilgrimage. At a local temple, the transgender pilgrims celebrate Lord Krishna's transformation into female form to marry the warrior Aravan who fought in the Mahabharata War on the side of the five Pandava brothers.
As the story goes, Aravan sacrifices himself to seal the Pandava brothers' victory in battle, but only after first marrying and spending a night with a woman. The devotees first reenact the wedding between Krishna and Aravan, and later Aravan's sacrifice, which they mourn with ritualistic dances and the breaking of bangles.
As The New York Times points out, this festival has been going strong for a few hundred years, but it has only entered the mainstream recently thanks to the Internet. Similarly, online sensations like 6 Pack Band could help to open up a wider cultural debate. Other indicators of gradual change are emerging. Take the effort to establish India's first modeling agency for hijras. Celebrities are pitching in too. Bollywood legend Shah Rukh Khan performed with 6 Pack Band on the track "Jabra Fan," while actor Hrithik Roshan is seen busting a move as he listens to the band's track "Ae Raju" in the video for the song.
"It's incredible how we've had so many people from the industry and otherwise be so frothing at the mouth excited to be a part of this campaign with us," Ghosh said. "Be it one of India's most loved, respected singers like Sonu Nigam or a legend like Asha Bhosle. Be it some of our biggest film superstars like Hrithik Roshan and Shah Rukh Khan to our hottest young actors like Arjun Kapoor who reached out wanting to do something with the band."
"I do believe that if celebrities come show their support for the hijra community, as they are slowly doing for the gay community and gay rights, it will lead to greater change," said Ira Trivedi, novelist and author of India in Love: Marriage and Sexuality in the 21st Century. "Celebrities have a pretty big impact here in India, maybe more so in the U.S., and this can lead to a positive shift in mind sets which is greatly needed."
Beyond pop culture, there has been talk of legislation that would function like affirmative action for the hijra community. The Transgender Persons Provision of Social Security Bill, which was passed by India's upper house of Parliament but is still pending in the lower house, would improve access to education, employment and financial aid for hijras.
"The legal recognition of the 'third sex' is a great first step but we need change in marriage laws, land laws, adoption laws – in so many arenas where the hijras have no rights at all," Trivedi said. "I also think that hijras need more representation – in public office, on screen. Certain celebs, like transgender make-up artists and models, have made their mark and they should continue to do so."
Ghosh added that repealing India's anti-sodomy law, Section 377, is among the other issues facing India's LGBT community. There is much work to be done, but the revolution is underway.
"We think just getting the conversation going is a great first step," Ghosh said. "Now specifically treating the 6-Pack band like any other regular pop band – irrespective of gender, color, caste, community – and enjoying their music is a great second. Extending that same philosophy into opening our arms and doors and minds, to giving this community the opportunity at anything and everything all of us enjoy… that would be the ideal. Gender equality has to… cover all orientations and sexuality."