Indonesia To Coordinate South China Sea Policy Ahead of Court Verdict
President Jokowi asks ministries to formulate uniformed position to 'have the same answers.'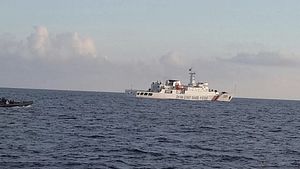 The Indonesian government is coordinating its official stance on the South China Sea this week ahead of an upcoming verdict on a case the Philippines has filed against China, local media reported Monday.
While Indonesia is not officially a claimant in the South China Sea disputes, Jakarta is an interested party because China's nine-dash line overlaps with the exclusive economic zone (EEZ) around the resource-rich Natuna Islands. As I've written previously, Indonesia's approach to the issue might be described as a "delicate equilibrium," where it has sought to both engage actors diplomatically and emphasize the sanctity of regional institutions and international law while also pursuing a range of security, legal and economic measures designed to protect its own interests (See: "Indonesia's South China Sea Policy: A Delicate Equilibrium").
Ahead of the upcoming verdict by the Hague-based Permanent Court of Arbitration (PCA) on the Philippines' case against China – which challenges Beijing's nine-dash line – Jakarta is now seeking to ensure all government bodies are clear on the country's stance. According to Indonesia's Coordinating Political, Legal and Security Affairs Luhut Pandjaitan, Indonesian President Joko "Jokowi" Widodo has urged officials to formulate a uniform position to ensure coordination.
"[The] President has urged us to formulate our stance on the South China Sea so that all state officials have the same answers," Pandjaitan said after meeting with Jokowi at the State Palace in Jakarta on Monday according to The Jakarta Post.
He added that all related ministries were set to hold a meeting to formulate the government's stance which could be completed as early as Tuesday. He said he hoped that a final decision would be reached since a draft had already been completed.
While Indonesia's official South China Sea position has remained largely consistent, at times differing statements across ministries following high-profile incidents – including two involving Chinese vessels this year – have caused confusion in the media (See: "What's Behind Indonesia's South China Sea Rhetoric Amid US-China Tensions"). Last November, Pandjaitan himself said Indonesia may file its own case against China, a move that would seem to undermine Jakarta's long-held position of seeking clarification from Beijing on the nine-dash line while denying that it is a claimant in the South China Sea disputes as that would only further legitimize the Chinese position.
Meanwhile, the Association of Southeast Asian Nations (ASEAN) is also holding a special foreign minister's meeting this week with China in Kunming where the South China Sea is expected to be discussed. ASEAN and China are commemorating the 25th anniversary of the establishment of their dialogue partnership this year.