No Brexit Repeat in ASEAN
No country is looking to leave the Southeast Asian bloc — yet.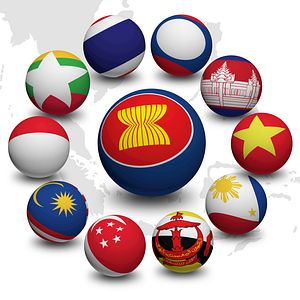 In the aftermath of the Brexit, Southeast Asia watchers are asking the question: Could it also happen in ASEAN?
My answer: No.
Let's call this hypothetical situation "X-exit." There is no known potential candidate to be the "X "country in X-exit.
All member governments in ASEAN still see as valid the original reason for the establishment and the existence of ASEAN – to create and maintain regional peace and security, and to prevent the balkanization of Southeast Asia by superpowers.
Regional peace and security, the Treaty of Amity and Cooperation's peace-oriented principles, and the nuclear weapon-free zone in Southeast Asia benefit all ASEAN members. In the wake of the growing U.S.-China rivalry, ASEAN provides its members with a safe collective choice of  being "pro-ASEAN"  without antagonizing China or alienating the United States.
Maintaining regional peace and security will require a strong and united ASEAN with the capability to pursue constructive cooperation with external partners. This requires concerted efforts of all in ASEAN and this will keep all member governments together in the grouping.
Small members like Brunei Darussalam, Laos, and Cambodia enjoy the equality in ASEAN, which enhances national security and independence. They also benefit from the international recognition and support which comes with ASEAN membership. Laos, for example, will for the first time host a state visit by a U.S. president when Barack Obama goes to Vientiane for the ASEAN-U.S. Summit and the East Asia Summit in September.
Larger members like Singapore, Malaysia, the Philippines, Thailand, and Vietnam see and take advantage of the ASEAN Economic Community (AEC) opportunities. Indonesia, meanwhile, can still play a de facto leadership role of being the first among equals in ASEAN.
As things stand now, there are three additional reasons X-exit will not happen in ASEAN.
ASEAN Is Not Linked to Domestic Politics
First and foremost, no leader of any ASEAN member government would ever dream of gaining any political advantage from calling a national referendum on the membership of his or her country in ASEAN.  There has never been any discernible connection between the popularity or disapproval of ASEAN and public opinion in any ASEAN country.
Thailand will have a national referendum on the new draft constitution on August 7. If it is accepted, the new  Constitution (which will be the 20th since the end of the Siamese absolute monarchy on June 24, 1932) will go into force; and general elections are expected to be held in the second half of 2017. But there's no sign that ASEAN membership will be an election issue.
During the visit of Myanmar's Foreign Minister Aung San Suu Kyi to Thailand last week, she agreed with Thai Prime Minister General Prayut Chan-o-cha on the need for all in ASEAN to stand united together. Hence it is safe to say that neither Myanmar nor Thailand has any problem with ASEAN membership.
Singapore is due to chair ASEAN in 2018, and to hold general elections in the first half of 2021. However, the political prospects of the party of Prime Minister Lee Hsien Loong appear to have nothing to do with how successful  Singapore's chairing of ASEAN in 2018 will be. The conventional wisdom in  Singapore seems to be this:  Singapore will help take care of ASEAN's survival, but it shall never let ASEAN take care of Singapore's survival.
Cambodia and Malaysia will see general elections in 2018. The Cambodia People's Party of Prime Minister Hun Sen will worry more about stiff competition from the main opposition Cambodia National Rescue Party of Sam Rainsy than anything else.  In Malaysia, the UMNO under Prime Minister Najib Razak will be more concerned about  jailed opposition leader Anwar Ibrahim and how Dr. Mahathir Mohamad will play his role. None in Malaysia may now remember how well their government did in chairing ASEAN in 2015.
People in ASEAN Don't Know ASEAN
Secondly, another huge difference between ASEAN and the EU is that ASEAN agreements have seldom touched the life and livelihood of the man in the street anywhere in ASEAN.  The aspirations of making the ASEAN Community a single regional market and production base still have a long way to go to become reality.
There is no  "ASEAN citizenship." Nationals of ASEAN countries do not have complete freedom of movement, or freedom of residency to live and work in other ASEAN countries. In ASEAN, only Cambodia and the Philippines are parties to the 1951 UN Refugee Convention. The others in ASEAN do not have any direct obligation to receive any refugees. Hence ASEAN member countries in general do not face any of the stress and strain of significant intra-regional migration or influx of refugees the way the U.K. and several EU members have.
In the ASEAN Economic Community (AEC), there are  efforts to facilitate the movement of skilled labor. But recipient countries such as Singapore and Malaysia continue to maintain tight national controls on migrant workers from all external sources. After nearly 10 years, discussions on a legal instrument for the protection of rights of migrant workers in ASEAN have little progress to show.
ASEAN has mutual recognition arrangements (MRAs) to facilitate the movement of professionals in eight areas:  engineering (2005); nursing services (2006); architectural services (2007); surveying qualifications (2007); accountancy services (2009); medical practitioners (2009); dental practitioners (2009); tourism professionals (2012).  Implementation of these agreements has been mostly sluggish. Domestic laws and national regulations on these professions have not been sufficiently adjusted to support implementation of these agreements in good faith. Consequently these MRAs have not led to any large-scale movement of professionals across borders in the ASEAN Community.
For promotion of intra-ASEAN tourism, ASEAN countries have bilateral visa exemption agreements. The latest one involves Myanmar and Singapore, which will go into effect on December 1. These visa exemption agreements enable ASEAN tourists to get entry visas on arrival at another ASEAN country, but they do not permit the visitors to work, and the duration of visit is just  one month or less.
No Resentment of Jakarta
Thirdly, another significant difference between ASEAN and the EU is the absence of any domineering central body in ASEAN that could issue and impose legally binding regulations to inconvenience anyone in ASEAN. There is no ASEAN Parliament to make supranational ASEAN laws. Commitments to ASEAN and the implementation of ASEAN agreements are fulfilled under the implicit understanding of best national voluntary efforts with due consideration to unique national circumstances.
Not many in ASEAN know about the ASEAN Secretariat in Jakarta (established in 1976). Fewer still know the current secretary-general of ASEAN (2013-2017) is Le Luong Minh from Vietnam.
Since little is known about ASEAN, the general public in each ASEAN country has no strong views about Jakarta one way or another — unlike in many EU member states, where there is strong and vocal public resentment of the alleged arrogance of Eurocrats in Brussels.
At the European Commission in Brussels, the total staff in early 2016 was about 32,900; about 2.4 percent of which are British nationals. ASEAN has no such "bloated bureaucracies." ASEAN has only the following full-time bodies: the ASEAN Secretariat; the Committee of Permanent Representatives to ASEAN (CPR) with their Permanent Missions to ASEAN in Jakarta; the 10 ASEAN National Secretariats in ASEAN capitals; and the ASEAN Foundation in Jakarta. The ASEAN Secretariat has a staff of no more than 300 (about 100 professional officers recruited from ASEAN countries, 100 professional Indonesian officers recruited locally, and another 100 Indonesian support staff).
ASEAN Secretariat officers handle technical matters, procedures, and records.  They and the secretary-general of ASEAN have no direct role in any policy decision-making.  Policy decisions are made by ASEAN member governments based on the principle of consultation and consensus.
Indonesia does entertain the ambition of making Jakarta the "Brussels of the East." It is going to fund the construction of a 17-story building next to the current 35-year-old premises of the ASEAN Secretariat near Blok M. Once completed, the  building will house the ASEAN Secretariat and several other ASEAN institutions.
Indonesia now also hosts in Jakarta the Permanent Missions to ASEAN of nine ASEAN Dialogue Partners: the United States, Japan, China, the Republic of Korea, Australia, New Zealand, India,  the EU, and Canada; Russia is expected to follow suit soon. Jakarta is  the seat of the ASEAN Center for Energy and the ASEAN Institute for Peace and Reconciliation. The ASEAN Inter-Parliamentary Assembly (AIPA), although it is just an entity associated with ASEAN, also has its secretariat in Jakarta.
Rich or poor, large or small, each ASEAN member government contributes an equal share to the annual operating budget of the ASEAN Secretariat.  This year the budget of the ASEAN Secretariat is only about $20 million. This requires each member government to contribute $2 million. Such a financial burden is minute when compared with the U.K.'s expenditure of about $12.3 billion in net contributions to the EU in 2015 (contributions minus EU spending in the U.K.).
Nevertheless, the growing number of ASEAN meetings and summits does create a financial strain on some poorer ASEAN member governments. At least two governments now are in favor of  cutting the number of annual ASEAN summits to once a year, instead of  twice a year as stipulated in the ASEAN Charter. This year, just to be in compliance with the ASEAN Charter, Laos will host two ASEAN Summits (the 28th and the 29th) back-to-back in Vientiane from September 6-8. This will save the Lao government a lot of money.
No Provision for Withdrawal  
In the EU, Article 50 of the Lisbon Treaty provides for a two-year timeframe for a member state to withdraw from the EU. In ASEAN, the ASEAN Charter has no such withdrawal provision.
Since ASEAN makes policy decisions by consultation and consensus, technically speaking, there may be no consensus to allow any member to leave. In practice, however, a member government can just stop attending ASEAN meetings. ASEAN could then be paralyzed, because of the absence of one of its members. The member government that wants to leave can also withhold its contribution to the budget of the ASEAN Secretariat.
As a sovereign state, any ASEAN member can give up its ASEAN membership when it so decides, perhaps citing some new developments in ASEAN as a substantive change in circumstances from the time it joined ASEAN. Potential substantive changes may include the following:  the recurring disunity on the South China Sea problem;  the admission of Timor-Leste, which the Philippines reportedly intends to push next year when it chairs ASEAN as part of the 50th anniversary of the group;  the resurrection of the Philippine claim over Sabah; the possible collapse in the ASEAN-initiated sluggish talks for the Regional Comprehensive Economic Partnership (RCEP); the loss of ASEAN's  centrality and neutrality to become either pro-China or pro-U.S.;  the unabated growth of ASEAN meetings and summits; and the continuing failure to narrow development gaps.
Lessons for ASEAN from Brexit
One eye-opening lesson for ASEAN from Brexit is that the benefits of regional cooperation are not always self-evident.
Another lesson is that  we cannot continue to assume that regional cooperation would progress in a linear positive upward direction. In fact, a sudden disruption and reversal of the cooperation trend could happen, as we have now witnessed in Brexit.
Yet another lesson  is that economic benefits tend to be taken for granted, whereas political disagreements, financial and bureaucratic  burdens, and social costs can be blown out of all proportions.
In conclusion,  there is no imminent threat of X-exit in ASEAN for the time being. ASEAN is still  considered as useful to all member governments in different ways. But we cannot continue to assume that ASEAN is indispensable to every member government in all ways at all times.
Dr. Termsak Chalermpalanupap is a Fellow at the ASEAN Studies Centre of the ISEAS-Yusof Ishak Institute in Singapore. Prior to joining the ASEAN Studies Centre in July 2012, he had served at the ASEAN Secretariat for nearly 20 years.