Toward Stronger Economic Relations Between Pakistan and Iran
Pakistan and Iran need to come together to develop their economic and trade ties.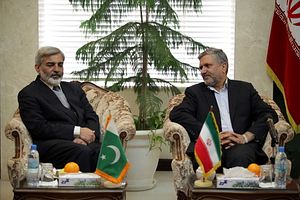 As the first nation to ever recognize Pakistan globally as a sovereign country in 1947, Iran has since had a unique and uneasy relationship with Pakistan. Recently, the economic ties between the two countries have strengthened, which is a promising direction for Pakistan.
The implementation of the Joint Comprehensive Plan of Action (JCPOA) between Iran and the P5+1 (a grouping including the United States, United Kingdom, China, Russia, France, and Germany) has brought Iran again to center stage in the global economy. The diplomatic efforts have lifted international sanctions on Iran while opening up the country's economy. In addition to the ease of economic sanctions, Iran is also armed with a wealth of natural resources and a young population that has the potential to significantly uplift its economy.
Iran is the second largest economy in the Middle East and North Africa (the MENA region) after Saudi Arabia, with an estimated GDP of $393.7 billion in 2015. Due to the lifting of economic sanctions, the World Bank estimates the country's actual GDP will grow by 4.2 percent in 2016 and 4.6 percent in 2017. Moreover, with almost 10 percent of the world's oil reserves, Iran's entrance into the business world has already incentivized Pakistani trade representatives to look towards Tehran to advance business interests.
Iranian President Hassan Rouhani's visit to Pakistan in March 2016 marked the first visit by an Iranian head of state to Pakistan in 14 years. During their talks in Islamabad, both Rouhani and Pakistani Prime Minister Nawaz Sharif pledged to boost cooperation on regional security and trade talks.
The potential for Iran's economy has not gone unnoticed by other countries in the region. In May,  Indian Prime Minister Narendra Modi visited Iran for two days, where he met with the Iranian Supreme Leader Ayatollah Ali Khamenei, Rouhani, and other senior officials, signing a range of important agreements.
Additionally, although the Chinese have been leading the Silk Route Economic Belt (One Belt, One Road) initiative, Asian Infrastructure Investment Bank, and the Shanghai Cooperation Organization, Pakistan, Iran, Russia, China, and India have been trying to establish a political and economic system for future collaboration. For instance, both Pakistan and Iran recognize the importance of the China-Pakistan Economic Corridor (CPEC). Pakistan needs to decrease its reliance on the United states in the hopes of improving its economy. For Pakistan, the CPEC is an ideal way forward, not only to better its economic situation but also to build ties with its neighboring counties.
Realizing the potential of such cooperation, Pakistan has also taken a positive step by concentrating its resources to boost the country's security. This will not only improve its relations with Iran, but will also signal positively for foreign direct investment.
The Pakistan-Iran gas pipeline project, previously halted due to the economic sanctions on Iran as well as well as political hurdles between the two neighbors, has also seen new prospects. Iran has already built the pipeline up to the Pakistan-Iran border and now it is time for Pakistan to complete its side of the agreement. The 2,775 kilometer project will deliver natural gas from Iran to Pakistan, and could play an influential role in improving the country's economy. Recently, Pakistan's Ministry of Petroleum and Natural Resources reaffirmed Pakistan's commitment to building the pipeline, with the aim of completing it by 2017.
According to a 2014 report by the European Commission, Pakistan is Iran's eighth largest training partner while India is third and China is first. Pakistan's major exports to Iran include rice, meat, paper, textiles, and fruit. The major commodities Pakistan imports from Iran include organic chemicals, plastic, minerals, oil, iron, and steel.
The recent opening in Iran's economy presents a good opportunity for Pakistani business interests, and the strong economic ties with Iran will also benefit Iran in several aspects. Pakistan, as a net importer of oil, stands to gain from the country that carries the world's second largest oil reserve. The Pakistan-Iran gas pipeline project will allow a reliable supply of gas to help ameliorate the country's gas shortage. Both countries stand to gain from the Chinese-led Silk Route Economic Belt, and can work closely in a trilateral with Afghanistan, encouraging political progress and economic development.
Strong trade and business ties with Iran will not only help Pakistan's economic situation, but will also lead to greater stability and economic prosperity in the region.
Usman Javed is reading for an MPhil in Technology Policy at the Judge Business School, University of Cambridge.