What Does China and Iran's Proposed Military and Trade Pact Mean for Pakistan?
Growing ties between Tehran and Beijing comes as good news to Islamabad.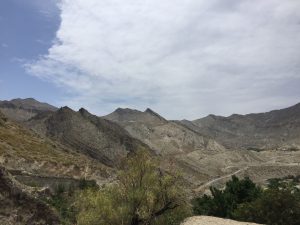 China and Iran are reportedly negotiating a $400 billion military and trade agreement. The news comes amid speculations that Iran has decided to drop India from a key rail project. 
These two developments carry significant implications for Pakistan, a country whose economic and security interests are closely allied with China and which sees India's investment along its western border region as a national security threat. 
Policymakers in Islamabad couldn't have asked for better news amid heightened tensions with India along the Line of Control (LOC) on the eastern border. Moreover, Islamabad sees Beijing's increasing foothold in Iran as crucial when it comes to containing New Delhi's alleged interference in Balochistan.
Certainly, Pakistan sees the development as an opportunity to build deeper ties with Iran. Historically, Pakistan and Iran's bilateral relationship has remained tense mainly because of Islamabad's close links with Saudi Arabia. For the last few years, however, Pakistan has pushed to balance its relationship between the two countries. This effort is partially a result of Pakistan's attempt to manage the prevailing lawlessness along its border with Iran. Arguably, a push in this regard may have also come from China, a country that sees the Pakistan-Iran border region as an essential part of its global Belt and Road Initiative (BRI).
In 2018, Pakistan rejected Riyadh's request to send troops to Yemen to join a Saudi-led campaign against Iran-backed Shia Houthi forces. Last year, Iran, in a rare move, condemned India for eliminating Kashmir's autonomy. In Pakistan, this was seen as Iran standing with Islamabad at a time when a majority of the Muslim world refused to condemn India's move to end Kashmir's special status. In Islamabad, the condemnation also offered a reassurance that Tehran is not interested in developing ties with New Delhi at Pakistan's expense, and hence a rapprochement can work. 
In the past, militant groups have attempted to create discord between the two countries' military leaderships by targeting border troops on both sides. However, there has not been an incident that Pakistan and Iran couldn't resolve via dialogue. For instance, recently Pakistan's army chief directly approached Iran's military chief for cooperation when a Baloch militant group targeted Pakistani border forces in Balochistan province. A few months ago, Pakistan and Iran signed an accord to resolve their border issues. Both countries have also announced a joint Rapid Reaction Force to deal with militant threats near the Iran-Pakistan border. Such communication shows that cooperation is not broken between them and there exists a persistent desire to resolve border disputes via dialogue. 
Going forward, it stands to reason that this mutual desire to establish peace on the Iran-Pakistan border region will receive solid support from China, whose regional economic and security interests are linked to a stable and peaceful Iran-Pakistan border. For Pakistan, Iran's closer partnership with China means that Islamabad has a better chance to protect its security interests in Balochistan and involve Tehran in the China-Pakistan Economic Corridor (CPEC) project. Last week, in a tweet, Iran's ambassador to Pakistan, Mohammad Ali Hosseini, said that "Iran-China Comprehensive Cooperation Program is a clear roadmap and a principled way for future relations between the two important countries." 
"In other ways, it can be extended to regional cooperation with other existing mechanisms such as BRI and CPEC Initiative," he noted further. 
In the past, Iran's top leadership has expressed the desire to join CPEC and expand economic and defense ties with Pakistan. China's proposed partnership with Iran is going to take place under the BRI that aims to connect Central Asia and Afghanistan with Europe via the Pakistan-based CPEC. 
Iran's formal inclusion in BRI and CPEC means that Tehran can ease Pakistan's looming energy crisis. Iran has the potential to increase its electricity export to 3,000 MW in Pakistan. Moreover, Tehran has also completed work on its side of the much delayed Iran-Pakistan (IP) gas pipeline, dubbed as the "pipeline of peace." The project is expected to get a boost due to the China-Iran trade pact. Reportedly, Iran is also planning to build a liquefied natural gas (LNG) pipeline to China along the CPEC route. The energy dimension of the Pakistan, China, and Iran partnership has the potential to take South Asia's regional integration to the next level. 
On the security side, this means that Iran will gain more by offering support to CPEC and other Chinese interests in Pakistan that are threatened by Baloch militant groups and India's opposition to the project. For instance, recently, Baloch militant groups targeted the Pakistan Stock Exchange (PSX) which in 2016 sold 40 percent of strategic shares to a Chinese consortium. Pakistan blamed India for the attack and allegedly harboring Baloch militant groups that operate along Pakistan's border with Iran. In this regard, enhanced defense and intelligence cooperation between Iran and China is something that Pakistan could benefit from greatly. Pakistan and China should be expected to use the inclusion of Iran in CPEC to effectively track, monitor, and act against militants that are keeping a key part of the BRI on the boil. It is possible that Pakistan, China, and Iran may form a joint military force for intelligence sharing and to carry out targeted operations against militants that use the Pakistan-Iran border to destabilize the region. 
Reportedly, the Iran-China strategic agreement has the support of Iran's powerful Revolutionary Guards Corps. An increased economic and military interdependence between China and Iran can lead to better cooperation between Pakistan and Iran's intelligence agencies. The development certainly offers Pakistan a respite on the entire western flank, which remain susceptible to foreign subversive efforts and Iran's non-engagement on security front.