US Arms Sales to Vietnam: A Military Analysis
Will U.S. arms sales to Vietnam alter the military balance in the South China Sea?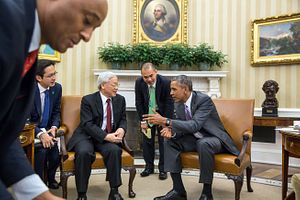 With the recent announcement by U.S. President Barack Obama that the United States will lift a decades-old embargo on the sale of military equipment to Vietnam, the question arises—given that the president's decision is partially seen as a move to counterbalance China's growing military power in the region—in what way a U.S.-Vietnamese weapons deal could potentially influence the military balance in the region, and in particular, the South China Sea.
Vietnam has expressed interest in a number of used U.S. military platforms including F-16 A/B fighter jets, refurbished P-3C Orion maritime patrol aircraft armed with torpedoes, and unarmed unmanned aerial vehicles (UAVs) to be used for monitoring the country's territorial waters and the surveilling of the larger South China Sea. There have also been discussions over U.S. radar and surveillance equipment and boosting Vietnam's electronic warfare capabilities.
Any U.S. sale to Vietnam would be done under the so-called Excess Defense Articles program, which offers used U.S. military hardware to partner nations at a reduced price and is run by the Pentagon. Vietnam's Coast Guard is already in the process of purchasing six U.S.-made Metal Shark Defiant 75 patrol vessels for which the United States provided $18 million in loans.
Leaving political issues that could unravel a U.S.-Vietnamese defense deal aside for the moment—including lack of progress on improving civil liberties, human rights, and holding more transparent and open elections in Vietnam—should Hanoi opt to purchase U.S. hardware, the impact on the fighting capabilities of the Vietnam People's Armed Forces (VPAF) will be gradual rather than abrupt and stretch out over many years for a number of reasons.
For one thing, it would require putting the necessary support structure in place for U.S. aircraft including the construction of maintenance facilities for overhauling the planes, although larger upgrades would still have to be done in the United States.  It would also require the training of pilots, ground crews, and technicians on the new aircraft and weapons systems, which will necessitate the presence of U.S. advisors and instructors in the country. All of this could not be done overnight and would entail a multi-year U.S. commitment.
However, while the influx of U.S. military hardware in the region will most assuredly have an impact, it remains to be seen to what extent it will increase Vietnam's deterrence capabilities against China—the primary reason for any VPAF arms acquisition. This will largely be dependent on two-factors: first, the level of training of VPAF personnel on the new platforms; and second, the VPAF's ability to integrate U.S. hardware with the rest of the military, which primarily consists of Russian-made and Soviet legacy weapons platforms.
Vietnam's military planning vis-à-vis China is defensive in nature and built around A2/AD—or anti-access and areal denial strategies, exploiting asymmetrical advantages by, for example, fielding new diesel-electric submarines to exploit China's known weakness in anti-submarine warfare. All of this requires enhanced maritime domain awareness (MDA) and early warning systems in place and the establishment of a so-called kill chain linking "'see-ers and shooters,'" as one analyst recently put it.
Vietnam's ultimate goal is to deter China from deploying People's Liberation Army Navy (PLAN) vessels in so-called gray zone coercion scenarios, which involves the use of China Coast Guard (CCG) and maritime militia vessels to blockade Vietnamese-held islands and features in the South China Sea while avoiding open military conflict.
Equipment such as the refurbished P-3C Orion maritime patrol aircraft armed with torpedoes would significantly increase the VPAF's deterrence capability in that respect. Specifically, it would boost the Vietnamese military's surface and anti-submarine warfare capabilities by complementing its burgeoning fleet of six Russian-made 4,000-ton Type 636 Kilo-class diesel-electric submarines (five of which have been delivered so far).
Hanoi has also been acquiring a number of anti-ship and land attack cruise missiles, including the 3M-14E Klub supersonic cruise missile capable of hitting mainland China, giving it an additional powerful deterrent. Moreover, Vietnam has been upgrading its defensive missile systems, procuring Russian-made K-300P Bastion coastal missile systems in 2011 and S-300 PMU-2 long-range surface-to-air missile systems in 2012, in addition to upgrading coastal surveillance radar systems.
Furthermore, Vietnam operates 32 Su-30MK2V fighter aircraft optimized for maritime support functions and equipped with the Kh-31 (AS-17 Krypton) anti-ship missiles. The Vietnam People's Air Force (VPA) is also allegedly interested in procuring a squadron of two-engine Sukhoi Su-35S multirole fighter jets—perhaps a more suitable aircraft for maritime patrols than the single-engine F-16 fighter jet.
So could U.S. military equipment alter the military balance in the South China Sea?
As outlined above, this will depend on both effective training and the ability to successfully integrate new weapons systems within existing military structures.
The paragraphs above show that Russia remains Vietnam's most important "long-time partner in the field of bilateral military-technical cooperation, although the relationship is not entirely frictionless," as I noted previously. The military hardware Russia has provided Vietnam, in comparison to U.S. systems, is more capable and has fewer strings attached to it than Washington's offers. Vietnam also has experience in handling Russian-made equipment for the past decades, whereas it has none with U.S. military hardware.
When it comes to training, the VPAF has experienced limitations in the past and is only slowly conducting more comprehensive and dynamic exercises including practicing combined arms operations and the integration of air, ground, and naval assets in combat operations. The number of military-to-military training exchanges has also increased and Vietnamese submariners are currently undergoing training in undersea warfare doctrine and tactics at India's INS Satavahana submarine center. Several deficiencies including in pilot training, however, remain.
While it is a possibility that Vietnam will find means to effectively integrate U.S. systems into its Russian-hardware dominated forces, the example of Malaysia—a country that operates both Russian and NATO systems—shows that it is highly inefficient and costly to try to operate both in the long run. In addition, it remains to be seen whether Vietnam can develop new doctrines and tactics to integrate all new weapons systems into the country's counter-intervention strategy.
Overall, the successful integration and training on new U.S. military platforms will most certainly increase the combat capability of the VPAF, and as a result, will impact Chinese actions in the South China Sea. However, the addition of F-16 fighter aircraft, P-3C Orion, UAVs, and maritime intelligence surveillance and reconnaissance (ISR) assets will not fundamentally alter the military balance between China and Vietnam.
Given that a full-scale war scenario between the two countries is unlikely, the mere presence of Vietnamese submarines in the South China Sea, whether or not they are part of an integrated kill-chain and linked with other military assets, will perhaps be sufficient to deter aggressive Chinese maritime actions in the foreseeable future.
This article has previously been published on ChinaUSFocus.com.