US Navy Sends Electronic Attack Warplanes to Philippines Amid South China Sea Tensions
Four aircraft arrived at Clark Air Base for pilot training and to support U.S. Navy operations in the South China Sea.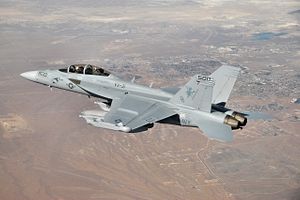 Amid rising tensions in the South China Sea, the United States Navy dispatched four U.S. Navy EA-18G Growler airborne electronic attack aircraft and about 120 military personnel to Clark Air Base, an air force base located on Luzon Island in the Philippines, according to a U.S. Seventh Fleet press release.
The four aircraft and 120 personnel arrived on June 15 for training with Armed Forces of the Philippines (AFP) FA-50 aircraft pilots and to support U.S. and Philippine naval operations in the South China Sea, as the statement makes clear with a veiled reference to so-called freedom of navigation operations (FONOPs) in the disputed waters.
"In addition to bilateral training missions, Growler aircraft will support routine operations that enhance regional maritime domain awareness and assure access to the air and maritime domains in accordance with international law," the press release reads.
Boeing EA-18G Growler aircraft are designed to detect, jam, and destroy enemy radar emissions, as well as disrupt electronic warfare attacks by an adversary, according to Defense Industry Daily:
 The EA-18G Growler electronic warfare version is a derivative of the F/A-18F Block II that removes the internal gun, adds electronics within the aircraft to help it detect and jam enemy radars, and mounts four specialized ECM (Electronic CounterMeasures) pods under the wings.
The dispatch of electronic warfare planes makes sense given that the U.S. Navy has repeatedly reported difficulties in collecting data in the past due to Chinese electronic countermeasures. For example, in April 2015, a Global Hawk Long-Range surveillance drone was not able to gather data on Chinese military installations on the Spratly Islands due to Chinese electronic interference.
The EA-18G Growler aircraft are part of an air contingent at Clark Air Base stood up on April 16, following a joint announcement by U.S. Secretary of Defense Ash Carter and Philippine Defense Secretary Voltaire Gazmin in Manila. The contingent at Clark Air Base was made possible by a new U.S.-Philippines defense pact. This so-called Enhanced Defense Cooperation Agreement (EDCA) provides U.S. military personnel and equipment access to Philippine military bases on a rotational basis, among other things.
"The first temporary Air Contingent was comprised of five A-10C Thunderbolt aircraft, three HH-60G Pave Hawk helicopters and approximately 200 personnel deployed from multiple Pacific Air Forces units.  The forces deployed to the Philippines for exercise Balikatan and completed their final mission April 28, 2016," the press statement notes.
As I explained last month:
The United States (…) dispatched A-10C Thunderbolt II aircraft and HH-60 Pave Hawk helicopters near Scarborough Shoal, 120 nautical miles off the coast of the Philippines' Luzon Island, to demonstrate its commitment to the Philippines, which lays claim to Scarborough Shoal and had administered it until 2012, when China seized the feature by force. Now China appears to be getting ready to launch a land reclamation campaign on Scarborough Shoal.
The Philippines have taken China to court over the South China Sea disputes, including Scarborough Shoal. A ruling by the Permanent Court of Arbitration (PCA) in The Hague is expected soon.