What Is China and Russia's 'Eternal Friendship' Worth?
Despite attesting to their closeness and political alignment, hard economic returns are a long time coming.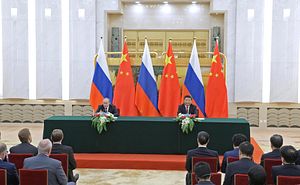 Russian President Vladimir Putin and Chinese President Xi Jinping mutually highlighted the importance of their bilateral relationship during the Russian leader's weekend visit to Beijing, his fourth visit to China since 2013.
"President Putin and I have unanimously decided that the more complicated the international situation, the more determined we should be, guided by the spirit of strategic cooperation and the idea of ​​eternal friendship," Xi said said in a press statement following their talks.
"Russia and China have very close or almost identical views on international developments," Putin said.
This (over)emphasis on strategic closeness was presaged by comments stemming from the Kremlin. TASS quoted Russian presidential aide Yuri Ushakov ahead of the visit as saying, "Russia and China adhere to largely similar or close positions literally on all key issues on the international agenda."
Increasingly, in geostrategic terms Russia and China have drawn closer, if only vis-a-vis their relations with the United States and the West, more broadly. In early 2014 Russia annexed Crimea and the West imposed sanctions, thus giving any deals between Russia and China an added geopolitical flavor. Buoyed by big energy and trade announcements, such as the May 2014 Power of Siberia pipeline deal (a decade in the making and worth $400 billion), the synergy between Moscow and Beijing looks obvious if you don't look too closely.
Alexander Gabuev, writing for ChinaFile in September 2015, began like this: "After a year of intense flirtation, the Sino-Russian relationship is beginning to look like a one-sided love affair." That remains largely true nine months later. It's worth pointing out, as Gabuev did, the history of Russian-Chinese trade promises.
In 2011, following bilateral talks with then-Chinese President Hu Jintao, then-Russian President Dmitry Medvedev set hugely aspirational trade goals: "[W]e have set very substantial figures as our benchmarks for the future: trade between our countries will reach $100 billion by 2015 and $200 billion by 2020." Russia-China trade had, indeed, been growing at awesome rates. Gabuev cited a memo from the Russian Ministry of Economic Development as saying that "between 2003 and 2012, trade between the two countries grew at an average of 26.4 percent per year."
But those gains have been decimated to the point where Xi, in his remarks after the recent talks, spoke glowingly of a 2.7 percent increase. "From January to May 2016, bilateral trade amounted to $25.8 billion; it ceased to decline and grew by 2.7 percent compared to the same period last year." In January, The Moscow Times ran a headline declaring "Russian-Chinese Trade Plummets in 2015." Nonetheless, $200 billion by 2020 is still the plan, according to Foreign Minister Sergei Lavrov in May — even though China and Russia missed the $100 billion-by-2015 goal by some $35 billion.
Putin left Beijing after overseeing the signing of more than 30 agreements, as reported by Xinhua, in areas as predictable as trade and energy, and as diverse as technology, media, and sports. The Russians claim 58 "business initiatives" were signed to the tune of $50 billion.
A political cartoon published by the New York Times illustrates the issue at hand perfectly. Xi is shaking hands with an ever-smaller matryoshka, in the form of Putin, labeled "Russian economy."
Despite attesting to their "eternal friendship," the hard economic returns on the China-Russia political alignment are a long time coming.