Activity at North Korean Nuclear Testing Site Raises Questions
Is Kim Jong-un looking to stage a fifth nuclear test later this summer?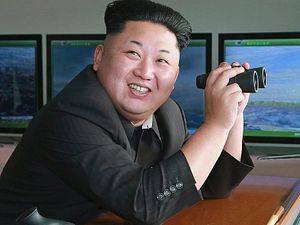 What's going on at Punggye-ri?
According to new satellite imagery analysis by Joe Bermudez at 38 North, the nuclear test site has seen an uptick in activity. Punggye-ri, which is located in North Korea's North Hamgyong province, near the country's eastern coast, has been the site of each of North Korea's four underground nuclear tests to date.
The new activity doesn't necessarily suggest that a fifth nuclear test is imminent. North Korea last tested a nuclear device it claimed was a fully boosted thermonuclear bomb in January and continues to reel from the international effects of that decision, which include some of the strongest United Nations Security Council sanctions against any country in over 20 years.
Bermudez notes that "satellite imagery from July 7 indicates a high level of activity at the North Portal" of the Punggye-ri test site. He adds that "it is not possible to determine whether this activity is for maintenance, excavation or preparation for a fifth nuclear test." The work at the site suggests work is taking place actively on a tunnel.
So far 2016 has marked a remarkably busy year for North Korean weapons testing and brinkmanship. After the January nuclear test, Pyongyang launched a satellite, tested multiple road-mobile intermediate-range ballistic missiles, submarine-launched ballistic missiles, showed off a compact nuclear device and advances in solid-fuel propulsion for its missiles, and emphasized advances in its warheads.
Pyongyang has threatened to carry out a fifth nuclear test and South Korean officials expected a fifth test earlier this year, as the end of the annual U.S.-South Korea Foal Eagle and Key Resolve exercises approached and North Korea prepared to open its first Workers' Party of Korea Congress in over 30 years.
That didn't pan out; Pyongyang instead focused on repeatedly testing its Hwasong-10 missile until it succeeded.
Predicting North Korea's behavior is difficult, but a fifth test is a near certainty at some point in the future unless something drastically changes about how the international community–particularly the United States–frames its diplomatic approach toward the country.
Still, if the work at Punggye-ri is indicative of a looming underground test, Pyongyang may choose to sync a test attempt with a significant date. There are plenty around the corner. North Korea marks "victory" in the Korean War on July 27, liberation from Japan on August 15, and Songun Day on August 25. Kim Jong-un could choose to test on or around one of those dates (though probably not Songun day, given that he just recently dismantled the National Defense Commission–a key feature of his father's Songun, or military first, policy).
South Korean Vice Foreign Minister Lim Sung-nam warned Pyongyang strongly against a fifth test earlier this year. "If the North goes ahead with a fifth nuclear test, the U.N. Security Council would take correspondingly significant measures," Lim said in April.