Afghanistan's Biggest Problem: Relations with Pakistan
The Af-Pak rapprochement is long dead as Ghani repeats call for Pakistan to deal with militant sanctuaries.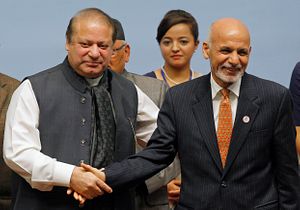 Days after two suicide bombers killed more than 80 people amid a peaceful demonstration in Kabul, the country's president said the Af-Pak relationship is Afghanistan's biggest problem.
In an interview with Pakistani media, President Ashraf Ghani agreed that terrorist groups, like the Taliban and al-Qaeda, are threats to the country but noted that Pakistan acting as a sanctuary for militant groups is a bigger problem. He characterized the bilateral with Pakistan as a "fundamental solution" to such threats because of the fact militant groups find safe havens in Pakistan. "Can anybody deny that there are Taliban offices in Quetta?" Ghani asked, according to a TOLOnews report on the comments. "You go and interview with them; if you want the addresses, I will give you all the addresses." He went on:
A state-to-state relationship means an all-out attack; twice I was promised peace; before the spring of 2015, I was promised peace, a set of peace agreements. Instead, what did we gain? A vicious wholesale attack on us. In 2016, again, at the highest levels of the government of Pakistan, I was assured that within days, peace process was going to begin in earnest, and another series of attacks. And, in this environment, how do you expect us to behave with trust?
Ghani–in contrast to his early days as president when an Af-Pak rapprochement seemed possible, or at least closer to possible than under Karzai–has long since abandoned the pretense of bonhomie toward Islamabad. With each new horrific attack in Afghanistan, particularly attacks targeting civilians in urban areas, Ghani has reiterated his calls for Pakistan to do more to deal with terrorist safe havens within its borders.
In August 2015, after a weekend string of bombings that killed 50 and injured hundreds in Kabul, Ghani said, "Pakistan still remains a venue and ground for gatherings from which mercenaries send us messages of war." In that address, Ghani also put on display his frustration with the Pakistan-mediated peace process: "We don't want Pakistan to bring the Taliban to peace talks, but to stop the Taliban's activities on their soil."
In April 2016, after a Taliban attack on a government intelligence building resulted in 64 deaths and 347 injuries, Ghani said it again. He commented in a speech to a joint session of parliament broadcast on television that militant groups that carry out attacks in Afghanistan "are being hosted and aided from the territory of Pakistan." I noted at the time, and would stress again, that this shift in language is not new or, to be frank, all that shocking.
From the Afghan perspective, Pakistan has not done enough to deal with militant groups that find sanctuary within its borders–and at the extreme has actively supported groups staging attacks in Afghanistan. From the Pakistani perspective, Islamabad is doing as much as it can–perhaps fearing that an all-out ousting of such groups would merely preface their shift in focus to Pakistan. It's a conundrum that will continue to cause rifts between the two countries and ultimately prevent meaningful progress in the peace process.