Can Bangladesh and Turkey Mend Frayed Ties?
Turkey and Bangladesh suffered a break over war crimes trials in Dhaka. Is rapprochement in the cards?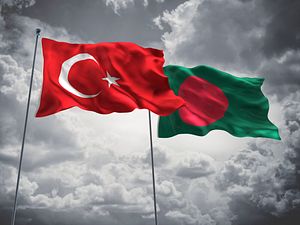 On May 11, 2016, Motiur Rahman Nizami, the 73 year-old head of Jamaat-e-Islami, Bangladesh's largest Islamist party, was executed in Dhaka. Bangladeshi courts imposed the death penalty on Nizami for his alleged involvement in genocide and war crimes during Bangladesh's 1971 independence war against Pakistan. According to Nizami's prosecutors, these criminal actions claimed at least 480 lives.
Even though the Bangladeshi government's lack of transparency during the Nizami trial and harassment of Nizami's defense team were widely criticized by international human rights watchdogs, Nizami's hanging was largely overlooked by world leaders. On May 12, Turkey's President Recep Erdogan broke the international community's silence on Nizami's execution. Erdogan scathingly condemned the Bangladeshi government's use of capital punishment and accused European leaders of ignoring the case because Nizami was a Muslim. Shortly after Erdogan's statement, Turkey recalled its ambassador to Bangladesh, precipitating a diplomatic standoff.
Turkey's dramatic response to Nizami's execution is the culmination of Erdogan's long-standing opposition to Bangladesh's trials of Jamaat-e-Islami members. This opposition has caused considerable friction between Ankara and Dhaka since the trials began in earnest in 2012. Despite these tensions, any breach in diplomatic relations between Turkey and Bangladesh is likely to be of limited duration. Both Turkey and Bangladesh have close economic and security linkages that will likely force their leaders to heal the rift.
Turkey's Opposition to Bangladesh's Handling of the 1971 War Trials
Turkey's opposition to Bangladesh's handling of the trials and punishment of suspected 1971 war criminals can be explained by two main factors. First, Turkey is normatively opposed to the Bangladeshi courts' use of capital punishment. Since the inception of the trials, Turkish officials have emphasized that Bangladesh's use of the death penalty is incompatible with Turkish values. Erdogan abolished capital punishment in 2004 as part of Turkey's European Union (EU) membership application. Turkey has not executed any prisoners since Kenan Evren's military regime carried out death sentences against political dissidents in 1984.
Turkey's opposition to the use of the death penalty in Islamic countries has not been confined to Bangladesh. Erdogan was similarly opposed to Egyptian Muslim Brotherhood leader Mohammed Morsi's death sentence last year. Nevertheless, Turkish human rights criticisms have fueled considerable animosity in Bangladesh.
Public opposition to Turkish interference in Bangladesh's internal affairs was first voiced in 2013. In December 2012, Turkish President Abdullah Gul wrote a letter to his Bangladeshi counterpart Zillur Rahman, urging Bangladeshi courts to grant 1971 war suspects clemency. Gul's case for clemency was premised on the theory that executions would polarize Bangladeshi society and incite political violence.
This letter caused many Bangladeshi journalists and human rights activists to invoke the Armenian genocide as proof of Turkey's long-standing solidarity with genocide perpetrators. Gul's criticisms of Bangladeshi conduct were also attributed to Turkey's close alliance with the Muslim Brotherhood, an organization that is aligned with many leading Jamaat-e-Islami members.
Nizami's execution provoked a similar conflict between Turkish and Bangladeshi politicians and activists. Erdogan claimed that Nizami had not committed any "earthly sins," and described the Bangladeshi authorities' handling of his trial as undemocratic.
The Anatolia Youth Association (AGD), an Istanbul-based NGO, expressed similar outrage. AGD representatives described Bangladesh's use of capital punishment as unlawful and a violation of the Islamic principle of cherishing human life. Bangladesh has continued to repudiate these moral arguments on the ground that Turkey has no moral authority to intervene in Bangladesh's internal politics. This position has intensified the normative conflict between the two countries.
Second, Erdogan's hostility to Nizami's execution was aimed at consolidating bilateral cooperation between Turkey and Pakistan. The Pakistani Foreign Ministry described Nizami's execution as "unfortunate" and insisted that Nizami was not guilty of any crimes as he was legitimately upholding the integrity of the Pakistani constitution. A senior Pakistani official also accused Bangladesh of trying to malign Pakistan. Bangladesh refuted these charges as proof of Pakistan's whitewashing of war crimes and genocide.
Erdogan's support for Pakistan's position on Nizami's execution has been effective thus far, as there are signs that the long-standing alliance between the two countries is strengthening. In June, the Turkish and Pakistani defense ministers held a bilateral summit calling for closer security cooperation, and Pakistan subsequently commissioned a Turkish firm for a major submarine modernization project.
As recent terror attacks in Lahore and Istanbul have reaffirmed both countries' desires to contain the Islamic States, Turkish solidarity with Pakistan on an issue of vital symbolic importance could pave the way for bolstered counterterrorism cooperation that benefits the security of both countries.
Why Turkey and Bangladesh Have a Vested Interest in Normalizing Ties
Even though the 1971 war crimes trials have caused friction between Turkey and Bangladesh, these tensions have coincided with growing economic and security links between Ankara and Dhaka. Turkey's trade linkages with Bangladesh have grown rapidly in recent years, reaching $1 billion in 2013. The textile industry has been a particularly lucrative source of bilateral trade, as Turkey's carpet industry relies extensively on Bangladeshi jute. Turkey has also sought to assist the diversification of the Bangladeshi economy through foreign investment. Shipbuilding has been singled out as as a major growth industry in Bangladesh.
As Turkey believes that Bangladesh has considerable economic growth potential, Ankara has optimistically targeted an increase in bilateral trade to $10 billion over the next decade. Turkey and Bangladesh even attempted to forge a free trade agreement in 2012, though its ratification was indefinitely suspended due to disapproval from EU leaders.
As Turkey's EU membership aspirations have receded due to growing nativist sentiments in Europe, EU enlargement fatigue, and Erdogan's increasingly authoritarian governance style, Bangladesh has expressed interest in reviving the 2012 free trade pact. Even though Turkish economic growth has declined in recent years, Ankara's growing trade linkages with Iran and free trade pact with Jordan have caused many Bangladeshi policymakers to view Turkey as Dhaka's gateway to the Middle East. Therefore, growing economic interdependency makes an eventual normalization of ties between Turkey and Bangladesh a very likely outcome.
Erdogan has also strengthened Turkey's defense links with Bangladesh in recent years. Bangladesh's navy has particularly close links with Ankara. Last year, Turkey offered Bangladesh guided missile frigates in a major government-to-government deal. Turkey, along with South Korea and the United States, provides military training to the SWADS, Bangladesh's most sophisticated naval unit.
Close security linkages between Turkey and Bangladesh provide further evidence that the current rift is likely short-term. Pressure for reconciliation will inevitably grow as the recent terror attacks in Istanbul and Dhaka demonstrate that both countries face a common threat from Islamic extremism.
Bangladesh's State Minister for Foreign Affairs Shahriar Alam has left the door open for normalization. Alam claimed after Turkey's ambassador was recalled that no internal matter could harm the historic Dhaka-Ankara partnership. Turkey's normalization of ties with Israel and overtures toward Russia provide precedents for the resumption of full diplomatic relations with Dhaka.
While some degree of normalization is likely, Turkey will have to tread carefully to ensure that renewed cooperation with Bangladesh does not undercut recent improvements in Ankara's relationship with Pakistan. Therefore, it remains to be seen if the inflammation of Turkey-Bangladesh tensions is a momentary blip or a trigger for a genuine realignment of Turkish diplomacy in South Asia.
Samuel Ramani is an MPhil student in Russian and East European Studies at St. Antony's College, University of Oxford. He is also a journalist who writes regularly for the Washington Post, Huffington Post and Kyiv Post amongst other publications. He can be followed on Facebook at Samuel Ramani and on Twitter at samramani2.