Confirmed: Turkey to Modernize Pakistan's Attack Submarine Fleet
A Turkish defense firm has been awarded a contract to modernize three Pakistani attack submarines.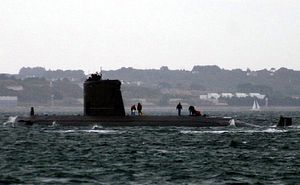 Turkish state-owned defense contractor STM has won a contract for the mid-life upgrade of three Agosta 90B-class (aka Khalid-class) diesel-electric attack submarines equipped with air-independent propulsion systems currently in service with the Pakistan Navy, a June 22 STM press statement reveals.
The deal was inked on June 22 in the Pakistani city of Rawalpindi between Pakistan's Ministry of Defense Production and STM. Officials from the embassy of Pakistan in Turkey and the Turkish Undersecretariat for Defense Industries were also present.
The announcement of the contract award came three weeks after Turkish Defense Minister Fikri Işık and his Pakistani counterpart, Khawaja Muhammad Asif, met on June 3 in Islamabad to discuss bilateral defense relations, including the potential deal (See: "Will Turkey Modernize Pakistan's Attack Submarine Fleet?"). Yesterday's announcement confirms that French shipbuilder Direction des Constructions Navales Services (DCNS), the company which originally built the Agosta 90B-class, has failed in its bid to modernize the boats.
"As part of the project regarding the modernization of class 'Agosta 90B' submarines; STM entered a long, compelling competitive evaluation process with French DCNS Shipyard which undertook the designing and production operations for the aforementioned submarines," according to the press statement. "After a tendering process beginning on April 16, STM was found to be technically and commercially superior and was selected as the main contractor to sign the contract."
The contract covers the modernization of three submarines, although only the upgrade of one boat is confirmed; the other two are on an optional basis for now. The overhaul of the subs will take place at a local shipyard in Pakistan—probably at the new Submarine Rebuild Complex (SRC) facility at Jinnah Naval Base, west of Karachi.
The first submarine is expected to return to service in four to five months. "The other submarines are estimated to be modernized with one year in between the modernization of each," according to the press release.  No specific technical details of the modernization plans have been revealed so far. As I noted earlier this month:
Some Pakistani defense analysts have speculated that the upgrade could entail the modernization of the Khalid-class submarines' combat management system, by, for example, Turkish defense contractor Havelsan, who has successfully developed a combat management system for the Turkish Navy's submarine fleet — primarily consisting of variants of German Type 209 boats.
Two out of the three Agosta 90B-class subs were built in Karachi with French assistance, with the last boat, the PNS/M Hamza, only commissioned in 2006. In 2015, Pakistan also agreed to purchase eight modified Type 41 Yuan-class diesel-electric attack submarines from China.