China Will Soon Field New Lightweight Gun Howitzer
A Chinese defense contractor has announced that development of a new gun howitzer for the PLA is complete.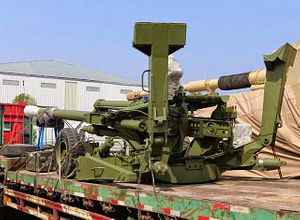 Chinese state-owned defense contractor China North Industries Corporation (NORINCO) has announced that the development of the AH-4, a 155 millimeter/39 caliber lightweight towed gun howitzer, has been completed, IHS Jane's International Defense Review reports. Furthermore, NORINCO revealed that serial production of the new gun can begin immediately.
The AH-4 lightweight gun howitzer has been specifically developed for the People's Liberation Army (PLA) rapid reaction forces. Given its relatively light weight of about four and a half tons, it can be airlifted by the PLA's Changhe Z-18 medium transport helicopter and rapidly deployed even in mountainous terrain.
With its hydro-pneumatic suspension system, the AH-4 can be deployed in a firing position within three minutes and made ready to be moved in two minutes. The gun's full crew consists of seven artillerymen. The maximum rate of fire is four rounds per minute.
The gun's maximum range is 40 kilometers, although a 25-kilometer effective range appears more likely.
"The range can be extended to 30 km if the ERFB-Base Bleed/HE is employed. The weapon can engage targets out to 40 km with the latest ERFB-BB-Rocket Assist/HE projectile, although this may result in a loss of accuracy," IHS Jane's International Defense Review reports.
"NORINCO has confirmed that the AH4 is also capable of firing its expanded family of 155 mm precision-guided munitions (PGMs). These include the latest 155 mm laser-guided projectile (LGP) GP6, which has a maximum range of 25 km with a first round hit probability of 90 percent and is capable of engaging stationary and moving targets," the analysis continues.
The existence of the AH-4 lightweight gun howitzer project was first revealed in 2012. The AH-4 is purportedly very similar to the U.S.-made BAE Systems M777 155 mm/39 caliber ultra lightweight towed howitzers.
India is in the process of acquiring 145 M777s for its newly stood up 17 Mountain Strike Corps, which was created to counter China's growing mountain warfare capabilities. As I reported in February (See: "Mountain Warfare Against China: US Plans to Sell 145 Guns to India"):
The M777 allegedly is the world's first 155 millimeter howitzer weighing less than 10,000 pounds (4,218 kilograms). Partly made of titanium, the gun can be airlifted swiftly to high-altitude terrain and is ideally suited for mountain warfare. The M777 has a firing range of up to 25 kilometers.
The Indian Army is also currently upgrading 414 indigenously manufactured Dhanush guns,  an improved variant of the FH-77B 155 mm/39 caliber towed howitzer. The new AH-4 will, in all likelihood, be deployed  by units stationed along the mountainous China-India border.
According to the June 2016 issue of Modern Weaponry magazine, the AH-4 was already able to win its first export order, with a Middle Eastern country allegedly picking China's new lightweight howitzer over BAE Systems' M777, China Defense Blog revealed.