Companies Are Moving Away from Bangalore, India's Largest IT Hub
Why Bangalore is losing its shine for IT companies.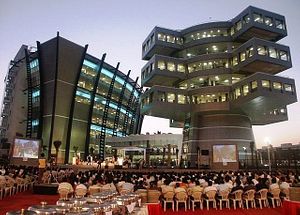 India's homegrown Silicon Valley is facing stiff competition from unexpected quarters as the country's hottest IT destination.
Undoubtedly, Bangalore is still the number one IT/ITeS outsourcing location in the world, as noted by an Economic Times article quoting a 2014 survey of the top 100 IT locations. It's not difficult to see why — the city not only boasts the highest number of startups, but also has an ecosystem that supports the startup culture. It has a large pool of tech talent, mentors, and venture capitalists, as well as accelerators and incubators.
That being said, Bangalore is no longer the natural or the top choice of IT entrepreneurs. They are not afraid to look elsewhere to start their IT ventures and much to their glee, are finding a plethora of choices in various parts of the country.
Bangalore's Growth Woes
It was really a matter of time before the trend started, since Bangalore is already groaning under the pressure of its huge IT sector and the large migratory population it has attracted over the years.
One of the reasons for Bangalore losing some of its sheen for investors is the dismal infrastructure – broken sewage lines, erratic power supply, congested industry clusters, you name it and Bangaloreans have faced it.
And everyone who has been to Bangalore has suffered at the hand of its infamous traffic. When a commute of a mere 8 kilometers takes upwards of an hour, you know there's a problem. Recently, the U.S. Ambassador to India Richard Verma observed that Bangalore's traffic does not allow anyone to reach a place on time.
Add to these infrastructure issues the atmosphere of political uncertainty that looms over the city so often and the sky-high cost of operations and Bangalore begins to lose its charm.
Rise of the Smaller City
While IT has been brewing in cities like Hyderabad, Chennai, Pune, and the National Capital Region (NCR), especially Gurgaon and Noida, the last few years have revealed an interesting trend – the rise of the tier-two cities as preferred IT destinations.
However, this rise is not an accidental one but due largely to the efforts of India's premier IT industry body, Nasscom, to promote tier-two and three cities for IT investment. As a result of this, cities like Chandigarh, Jaipur, Ahmedabad, Coimbatore, Bhubaneswar, Kochi, and Thiruvananthapuram have made an entry on India's IT map.
A case in point is iCliniq, an online medical advice platform, which recently shifted operations from Bangalore to Coimbatore. Thanks to the presence of technical institutions in the region as well as incubation centers, Coimbatore is witnessing a fair amount of startup activity.
Another rather unconventional choice for setting up an IT company is Goa. This Economic Times article profiles Abhisek Sarda, who has started two IT ventures in the coastal state. The reasons that led him to Goa ranged from lower operational costs to better quality of life. In the same article, the 30-year-old co-founder of Goa-based Vacation Labs, Saurabh Nanda, said he chose the city to start his venture as it ticked all the necessary boxes in terms of infrastructure, connectivity, and low-cost commercial real estate.
The northeastern state of Tripura is also pitching itself as the next IT destination for India on the back of its vast pool of English-speaking IT manpower, peace, and proximity to trade partner Bangladesh. In fact, Tripura's rise as an IT destination is being seen as opening the doorway of opportunities for the entire northeast region.
On the other side of the country, the fledgling state of Telangana is taking firm and quick steps toward becoming the next big IT destination. Hyderabad, the capital of the state formed just two years ago, recently witnessed the inauguration of Tata Group's ambitious multi-million incubator for startups T-Hub in its suburbs. The city has also been selected by online taxi hailing service Uber to establish a $50 million center – its biggest office outside the United States – over the next five years.
Though Hyderabad is not new to IT, it has faced the brunt of violent agitation over the formation of Telangana over the last few years and had to take a backseat while Bangalore surged ahead as the preferred IT destination. But now, with an enviable pool of tech talent, pleasant political times, a cosmopolitan culture, growing infrastructure, and reasonable real estate costs, maybe Hyderabad's time has finally come.
Becoming a thriving IT destination seems to be no longer Bangalore's monopoly. Many other cities waiting in the wings are ready to emerge out of Bangalore's shadow and establish themselves as hot IT destinations.
IT Monopoly and Higher Education
Bangalore has enjoyed an advantage in terms of educational and entrepreneurial institutions. Whether it is the abundance of engineering institutes or MBA colleges in Bangalore, colleges here also function as educational centers of excellence, helping students specialize in current industry needs in order to form a huge resource pool for the bustling IT sector. Renowned national science universities like IISc, public B-schools like the IIM, and top private MBA colleges like AIMS Institutes have been a draw for both national and international students every year.
Maybe the shift of IT monopoly might turn out to be a good thing for the traffic and infrastructure situation in the Garden City. And it could be a blessing in disguise for other industries like restaurants and sectors like higher education. And for the lakhs of graduates passing out from colleges here, working at a non-metro city is not a bad proposition, what with pervasive e-commerce and other digital facilities mushrooming in even small towns. It might just be a welcome change.
Sid Arora is a writer on Indian business, startups, and related news.