How is Kazakhstan's Community Outreach Going?
Turkmenistan restructures its energy industry, Tajikistan's stateless cling to Soviet passports; recommended reads.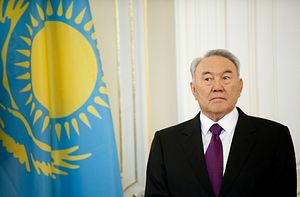 Weekend reads, podcasts and videos:
Deck Chairs in Turkmenistan:  "I think you'll probably find that this is no more than moving the chairs around as the Titanic sinks," John Roberts, a senior fellow at Dinu Patriciu Eurasia Center and Global Energy Center at the Atlantic Council, says in a recent podcast with the folks at RFE/RL in reference to recent restructuring in Turkmenistan's energy industry. Ashgabat recent scrapped the Ministry of Oil and Gas and the State Agency for Managing Hydrocarbon Resources and restructured responsibility for the country's resource wealth. Luca Anceschi, a professor of Central Asian Studies at Glasgow University, joined the podcast as well. Anceschi pointed out that Deputy Prime Minister Yashgeldy Kakaev, to whom it looks like the responsibilities of the former ministry will fall, survived several rounds of governmental reshuffles. "Kakaev survived, [and] is still the man in charge of TAPI (The Turkmenistan-Afghanistan-Pakistan-India pipeline), is still the man in charge of many other projects, so it seems to me that we can consider him now the most powerful figure in the gas industry."
Stateless in Tajikistan: Although the Soviet Union dissolved 25 years ago, there are still people in Central Asia carrying Soviet passports.The BBC's Abdujalil Abdurasulov visited a district in Tajikistan with the highest number of registered stateless people in the country. In a brief video, we meet a woman without a state who cannot travel, go to school, get a work permit, get a loan, or visit a hospital. "If you go anywhere, they ask for a passport," she says. Kevin Allen of UNHCR Tajikistan says in the video that it's unknown how many stateless people there are in Tajikistan. A pilot program registering such people in three districts in Tajikistan counted 20,000 in a single year.
Kazakhstan' Community Outreach: Following unprecedented protests over Land Code changes this spring, Astana formed an outreach commission to open its ears to the concerns of Kazakh citizens. But as Aigerim Toleukhanova reports for EurasiaNet, those efforts seem set to wind down early with President Nursultan Nazarbayev urging the commission to finish up by the end of August, rather than the end of the year. "There is an increasing sense that the government is struggling to… negotiate its way out of the dense web of feverish conspiracy that it concocted as a way of killing off the protest movement," Toleukhanova  writes.
Members of the public at the commission session painstakingly pointed out a glaring inconsistency that the government has tried very hard to avoid noticing — namely, that the protests were born out of genuine social frustrations and had not been spirited out of thin air by a sinister operator.
Many applauded Nazarbayev for setting up the commission–a good move to defuse tension–but held their optimism in check as the commission would be only as valuable as its ability to hear, understand, manage, and channel public concerns into the policymaking process. A mimicry simply won't do.
China and the Silk Road: Jack Farchy for the Financial Times narrates this helpful explainer on China's growing influence in Central Asia–touching on the value of Chinese investment, public concerns and challenges, and the opportunities some see that come along with greater relations with China. While Chinese investments–energy in Kazakhstan and Turkmenistan, infrastructure in Kyrgyzstan and Tajikistan–are valuable to regional governments, Central Asian citizens have mixed views. "In my opinion," one woman says, "China dominates the whole world." A man comments, "I'll put it like this, you could buy better products in Soviet times."