India Successfully Tests New Advanced Artillery Gun System
India's Defense Ministry announced a "technological breakthrough" during technical trials of a new gun.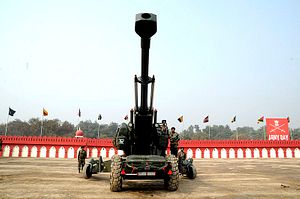 India's Defense Research and Development Organization (DRDO) successfully conducted proof firing tests of a new towed gun currently being developed for the Indian Army. With the successfully test-firing of the gun, the so-called Advanced Towed Artillery Gun System (ATAGS) achieved a "technological breakthrough," a press release of Indian Ministry of Defense claims.
"DRDO achieved yet another technological breakthrough by successfully conducting the proof firing of Armament system for 155 mm x 52 caliber Advanced Towed Artillery Gun System (ATAGS) during the technical trials conducted recently at Proof & Experimental Establishment (PXE), Balasore," the press release notes.
The ATAGS is being developed to supplement the indigenously designed and manufactured 155 millimeter/45 caliber artillery gun, Dhanush, an improved version of the FH-77B 155 mm/39 caliber towed howitzer manufactured by the Swedish defense contractor Bofors (now BAE Systems) and of which India acquired 414 between 1987 and 1991.
The armament system that underwent tests during this month's trials comprises "barrel, breech mechanism, muzzle brake, and recoil mechanism to fire 155 mm caliber ammunitions held by Indian Army with a longer range, accuracy, and precision and provides greater fire power," according to the defense ministry.
The new gun will allegedly be capable of firing five rounds in short duration with a maximum range of 40 kilometers, depending on the ammunition type. The gun will be lighter than most other guns in the same category, which will assure "high mobility" and "quick deployability," the press release states. The 1999 Kargil War illustrated the utility of light-weight artillery that can be quickly deployed in mountainous regions.
Furthermore, the ATAGS will feature "auxiliary power mode, advanced communication system, automatic command and control system with night firing capability in direct fire mode." The gun has been designed in partnership with India's private sector including Bharat Forge Limited, Tata Power Strategic Engineering Division, and Mahindra Defense Naval System under Indian Prime Minister Narendra Modi's "Make in India" initiative.
The ATAGS project is part of larger artillery modernization program for the Indian Army. As I reported previously, "The Indian army's 1999 Field Artillery Rationalization Plan aimed to acquire 2,800-3,000 155 mm/52-caliber guns of all kinds and 155 mm/39-caliber lightweight howitzers by 2027. At the moment the military has merely around 200 guns in service."
In July, the defense ministry also approved the purchase of 145 M777 Ultra Lightweight Howitzers from BAE Systems at a cost of about $750 million. All of the Indian Army's 414 Dhanush guns will also undergo upgrades by 2017. The ATAGS is expected to be ready for user trials in early 2017, with serial production slated to commence in 2019.