Iranian Charity in Trouble in Tajikistan
Another outgrowth, perhaps, of increased friction between governments in Tehran and Dushanbe.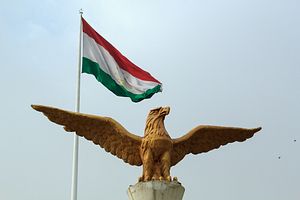 The Tajikistan branch of the Imam Khomeini Relief Committee (IKRC)–an Iranian government-supported charity organization–has had its operations temporarily suspended. Tajikistan's Minister of Justice Rustam Shohmurod, according to Asia-Plus, announced at a press conference that the Justice Ministry filed a suit against the IKRC on the basis of several articles in the country's law on public association.
The articles in question–34, 35 and 37–pertain to government oversight of public associations via a registration authority, the suspension of organizations declared to be acting in violation of the Constitution, relevant laws, or the registration authority, and the grounds and process for banning associations in violation.
As Asia-Plus reports:
An official source at the Ministry of Justice of Tajikistan said several violations have been revealed in IKRC's activities in Tajikistan.  He said the Ministry of Justice had sent an official warning to the IKRC's Branch in Tajikistan twice "but they have ignored it."
The IKRC, founded in 1979 to aid poor families, is directly supported by the Iranian government. The foundation has branches in numerous countries beyond Iran and has operated in Tajikistan since the mid-1990s. In 2014, the foundation opened two training centers in Isfara district–offering a computer basics course and sewing training in Vorukh. Vorukh, notably, is a Tajik exclave entirely surrounded by Kyrgyz territory. The region is a periodic flashpoint. At the time, Asia-Plus reported that the IKRC had opened 26 free training centers in the Sughd region. Beyond vocational training, the foundation reportedly provides support to orphanages, free medication to the needy, and scholarships to poor students as well as humanitarian relief to victims of natural disasters, such as those impacted by flooding last summer.
The Justice Ministry says it's not commenting further on the case and reportedly the Iranian Embassy in Tajikistan is also staying relatively mum.
It's not wholly unreasonable to frame the pressure on the IKRC within increased friction between Tajikistan and Iran. The two countries–which share deep historical and linguistic ties–were set at odds last December when Tehran hosted the exiled leader of the Islamic Renaissance Party (IRPT), Muhaddin Kabiri. Mere months after Kabiri's political party had been forcibly disbanded and branded a terrorist organization by the Tajik government, he was reportedly seated next to the official Tajik government delegation at a conference on Islamic unity. Dushanbe, which views Kabiri as nothing short of a terrorist and has demanded far and wide that he be arrested and returned to the country, was not pleased.