Is Pakistan at Risk for a Coup?
After a failed attempt in Turkey, Pakistan remains at risk for its own military coup.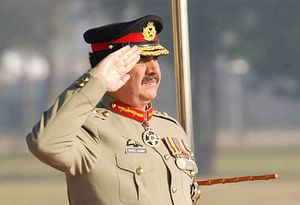 Last week's failed military coup in Turkey has understandably brought cheers in Pakistan. Followers of the ruling party, the Pakistan Muslim League (Nawaz) or PML(N), believe that the failure of the Turkish coup is a deterrent and thus closes the door on the possibility of ousting the civilian regime in Pakistan, at least for the next few years. And by then, Nawaz Sharif would have completed his constitutional term for the first time. Additionally, proponents of democracy believe the vibrant judiciary, which avows the closure of the "Doctrine of Necessity," and the active media (perhaps social media in large) would resist a coup attempt. However, there are three factors that could drive another successful coup in Pakistan.
Widespread Popularity of General Raheel Sharif
General Raheel Sharif, Pakistan's chief of army staff, enjoys overwhelming support in the country on two levels. Among the political elite, Sharif won acclaim when he issued a statement back in January exhibiting reluctance to seek an extension of his term. Nearly every political section applauded the decision, considering it part of a healthy trend in nurturing democratic norms. Among the general public, Sharif is seen as a willful man and deliverer (unlike his predecessor) who has restored peace in the country as a whole and in Karachi particularly.
Sharif's popularity can also be detected from social media, as nearly no trend takes off without using his name in hashtags. Presenting tribute to the general and the army has become a new craze in both the lower and upper classes. For instance, Pakistan's cricket team won a test match against England at Lords last week and the victory celebrations included a few push-ups and a salute to the army, since the players received physical training at a military camp before departing on their overseas tour. This celebration style went viral and flurry of videos have since appeared on social media offering similar appreciation for the army.
Not long ago, banners appeared on light poles alongside busy roads in 11 of Pakistan's big cities. The banners asked Sharif to impose martial law and take control of the country rather than retiring. The banners were put up by a small political party that sees General Sharif as a savior. Taking together, this prevalent admiration, auspicious public response and a bleak history of opposition military coups can open a route to power for the army yet again.
Silent Support of Pakistan Tehreek-e-Insaf?
Last week, Imran Khan, chairman of Pakistan's third largest political party, Pakistan Tehreek-e-Insaf (PTI), said that people would welcome the army and distribute sweets if a coup took place in Pakistan. Khan went on say that the biggest threat to the democracy is none other than Nawaz Sharif himself.
PTI emerged on the political scene suddenly after 2011, allegedly with the patronage of former  Director General of Inter-Services Intelligence (ISI) General Shuja Pasha. Two years later, the party staged a 126-day long sit-in in Islamabad asking Nawaz Sharif to resign over unproven allegations of rigging the general elections of 2013. The sit-in was also supported and funded by covert hands and many believe that some of the army had a role in the anti-Nawaz drive. Back in 1999, General Pervez Musharraf overthrew Nawaz Sharif's legitimate government and conducted elections in 2001, seeking a puppet government to strengthen and prolong his tenure. The Pakistan Muslim League-Q emerged to finish the job.
Today we have PTI. Its failure of forming federal government, inability of bringing structural changes in Khyber Pakhtunkhwa province, and an unproductive experience of ousting the elected government have made its power hunt more frantic. Thus there is serious anxiety among many that PTI could appeal for a military coup and emerge as a major beneficiary afterwards.
Faultlines within PMLN
Indeed, Nawaz Sharif's government has a single majority to run the country and complete the legitimate constitutional term, yet a few blunders may lead to the startling fall of his government. The 2014 Model Town Lahore incident, which took the lives of 11 people, is still a mystery and a stain on the Sharif government. All investigations have not been accepted by Pakistan Awami Tehreek (PAT), another political party, which claims the killings of its supporters were deliberately carried out at the behest of the prime minister and chief minister. The issue is pending in the courts. Critics argue a real finding regarding the atrocity could dethrone the PM and CM; the subsequent political vacuum might be filled by the military.
Moreover, the Panama Papers scandal is not over. Opposition parties are banking on the issue and sense a possible ouster of Nawaz Sharif. Other than a few remarkable triumphs on the economic front, PMLN has made little progress on elections promises like ending power outages, curbing inflation, and exercising better governance. Consequently public support for the government is gradually slipping.
Pakistan has an unpleasant history when it comes to repelling coups. Opportunists have always hailed military takeovers and enjoyed the fruits even more than the democratic regimes. Unfortunately, the stage is set once again: Raheel Sharif and the army's fame, Imran Khan's green light, and the PMLN's governance issues are sufficient to foster another round of military adventurism.
In Pakistan, people chant slogans, dig graves at D-Chowk, wave shrouds, and break parliament gates, but do not dare to stand in front of tanks. Yes, they jump on tanks and military vehicles — not to resist, but to celebrate. Meanwhile, television screens display live footage of the new military leader declaring, "Mere Aziz Ham Watno… My dear countrymen…"
Muhammad Daim Fazil is Lecturer of International Relations  at University of Gujrat, Sialkot Campus, Pakistan. He is currently a Visiting Fellow at the Henry L. Stimson Center Washington DC. He tweets @DaimFazil.