Ex-Pakistani PM Zeroes in on Pakistan's Civil-Military Divide in Interview
A controversial interview by a former prime minister puts a spotlight on Pakistan's civil-military dynamics.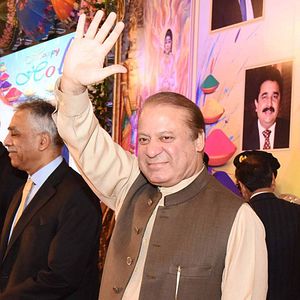 Pakistani newspaper Dawn published an interview with the country's former prime minister, Nawaz Sharif, on Saturday that has stirred up a firestorm in the country. In the interview, Sharif, who was disqualified from public office by the country's Supreme Court last year, addressed Pakistani foreign and national security policy in a conversation with journalist Cyril Almeida.
The bit from the interview that has drawn the most interest is Sharif's decision to acknowledge the role of non-state groups in the November 26, 2008, Mumbai attacks. In the interview, Sharif said "Militant organizations are active. Call them non-state actors, should we allow them to cross the border and kill 150 people in Mumbai? Explain it to me."
"Why can't we complete the trial?" Sharif continued, referencing the stalled prosecutorial process involving the Lashkar-e-Taiba terrorists involved in the attacks. Sharif's acknowledgement of militant organizations being active in Pakistan is not a new acknowledgement by serving or retired senior Pakistani officials, but it has drawn scrutiny nonetheless.
Sharif's remarks, however, have further inflamed civil-military relations. "You can't run a country if you have two or three parallel governments. This has to stop. There can only be one government: the constitutional one," Sharif said in the interview. Sharif and his supporters have claimed that his disqualification by the Supreme Court was egged on by the Pakistani military, which maintains great influence in Pakistan.
Pakistan has spent nearly half of its years as an independent country under military rule, with the 2013 election marking the first successful transfer of power from one democratically elected civilian government to another.
The Pakistani military has swung into damage control mode following the publication of the Dawn interview. Maj. Gen. Asif Ghafoor, the head of the Pakistani military's Inter-Services Public Relations directorate, announced that the military had "suggested" a meeting of the National Security Council to "discuss recent misleading media statement regarding Bombay incident." The meeting will take place on Monday.
Sharif's comments have also allow the Pakistan Muslim League-Nawaz's opponents a new opportunity to attack the ruling party. Pakistan Tehreek-e-Insaaf's (PTI) Imran Khan has been out in front, accusing the former prime minister of speaking "[Indian Prime Minister Narendra] Modi's language against [the Pakistani] state." Babar Awan, a PTI leader, added that Sharif's comments may have even represented an act of high treason. Other opposition parties, including the Pakistan People's Party, also criticized Sharif's comments.
The PML-N, meanwhile, initially stood by Sharif, saying that his statement was "grossly misinterpreted by the Indian media." "Unfortunately, a section of Pakistani electronic & social media has intentionally or unintentionally not only validated but has lent credence to the malicious propaganda of Indian media without going through the full facts of the statement," a statement released by a PML-N spokesperson added.
The party appeared to walk back its earlier statements of support late on Sunday. Shehbaz Sharif, the PML-N's president, took to Twitter to note that the party "rejects all assertions, direct or implied" in a subsequent Dawn report.
Sharif has served three incomplete and nonconsecutive terms as Pakistan's prime minister. In 1999, Sharif was removed from office in a coup led by then-Chief of Army Staff General Pervez Musharraf, who ruled Pakistan for nine years afterward.