Modi's Africa Visit: Toward Greater Cooperation in Maritime Security
India can emerge as a maritime security leader with African states bordering the Indian Ocean.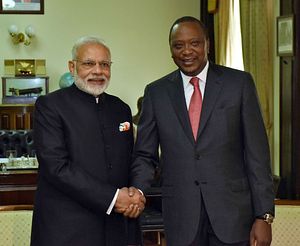 The four African nations that recently hosted Indian Prime Minister Narendra Modi share a cardinal asset with India: the Indian Ocean. Throughout Modi's visit, issues such as capacity building, food security, and manufacturing were widely discussed, but the focus of the visit, without a doubt, was to strike a chord with East African peers for greater cooperation in maritime security in the Indian Ocean Region.
The Indian Ocean is undoubtedly the most important part of India's emerging maritime strategy, and in the quest to secure its interest in the strategic ocean, India aims to expand its security profile in East Africa. The littorals of East Africa serve as a gateway to the wider Indian Ocean Region. This region not only hosts large energy reserves, but also is home to some of the world's most important strategic waterways and congested, ambush-prone maritime chokepoints. Through these chokepoints, more than 50 percent of Africa's maritime energy trade passes.
Despite the fact that India has historically enjoyed excellent cultural and economic relations with the East African nations of Kenya, Tanzania, Mozambique, and South Africa, it has somewhat failed to project itself as a maritime security provider in the extended region.  There now exists a unique opportunity for India in this regard, as the strategic and economic interests of all regional stakeholders converge in the Indian Ocean Region. As India seeks to create a framework for cooperation in the maritime security domain, this convergence of strategic interests will act as the driving force.
There are two key reasons as to why these nations require a robust maritime security partnership.
First, these East African nations are largely dependent  on trade through the Indian Ocean and have gained economic stability, unlike many other African nations, due to their proximity to critical Sea Lanes of Communication (SLOCs) in the Indian Ocean. These SLOCs, perceived to be prone to piracy attacks, facilitate the integration of their national economies with the global economic order. For decades now, the mineral rich nations on the East African coast have shipped loads of ore and other raw material to booming economies across the Asia-Pacific and, in turn, have received huge investments in sectors such as infrastructure, energy, and defense.
Secondly, regional security forces lack the maritime capability to take on pirates and other seaborne criminals unilaterally. The lack of a modern maritime security infrastructure, due to limited resources, makes these states more dependent upon regional and global players for maritime security in these piracy-affected SLOCs.
India, through cooperation in the defense sector with Kenya and Tanzania, provides them limited defense aid, but has failed to stand out as a formidable maritime partner. According to World Bank estimates, the Kenyan economy loses an estimated $300 million annually because of maritime insecurity. As defense cooperation between India and the United States reaches new heights, Kenya, which enjoys a close relationship with Washington, is likely to use this blooming relationship to secure its interests in the Indian Ocean. New Delhi, being Kenya's largest trading partner and the second largest investor, should seek to engage Nairobi in the maritime security domain.
In the joint press statement following delegation-level talks in Nairobi, Modi emphasized closer cooperation in the field of maritime security. During his visit there, the two nations signed seven different pacts, including a Memorandum of Understanding on Defense Cooperation. In Tanzania, while the two countries agreed to deepen cooperation in the maritime domain, it will be interesting to see if New Delhi follows up on this with a more defined policy.
While India has had little success in engaging Kenya and Tanzania in the maritime security domain, it has successfully projected itself as a maritime security provider to Mozambique. During the African Union summit in 2003 and the World Economic Forum meet in 2004, India deployed its navy off the coast of Maputo to provide maritime security. A security agreement in effect since 2012 provides for Indian Navy patrols in Mozambique's territorial waters. During his recent visit and ever since coming to power in 2014, Narendra Modi has laid special emphasis on maritime cooperation with Mozambique. The country is among the fastest growing economies in sub-Saharan Africa and is heavily dependent on the Indian Ocean to sustain its annual growth of around 8 percent. The scope of maritime cooperation between India and Mozambique is high, and a policy-driven framework in which India projects itself as a reliable maritime security provider can bolster maritime cooperation between the two nations.
India's relationship with South Africa, meanwhile, is quite different from its relationship with other African nations. South Africa, with its globalized economy and abundant resources, is an emerging regional hegemon in sub-Saharan Africa. By bolstering maritime security ties with Pretoria, New Delhi can put to use South Africa's influence in sub-Saharan Africa to create a consensus in the region for its leadership role in the Indian Ocean. India and South Africa enjoy strategic similarities, but it should not be assumed that these similarities translate into common interests. South Africa perceives India's presence and engagement in the region as a threat to its interests. Pretoria's economic relationship with Beijing prevents any meaningful engagement in limiting China's influence in the Indian Ocean Region. As the two countries find constructive ways to engage in the maritime security domain, India should work to build a relationship that reduces threat perceptions in Pretoria.
As East African nations work to create infrastructure and institutions to address maritime security challenges in the Indian Ocean, they need credible partners that can provide technological and institutional support. While the international community has rendered considerable help in this regard, the scope for maritime cooperation remains large and varied. If India hopes to create a consensus in Africa on its leadership role in the Indian Ocean Region, it should seize this opportunity to create a maritime security network that engages security seekers and security providers in effective governance of the maritime commons in the Indian Ocean Region.
Prakhar Gupta is a foreign affairs analyst and an independent journalist. His work has appeared in the Indian Defence Review, South Asian Voices, Eurasia Review, and Youth Ki Awaz, among others.