Indian Prime Minister Narendra Modi Prepares for an Indian Ocean Tour
Modi will visit Mauritius, Sri Lanka, and the Seychelles. A planned visit to the Maldives has been cancelled.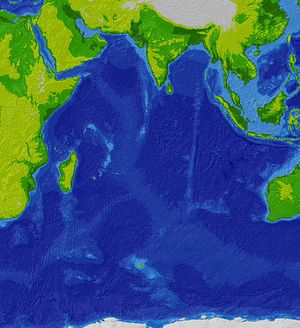 Indian Prime Minister Narendra Modi will embark on his first tour abroad this year. Modi will conduct a three-nation tour across the Indian Ocean next week, stopping over in Seychelles, Mauritius, and Sri Lanka. The Maldives, a stop originally on Modi's agenda, has been struck after the sudden emergence of a political crisis there in late February. Modi's trip will focus on increasing Indian economic and strategic ties with these Indian Ocean states. Last September, before coming to India, Chinese President Xi Jinping visited Sri Lanka and the Maldives, prompting Indian concern. Modi will spend the 11th of March in Seychelles before heading to Mauritius from the 11th to the 12th. He will conclude his trip in Sri Lanka on the 13th and 14th of the month. Modi will be the guest of honor at Mauritius' National Day celebrations.
Modi's visit to Sri Lanka comes shortly after the country's new president, Maithripala Sirisena, visited New Delhi. During Sirisena's visit, he and Modi welcomed a "new beginning" in India-Sri Lanka relations. Sirisena's predecessor Mahinda Rajapaksa was widely seen to favor increasing strategic ties with China. He crystallized closer ties between Sri Lanka and China in the form of inbound investment in infrastructure and by even allowing port calls by Chinese naval vessels. Sirisena's government has announced that it will challenge Chinese loans that were approved under the former government and bar port visits by Chinese submarines — both positive signals for India. Sirisena's government has additionally temporarily suspended the China-funded Colombo Port City project. Modi's visit will likely build on the positive momentum generated during Sirisena's New Delhi visit and lead to a broader rapprochement between the two neighbors.
The Indian prime minister's decision to cancel his trip to the Maldives will send a clear signal to the government in Male. As I noted in a reflection on India's policy options after the Maldivian government brutally arrested and incarcerated the country's first democratically elected president and current opposition leader Mohamed Nasheed, canceling the visit is a fairly low intensity way for New Delhi to stress its condemnation of Nasheed's treatment. Abdulla Yameen, the current president of the Maldives, will know that his government's attempts to subvert democracy and the rule of law will lead to regional isolation. Without resorting to more dramatic tools such as economic sanctions, New Delhi will send a clear message. The Maldivian opposition continues to support India and economic isolation could risk that. The prime minister's decision to scrap Male off his itinerary is sensible.
The Modi government envisages an active role for India in the Indian Ocean Region as a proactive economic and security actor. In Mauritius and Seychelles, Modi will likely look to seal agreements for an expanded Indian security role. India's navy chief visited the Seychelles last fall, handing over the INS Tarmugli, an Indian Fast Attack Craft (FAC), to the government there. Additionally, India has provided military technical assistance to the Seychelles Coast Guard. Three Indian warships accompanied Indian navy chief R.K. Dhowan's November 2014 visit to the country. Similarly, the Indian Navy has provided training to the Mauritius Coast Guard. Agreements for increased maritime security cooperation with these countries are a very likely outcome of Modi's planned visits.
China's recent interest in integrating these island states into its 21st Century Maritime Silk Road initiative has invigorated India's interest in the Indian Ocean — a region it sees as its maritime "back yard." Shortly after his election victory in May 2014, Modi emphasized that his approach to Indian foreign policy would emphasize India's immediate neighborhood. For India to secure its place as the preeminent regional power in South Asia, it needs to ensure a sustainable process of strategic rapprochement with Indian Ocean states. Modi's tour of Sri Lanka, Mauritus, and the Seychelles will be a good start toward that objective.