Russia Offers India Nuclear-Powered Supercarrier
A Russian delegation officially offered India a nuclear-powered aircraft carrier for purchase last week.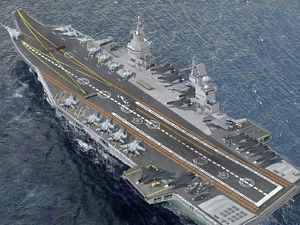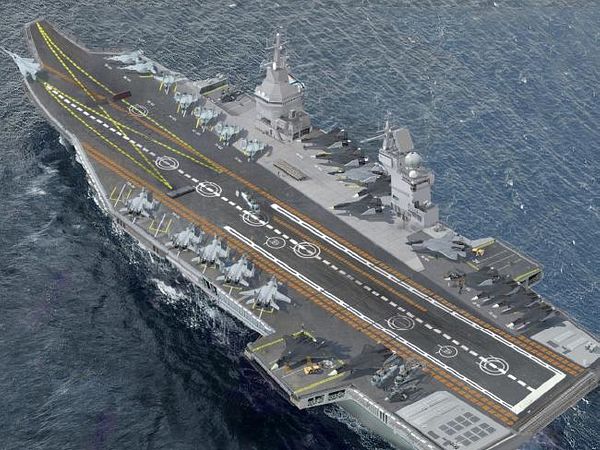 Last week, a Russian delegation visiting New Delhi offered the Indian Navy Russia's latest supercarrier design, dubbed Project 23000E Shtorm (Storm), for purchase, Defense News reports, based on information provided by a senior Indian Navy official. According to the article, a Russian diplomat based in India confirmed that an offer has been made.
Few additional details have so far come to light surrounding the purported Indo-Russian discussions over procuring the supercarrier. As I reported in March (See: "Will India Buy Russia's New Supercarrier?"), India is still expected to officially announce a procurement tender for a heavy nuclear-powered aircraft carrier, 300 meters long and 70 meters wide and displacing 65,000 tons.
This 65,000-ton supercarrier, the INS Vishal, the second ship of the Vikrant-class, will allegedly feature "significant design changes from the lead vessel, the INS Vikrant, including possible nuclear propulsion and Catapult Assisted Take-Off But Arrested Recovery (CATOBAR) and Electromagnetic Aircraft Launch Systems (EMALS)," I wrote in January.
The Krylovsky State Research Center (KRSC), a Russian shipbuilding research and development institute, has been working on the Russian supercarrier's design over the last two years. The vessel's design was first revealed in May 2015. As I explained in March:
In the summer of 2015, Russia, France, the United Kingdom, and the United States received requests for "technical and costing proposals" regarding the design of India's new aircraft carrier. According to Indian defense officials, the two top contenders are Russia and France, given that India operates aircraft from both countries.
According to information provided by KRSC, I summarized the Russian-made supercarrier's main characteristics:
The supercarrier design has a displacement of 100,000 tons, is 330 meters long and 40 meters wide, and has a draft of 11 meters. Powered by either conventional or a nuclear propulsion, the ship can remain at sea for 120 days and sail up to 30 knots (around 55 kilometers per hour), according to information supplied by KRSC. It can accommodate a crew of up to 5,000 and can carry 80-90 deck-based aircraft.
However, whether Russia's design will prevail is highly doubtful, as I explained back in March:
The likelihood that Russia's supercarrier project will become a reality and move beyond the conceptual state is slim. For starters, Russia has never built an aircraft carrier. All Soviet carriers were constructed in Ukraine. Russia's shipbuilding industry currently lacks the capacity to build a supercarrier and does not even have a large enough dry dock to accommodate a vessel the size of the Shtorm.
India is planning to induct the new aircraft carrier in the late 2020s.