The Naadam Festival: Mongolia's Games
This showcase of Mongolian culture has been celebrated for hundred of years.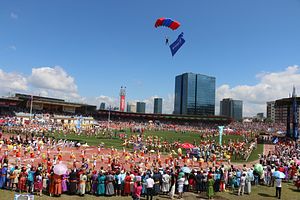 From July 10-13, Mongolia celebrated the annual Naadam festival. The festivities consist of a number of national ceremonies, concerts, and, most notably, sporting competitions—including those for the "three manly sports" of wrestling, horseracing, and archery. Many other side events, such as shegai, a game involving flicking sheep anklebones, and a variety of carnival games are also popular on the holiday.
The Naadam games have been celebrated for centuries by the nation's nomads and represent Mongolia's living cultural legacy of nomadic pastoralism. Today, the festival is a major tourism draw which attracts thousands of foreigners each year to witness the spectacle.