Afghan Air Force Now Operates 27 New US Attack Helicopters
The Afghan Air Force recently took delivery of the last batch of U.S.-made MD530F light attack helicopters.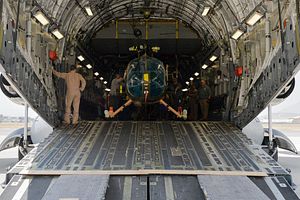 Four new MD530 F Cayuse Warrior light attack helicopters were delivered to the Afghan Air Force (AAF) at Hamid Karzai International Airport in Kabul on August 25, bringing the total number of MD530 Fs operated by the Afghan Defense and National Security Forces (ANSDF) to 27, according to a U.S. Air Force (USAF) press release.
The four helicopters are the last batch of MD530 Fs scheduled to be delivered to the AAF and are armed with rockets or .50-caliber machine guns. The helicopters also feature a new sighting system, which was not installed on the initial 13 MD530 F helicopters inducted into the AAF.
"The first 13 helicopters continue to be modified to support 2.75-inch rocket capabilities and add the improved sighting systems," said Lieutenant Colonel Bill Ashford, a U.S. military advisor and squadron commander.  The helicopters will be fitted with a so-called Enhanced Mission Equipment Package (EMEP), which includes:
Rhode & Schwarz M3AR tactical radio communications solution
Aviatech tactical communication antennas
DillonAero Mission Configurable Aircraft System (MCAS) and fixed-forward sighting system
Kinetic Defense ballistic armor panels
FN HMP400 .50 caliber gun pods from FN Herstal
75" rocket capability
As I previously reported (See: "Afghanistan's Newest Attack Helicopter a 'Total Mess'?"), a number of AAF pilots criticized the size and capabilities of the MD530 Fs. However, according to Colonel Troy Henderson, the 438th Air Expeditionary Advisory Group commander, the U.S.-made light attack helicopters are the right size for their mission in Afghanistan.
"The MD530's size enables the AAF to use their C-130s to transport where they are needed," he said. "They have great maneuverability and capable weapon systems to target a variety of enemy targets. Their presence in Afghanistan has been critical to neutralizing insurgent operations."
Given the limited U.S. and NATO troop presence, it is difficult to assess the genuine impact of the new helicopters on ground operations by the ANDSF. "With fewer forces in theater, the United States military has lost much of its ability to make direct observations, provide tactical mentoring, and collect reliable information on ANDSF capability and effectiveness," according to an April 2016 report of the Special Inspector General for Afghanistan Reconstruction (SIGAR).
"AAF MD530 pilots are positively impacting counterinsurgency operations daily across Afghanistan," said Henderson. "Despite being based at Kabul, MD530 operations have expanded to support south, central, and eastern Afghanistan. Today's delivery of the final four will help support operations in northern Afghanistan."
Ashford said that the MD530 Fs are conducting multiple missions a day across the country. "They are often engaged in providing aerial escort to convoys, providing over-watch to ANDSF operations and responding to 'troops in contact' situations," he noted.
Despite the most recent delivery of light attack helicopters, the ANDSF still lacks adequate air power to effectively support ground operations. "We need more aircraft, and we are looking at how we can meet that need… The Afghan Air Force needs to expand," said the top U.S. commander in Afghanistan, General John Nicholson during a recent visit to India.