After Islam Karimov, What Next? Uzbekistan's Succession Question
Uzbekistan's succession is set to a be a fight between clans and security institutions.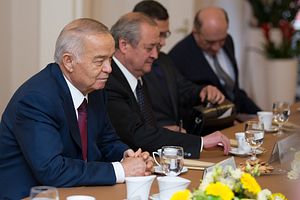 With news of Islam Karimov's hospitalization due to stroke this week, and further (as yet unconfirmed) reports of his death following close behind, speculation is rife over possible succession to the strongman who has ruled Uzbekistan since its independence from the Soviet Union in 1991. The fight for succession is likely to play out between Uzbekistan's clan system and its ruling security apparatus.
Karimov has ruled Uzbekistan with an iron fist since 1991. His regime has stacked up human rights violations, to include accusations of boiling dissenters and activists. Karimov's rule of the Central Asian nation has been built on a balance between Uzbekistan's two most powerful clans, the Samarkand clan (of which Karimov is a part) and the Tashkent clan.
Not surprisingly, the two strongest clans in Uzbekistan also compete over the country's security institutions, with the power tussle at times having been contentious and even violent. With no successor in line to replace Karimov, and his eldest daughter Gulnara under house arrest, the battle for succession in Uzbekistan could be fraught with violence and instability.
Competition over succession is as much about clan politics as it is about the country's security institutions. The National Security Council (SNB) is led by Rustam Inoyatov of the Tashkent clan, while the Interior Ministry (MVD) was formerly headed by Zakir Almatov, who hails from the Samarkand clan.
Historically, these institutions have been fraught with tensions and at times violence against each other. Throughout the late 1990s and early 2000s, a series of bombings and crackdowns were attributed to the two competing institutions, an attempt at delegitimizing and embarrassing the rival institution.
In 2005, Tashkent journalist Ruslan Sharipova stated, "I am inclined to think that all processes are driven by inter-clan relationships; the two strongest clans for the time being are the MVD and the SNB. They compete and fight with each other. I am absolutely sure that Zakir Almatov's clan is much stronger, as many are saying on the Internet these days."
Almatov's rise to fame and power as a result of his control over the uniformed police during the 1990s and early 2000s caused Karimov to establish the SNB to counter balance Alamtov's influence and to squash any potential coup attempt. Alamtov was eventually removed from his post, putting the nail in the coffin for Samarkand clan control over the uniformed police. The selection of Adham Ahmedbaev to replace Alamtov as head of the MVD was a de facto coup against the Samarkand clan, and many of Uzbekistan's security institutions are now controlled by the Tashkent clan.
Now having secured much of the security state within Uzbekistan, SNB chief Inoyatov's closest powerful competitors in a post-Karimov era are Prime Minister Shavkat Mirziyoyev and Finance Minister Rustam Azimov. Mirziyoyev and Azimov are both technocrats wielding considerable administrative powers and functions; the prime minister is from the Samarkand Clan while Azimov is from the Tashkent clan.
Some analysts speculate that Inoyatov is not interested in running the country and instead see him as a king-maker and a powerful ally to any potential leader, partially because of his old age. Though Azimov is from the Tashkent clan, Inoyatov may throw his support behind Mirziyoyev to balance the clan system.
Uzbekistan's history since independence has been a seesaw balance between rival clans and security institutions. To maintain peace and security in the region the next leader will have to have support from both clans. Currently, the security organs are monopolized by one clan, wielding considerable influence and power — a complete takeover of state functions by the Tashkent clan after Kaimov's death could jeopardize balance in the country and lead to political violence.
The geostrategic importance of Uzbekistan should not be understated, and any instability in the Central Asian country will have global repercussions. Despite its human rights violations, Uzbekistan has been a strong partner with Europe and the United States, assisting NATO with efforts in Afghanistan and the war on terror. Although the U.S. military was kicked out of the country over its criticism of the Andijan massacre in 2005, Tashkent is still a key ally, with NATO and EU considering the possibility of selling Uzbekistan used military equipment from the Afghan conflict. With Islamic State fighters emanating out of Central Asia into Iraq and Syria, a stable Uzbekistan is in the best interest for the West's war on terror.
Uzbekistan also serves as a bulwark against Russian interference in Central Asia. As a holdout from Russia's Eurasian Economic Union and after its exit from the Collective Security Treaty Organization, Uzbekistan has pushed further toward relations with China and the West. The China-Central Asia Natural Gas Pipeline traverses the entire country.
Any succession in Uzbekistan could thus realign Uzbekistan's current trajectory and national interests, with far-reaching regional ramifications.