After the Failed Coup: A New Dawn for China-Turkey Relations?
As Ankara reexamines its post-coup foreign policy priorities, China-Turkey relations have an opportunity to blossom.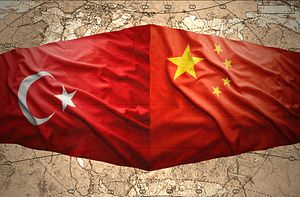 More than half a month after the attempted Turkish military coup in mid-July, China sent Vice Foreign Minister Zhang Ming to Turkey. Zhang's visit was meant to help China learn about Turkey's domestic situation and foster an in-depth exchange of views with the Turkish side on China-Turkey relations as well as international and regional issues of shared interest.
Zhang's visit attracted considerable attention in China because he was the first senior Chinese representative to visit Turkey since the attempted military coup in Turkey, which almost ousted the Justice and Development Party (AKP) government. Although it came more than two weeks after the failed coup, Zhang's visit was still timely. On the one hand, along with other states, China needed time to closely observe the political trends inside Turkey and waited until the proper time to send its representative. On the other hand, for China, the decision to send a vice foreign minister to Turkey within half a month is comparatively fast. It usually takes a long time before a final decision is made given the complicated foreign policymaking system in China, which consists of not only China Foreign Ministry from the government, but also the Foreign Affairs Office of Communist Party of China (CPC).
For this visit, China chose Zhang Ming, a relatively senior representative (a vice foreign minister, but not Minister Wang Yi or another, higher-ranking representative) who is familiar with the Middle East (Zhang has been working for China's foreign ministry on Middle East affairs for decades). The choice suggests China is cautious in approaching Ankara given the political chaos inside Turkey.
China-Turkey relations can be traced back centuries to when the Ottoman Empire supported and mobilized the Muslim revolt in western China under the Qing Dynasty. However, the two modern-day countries' direct interaction began during the Korean War of 1950-1953. In that war, Turkey — part of the coalition that fought against China — sent thousands of soldiers to Korea to show its political solidarity with West and the United States. The Korean War paved the way for Turkey's membership inside NATO, which harbored hostility toward Communist China in the following decades.
China and Turkey established diplomatic relations in 1971, but the bilateral relationship between China and Turkey stagnated until the 1990s because of both the political tensions of the Cold War and limited economic exchanges. The main factor that stimulated Sino-Turkish relations in the 1990s was simple: arms sales. The United States and European countries limited arms sales to Turkey because of the Kurdish issue. In their stead, China became a reliable arms provider and helped Turkey to develop artillery and ballistic missile technology. During the two decades after the Cold War, China-Turkey bilateral trade grew significantly along with China's fast economic development and high-speed GDP growth.
However, fast growing China-Turkey trade does not mean bilateral ties have developed without frustrations. Political trust between China and Turkey is limited. From the Turkish perspective, NATO membership is an important anchor in Turkish foreign and security policy, and Turkey has to consider attitudes from its Western allies before it develops deeper political or military relations with China. For example, in November of 2013, the China Precision Machinery Import-Export Cooperation (CPMIEC) won the Turkish Defense Ministry's bid to provide an anti-missile defense system. The Turks selected the Chinese bid because it was the cheapest and promised the earliest delivery date, and the Chinese corporation was generous in the option of technological cooperation. China was very excited because a NATO member was interested in buying an advanced weapon system from a Chinese company. However, after series of protests from Western states, Turkey finally had to announce the complete cancellation of the bid in November 2015.
Meanwhile, China suspects Turkey's role in the "Uyghur issue." Many in Turkey sympathize with the Uyghur minority group in China's Xinjiang Province, thanks to their shared Muslim faith and Turkish heritage (Uyghurs are viewed by many Turkish as "Eastern Turks"). As a result, Turkey has criticized China's policy in Xinjiang. In July 2009, when 189 people (most of them from the Han ethnic group) were killed in Xinjiang, then-Prime Minister Recep Tayyip Erdogan called the event as "a kind of genocide." Erdogan's remarks were viewed as interference in China's internal affairs and China demanded Turkey retract the comments.
Many Uyghur separatists have found a haven inside Turkey, and China believes many Turkish NGOs, most of which have close connections with the AKP government, support and aid Uyghur separatists. China is also very concerned about terrorism, particularly in view of indications that many Uyghur extremists have left China to join Islamic State or other terrorism groups, traveling by way of Turkey. Many Uyghur extremists have been known to hold Turkish passports offered by Turkish embassies in China and other Southeast Asian states. China fears that these extremists will return to China to escalate the struggle in Xinjiang against Chinese government.
After Ahmet Davutoğlu resigned and Binali Yıldırım became Turkish prime minister in May, Turkish foreign policy has been significantly transforming. Numerous challenges — the increasing Syrian refugee burden, growing terrorist threats posed by both Kurdish Workers' Party (PKK) and Islamic State, and economic deadlock — forced the AKP government to adopt a more pragmatic diplomacy while abandoning, at least to some extent, its "neo-Ottomanism" ideology. Turkey has started to re-establish its diplomatic relations with Israel and Russia, and to restrict the operations of Islamic extremist organizations inside Turkey. After the failed military coup in mid-July, Turkey may distance itself from Western states because of the "capital punishment" crisis between Turkey and European human rights groups, and from the United States in particular because of the discussions about extraditing Fethullah Gulen, whom Erdogan's government says was behind the coup attempt.
For both China and Turkey, this may be a valuable chance to further bilateral political ties. Turkey has already adopted measurements to restrict illegal Uyghur immigration from China to Turkey. In May 2016, the Turkish police announced the arrest in Istanbul Airport of approximately 100 Chinese Uyghurs with forged passports on their way to Saudi Arabia. The failed military coup in mid-July could accelerate this process as Turkey re-establishes its foreign policy priorities. Frustration with the West and even the basic hostility to what is sometimes perceived as neo-imperialism are to a large degree shared by China and Turkey. Furthermore, the Turkish need for Chinese technology and foreign investments, and the Chinese desire to move its "One Belt, One Road" initiative forward, provide potential for a connection between the countries.
Wang Jin is a Ph.D. Candidate at the School of Political Science, University of Haifa, Israel.