In Turkey, US Loss Is China's Gain
With relations with the United States in tatters, the 'Eurasianers' in Turkey look to accelerate ties with China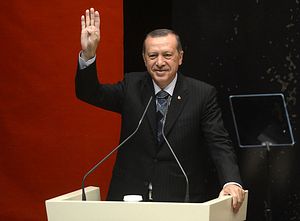 Henry Kissinger once opined that worsening state-to-state relations can be like a car crash — the result is easy to recognize but it's notoriously hard to pin down what could have been done to avoid it. Despite the fact that ties between the United States and Turkey date back to the dawn of Cold War in the 1950s, relations between NATO's two largest armies have deteriorated so rapidly that Russia now provides the majority of air support for the Turkish Army's ongoing battle against the Islamic State near Al-Bab, Northern Syria.
There are two underlying causes for the breakdown in relations between Turkey and the United States. One is America's support for the forces fighting for the Kurdish enclaves in Northern Syria, and the other is Washington's unwillingness to extradite the cleric Fethullah Gülen back to Turkey. As the U.S.-Turkey relationship frays, China is poised to fill the gap.
With American aircover overhead, Kurdish fighters in the American-backed Syrian Democratic Forces are continuing to liberate areas under the yoke of the Islamic State. Turkey sees this move as Washington supporting a future existential threat to its national security, given Kurdish nationalistic sentiments within Turkey's own borders. For example, after hearing reports of a group of Kurdish fighters being photographed alongside American Special Forces just 40 km away from the Islamic State's capital of Raqqa, the president of Turkey, Recep Tayyip Erdogan, minced no words: "We are your NATO ally. How on earth can you support terrorist organizations and not us? Are these terrorist organizations your NATO allies?"
The failed July 15, 2016 coup attempt also cultivated a widespread belief in Turkey that the United States not only harbors but actively supports the Pennsylvania-based cleric Fethullah Gülen, accused of orchestrating the coup. As Erdogan told a large crowd in front of the Beştepe Presidential Complex in Ankara, "sooner or later the U.S will make a choice: either Turkey or Fethullahçı Terör Örgütü (The Fethullah Terror Organization)." Erdogan believes Gülen was not only the leader of a deep state in the country, but also the mastermind of the failed plot that sought to topple his ruling AK Party from power.
According to a popular political columnist of the Hurriyet daily newspaper, Murat Yetkin, Turkish antipathy toward the United States has led to the creation of a new clique within the ruling AK Party centered around Erdogan. The "Eurasianers" clique is pushing a narrative whereby Turkey is feeling a heightened sense of political isolation — and with it the expectation of further economic isolation — that requires immediate infrastructure, investment, and trade agreements with outside powers to counteract the negative influence of the West. The group further argues this alternative path can be accelerated once Erdogan gains increased powers after the Kanun Hükmünde Kararname (President's Powers Bill) becomes law (the bill passed Parliament in January and will be put to a referendum this spring).
With the President's Power Bill implemented, Erdogan's unprecedented new abilities could be used to pass major white-elephant prestige projects that require capital and contractors capable of providing services in the billions of dollars. The position of prime minister of Turkey will be eliminated; Erdogan will be able to appoint ambassadors and at least half of the members of the high judiciary for all courts such as the Constitutional Court, Supreme Court of Appeals, Council of State, Council of Auditors, and thereby take control Turkey's once relatively independent bureaucracy.
In doing so, Erdogan can begin to cultivate economic relationships that have at one point seemed unthinkable to the Istanbul-based, Western-oriented elites. Notably, Erdogan will be able to use his new powers to leverage a new relationship with China. Turkey will be unable to provide the funds for Erdogan's envisioned infrastructure projects, providing room for Chinese companies to export financial capital and technology to Turkey.
Already, the China Daily reported that last month Chinese smartphone giant ZTE bought 48.8 percent of Turkish Telekom (a company that, according to Forbes, regularly spies on Turkish citizens and enemies of Erdogan). In addition, the largest bank in China (and the world), the Industrial and Commercial Bank of China (ICBC), acquired Turkish Tekstilbank in May 2015. Other investments are likely to follow. According to one former AK Party official, the pro-Erdogan AK Bank and Halk Bank, as well as Cengiz Holding (formerly headed by Erdogan's son-in-law and current Energy Minister Berat Albayrak), the Limak and Kolin group, and Çalık Holding are in on-going discussions with investors in China.
Chinese foreign direct investment (FDI) could also increase markedly in the coming years. According to the Chinese Ministry of Commerce, Chinese FDI in Turkey in 2016 was valued at $642.3 million. That's likely to balloon as China begins work on infrastructure projects. The Daily Sabah writes that the state-owned "Turkish State Railways plans to allocate nearly $45 billion to create 10,000 kilometers of new high-speed railways and 4,000 kilometers of new conventional line by 2023. Most of the railway will be built by Chinese companies…" This new high-speed train line from the city of Edirne near the Greek-Bulgarian border to the Asian-side city of Kars, which borders Armenia, will enable the west and east of Turkey to be connected for the first time.
Also, Erdogan's Eurasianers clique is interested in shifting trade flows in order to import goods from China to feed Turkish industrial production as cheaply as possible. The share of Asia-Pacific imports (excluding Russia and Middle Eastern countries in Asia) has increased from 11.5 percent to 17 percent, with China now the leading source of Turkey's imports. The Turkish Ministry of Economy claims, according to their census records, that there are 786 Chinese origin companies registered in Turkey and that 2017 should see an increase in the number of raw resources and mining corporates (especially marble firms) registered in the country with more to come.
China makes up 35 percent of Turkey's whopping $63.4 billion total trade deficit. While Turkish goods being exported to China have increased annually by only 1.6 percent in the last five years, Chinese exports to Turkey have increased 9.7 percent on average.
This deficit is becoming an important issue as firms throughout Turkey are continuing to suffer due to the spiraling devaluation of the dollar versus the lira. The Financial Times reports Erdogan wants to resolve "the currency's weakness by pushing state institutions to sell their dollar holdings and exhorting citizens to do the same." AFP, the news wire agency, writes that Erdogan has "urged" his countrymen to convert their foreign currencies into gold and lira to stimulate the country's economy as the lira continues its slide against the dollar.
Acting accordingly, as the Daily Sabah has reported, the ICBC brokered an agreement between the Turkish and Chinese central banks to use Turkish lira and Chinese yuan instead of dollars and euros. Already, 450 million Turkish lira worth of currency swaps were exchanged in the month of December.
Erdogan believes that by tying China closer to Turkey, even political obstacles, like the issue of ethnic Uyghurs' rights in China, can be overcome easily since it will become clear that there are simply too many advantages to building this new alliance. As the two countries are slowly but surely drawing closer, this new equation will upset the traditional relationships of the region. Erdogan's pivot to China would make him less reliant on America and others, which might otherwise protest his unprecedented consolidation of power in the country.
The movement to closer relations between the two countries has already been reported in The Diplomat. According to Wang Jin, "Turkey has already adopted measures to restrict illegal Uyghur immigration from China to Turkey. In May 2016, the Turkish police announced the arrest in Istanbul Airport of approximately 100 Chinese Uyghurs with forged passports on their way to Saudi Arabia."
However, these new closer economic ties are unprecedented in their scope. Chinese investment now pours into companies with just two or one degrees of separation from President Erdogan himself. Also, given Turkey's current economic problems, its national economy is in dire need for China's "One Belt, One Road" to reach a nation so strategically located in crossroads between Asia and Europe.
A graduate from the University of Edinburgh, George Marshall Lerner worked as a consultant for the last two and a half years focusing on trade and reconstruction in the Middle East. He recently co-founded an NGO,  Hêvî (which means hope in Kurdish), supporting women, children, and healthcare initiatives in local communities.