China Confirms: Japanese Citizen Under Investigation for Espionage
The incident suggests a continuing Chinese counter-espionage crackdown.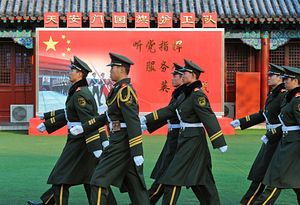 Last week, reports surfaced in the Japanese press that a Japanese citizen had been detained in China, possibly on suspicion of espionage.
The Chinese Foreign Ministry confirmed those reports on Saturday in the Global Times, noting that China is investigating the arrested Japanese man, who is suspected of "endangering China's national security." The report, however, did not specify if he had been detained.
Japan's Chief Cabinet Secretary Yoshihide Suga, when asked of the possible espionage charges, said that Japan "is not engaged in such activities toward any country."
This incident would be the third of its kind between Japan and China in recent times.
Earlier this year, China arrested four Japanese citizens suspected of spying. Though the Japanese government released few official details of their predicament, a Japanese official stated in late May that one of the four had been indicted in China.
The official noted that China had indicted one of the four detained Japanese citizens on unspecified charges.
Moreover, last year, in September, China arrested two Japanese citizens on suspicion that they were spies.
Back then, Suga denied that Japan spied specifically on China. "Absolutely, our country hasn't done such a thing," Suga had said, according to Kyodo News Agency.
In 2010, four Japanese citizens were held by the Chinese government after they were seen photographing a military base.
The September 2015 case was notable for the particularly long time the two men had been detained before the Japanese government announced their predicament. They had been held for over five months.
By contrast, the Japanese citizen thought to have been detained this month was reported missing just earlier in July. According to Japan's Kyodo News Agency, the man was supposed to return from a four day trip to Beijing, but failed to do so and was unreachable via his mobile phone.
The increasing frequency of these sorts of incidents in China speaks not only to the continuing difficulties in bilateral ties with Japan, but also to Beijing's growing crackdown on suspected foreign spies in the aftermath of a 2014 counter-espionage law and a 2015 national security law.
Ties between Beijing and Tokyo remain difficult over a territorial dispute in the East China Sea concerning the Senkaku/Diaoyu Islands and Chinese concerns regarding the current Japanese government's pursuit of a more muscular security policy in the Asia-Pacific.