China's Growing Arms Sales to Latin America
What does Beijing stand to gain from its new defense deals in the Western hemisphere?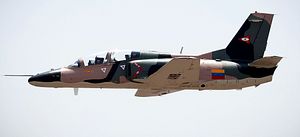 In recent years China has asserted itself as a key player in the global arms trade. Not only have both export volume and weapons quality increased rapidly, the range of customers China has been supplying has also expanded greatly over the course of the past decade. Latin America is one of the key regions into which Chinese arms have begun to pour. Yet while commentators of the past have doubted the strategic significance of China's arms sales to this region — pointing to their relatively meager quantity and the fact that most Latin American states still rely on more established suppliers for their most important military hardware (see here, for instance) — there are signs that things may be changing.
With next to no arms sales to the region before 2005, China is now a key supplier to Latin America. Venezuela continues to lead in China's Latin American arms sales, with the Stockholm International Peace Research Institute (SIPRI) estimating that between 2011 and 2015 Venezuela purchased $373 million of Chinese weaponry. A $500 million deal in 2012 for weaponry including armored personnel carriers and self-propelled artillery ensures that this arms relationship is set to continue flourishing into the future.
Yet China has also made significant inroads into many other countries in the region.  The socialist-leaning "ALBA" states (Alianza Bolivariana para los Pueblos de Nuestra América, or "Bolivarian Alliance for the Peoples of Our America") have shown a particular interest in Chinese military hardware. Bolivia, for example, has secured deals worth $58 million and $108-113 million in 2009 and 2012, respectively, for China's Karakorum trainer jets and Panther helicopters. Non-ALBA states, too, have been increasingly interested in procuring Chinese armaments in recent years. Interestingly, in 2009, Peru — a key economic partner for the United States in the region and supporter of the U.S.-led Trans-Pacific Partnership — purchased 15 of China's FN-6 portable surface-to-air missiles (SAMs) in a $1.1 million deal, along with ten more of its SAMs. Then, in 2013, it bought 27 multiple rocket launchers in a $39 million deal.
While the upward trend in sales to the region may suggest a growing trust in Chinese military hardware in the region, sales outside of the well-established Venezuelan arms sales relationship have still been made up of mostly small deals for secondary equipment, such as radars and trainer jets. Yet a crucial juncture came early last year, when then-President of Argentina Christina Fernández de Kirchner announced that her government intended to purchase almost $1 billion in Chinese weapon systems during her visit to China in February 2015. The equipment the Kirchner administration intended to buy included 110 armored personnel carriers, five Malvinas-class ocean patrol vessels, and 14 JF-17 Thunder multi-role fighters — a stark change in the volume and quality of equipment normally sought by China's Latin American buyers. However, with Kirchner's defeat in the November 2015 election to Mauricio Macri and the likelihood that Macri will want to pull Argentina away from his predecessor's geopolitical alignment with Russia, China, and the ALBA alliance, the status of these and other potential orders is currently unknown and perhaps now unlikely to go through.
While these sales to Argentina may not come into fruition, they may nevertheless signal a turning point. There is little doubt that China remains behind its competitors in a couple of key military production areas — an indigenously-produced turbo fan engine for its fighter jets constituting a notable persisting failure. Yet this Argentinian interest in China's premium military equipment suggests that Chinese equipment is nonetheless reaching a level of sufficient quality to draw bigger and more lucrative Latin American deals in the future. Further, with their low prices and the fact that arms deals with Chinese defense companies notoriously come with very few strings attached (unlike their American counterparts), purchasing arms from China could prove an increasingly enticing prospect for countries in the region.
Why China's defense companies are so vehemently seeking to expand into this region is not readily apparent. Of course, the prestige of being a "top tier" arms supplier aids China's long-term goal of securing great power status. The goal of boosting sales revenue certainly play a part, too. Yet with Latin America making up only around 6 percent of the total global arms transfers from 2011-2015, it is unlikely that sales revenue is the central motivating factor, here. Instead, the attainment of strategic economic goals and building Chinese influence through "soft power" image-building are more likely the key motivating factors behind these sales.
Looking at China's arms sales relationship with sub-Saharan Africa, a number of striking similarities are evident. Like Latin America, sub-Saharan Africa is a relatively new market for Chinese arms; both regions, until recently, have historically played a relatively minor role in Chinese foreign policy considerations due to their geographical remoteness to China. Also, at under 8 percent of total global arms sales, sales revenue from sub-Saharan African nations is inevitably limited, too. Nevertheless, these factors have not stopped Chinese defense companies from embarking on a mammoth campaign of scattering its weaponry across sub-Saharan Africa in recent years.
Indeed, SIPRI estimates that Chinese sales in the region from 2011-2015 made up 22 percent of the total arms sales to the region during that period. Further, the Aviation Corporation of China (AVIC), one of China's largest state-owned defense enterprises, stated last year that at least 80 percent of the trainer aircraft fleet operated by African air forces now are Chinese-made. And while the vast majority of these sales have been for less sophisticated equipment (such as its armored personnel carriers and trainer aircraft), these sales have nevertheless helped China secure a key strategic goal in the region of developing and diversifying its energy imports from many resource-rich nations in the region. These sales have also helped China's successful attainment of another strategic goal of building influence in the region through "soft power" image-building (a poll in 2014 showed that China's favorability among sub-Saharan nations is higher than in any other region in the world, with no surveyed country in the region having less than 65 percent of respondents reporting positive views).
Accordingly, in light of China's strategic interests in Latin America of enhancing its economic ties and building its soft power to boost its political influence, a similar arms sales strategy seems to be in operation in Latin America. However, with Latin American states generally having larger defense budgets than those in sub-Saharan Africa, China's defense companies will have to sell more than simply trainer jets and armored personnel carriers if Beijing is to build a similar level of influence over its Latin American partners.
If Chinese defense companies are able to convince more Latin American leaders like Kirchner that even their most advanced export hardware is of a sufficient quality, their low prices and unobtrusive arms deal conditions may help them pry a number of key deals out of the grasp of the United States, Russia, and other key suppliers in the region, allowing China to take even greater chunks of the market share. In the long run, this could pave the way for China to reap the benefits of enhanced diplomatic relations and economic ties, such as helping secure the lucrative energy deals it so doggedly seeks. Perhaps more worryingly for the United States, China's influence-building endeavors through these sales would likely negatively impact U.S. influence over the long term in the process.
With Chinese officials typically tight-lipped over their arms sales activities and goals, it remains unclear the extent to which these sales to Latin America are a product of calculated Chinese strategy, or merely a highly advantageous byproduct of their defense companies' successful engagement with the global arms trade. Nevertheless, whether these trends are out of strategy or serendipity, what is clear is that the sizable benefits to both China and its defense companies suggest that China is set to continue eating its way into the Latin American arms market — and into the United States' influence in the region — into the future.
Allan Nixon has a master's in International Relations from the International University of Japan, specializing in East Asian security studies and arms proliferation.