China's Nuclear Setback in the UK
The new British government makes a sharp U-turn on plans for a Chinese constructed nuclear plant.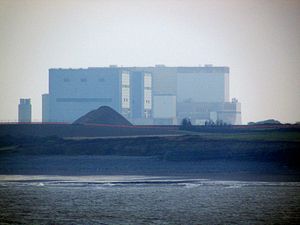 Few countries seemed so readily poised to benefit from Britain's vote to leave the European Union as China. The U.K.'s Office of National Statistics reported a 39.2 percent increase in exports to China in the three months prior to the referendum. Chinese visitors to Britain, attracted by the collapsing value of the pound sterling after the vote, spiked in number to such an extent that they prompted a surge in private jet flights. Moreover, speaking to reporters covering the meeting of G20 finance ministers in Chengdu, the new Chancellor of the Exchequer Phillip Hammond confirmed plans for an "ambitious" free trade agreement to govern bilateral trade in coming years. The weeks following the referendum the British press were filled with stories assessing the prospect of a new "golden age" in U.K.-China trade and investment.
Those sentiments came to crashing halt this weekend, on news that the Government in London had suspended approval of a new nuclear power station in the west of England, citing the involvement of China General Nuclear Corporation (CGN) as a national security concern.
Before last Friday, the Hinkley Point C project had been regarded as the jewel in the crown of the burgeoning U.K.-China economic relationship. Though French energy firm EDF had been lined up as majority stakeholder, CGN was set to secure a 33.5 percent stake, with its investment tied to further opportunities in the U.K.'s civil nuclear sector. Longstanding U.K. plans include the construction of two further power stations in the coming years, one of which is slated to be majority-owned by CGN and rely upon Chinese technology.
The Government's decision to conduct a further review prior to approving Hinkley Point's construction caught Chinese officials by surprise. Only two hours earlier, EDF's board had its given the project its final approval. The Government's intervention came so late that a Chinese delegation arrived in the U.K. only to discover that a celebratory lunch and signing ceremony had been cancelled.
What explains the sudden setback, and what does it mean for the U.K.-China relationship?
At one level, some form of delay was to be expected. In recent weeks, the project had begun to run into unexpected financial difficulties. The U.K.'s National Audit Office warned in July that an additional £30 billion ($40 billion) in government subsidies would be necessary in order for construction to be completed. Likewise, the EDF approval process proved controversial. The narrow 10-7 vote in favor of proceeding, which came at the cost of two board member resignations, including that of the firm's chief financial officer, raised doubts about the firm's commitment. British Prime Minister Theresa May, only in the job since July 13, may simply have assessed that it was too big of a gamble to give final approval to the previous Government's energy strategy without first conducting a further review, given the new circumstances.
However, all indicators suggest that the suspension represents a more concerted turn against the "investment first" approach to U.K.-China relations advocated by May's predecessor, David Cameron, and his Chancellor of the Exchequer George Osborne, himself unceremoniously dumped from the Cabinet by May on her first day in office. In 2013, the U.K.'s Intelligence and Security Committee warned of a growing "disconnect" between inward investment and national security, citing inadequate due diligence prior to the signing of contracts with Chinese telecommunications company Huawei.* Likewise, May's joint chief of staff Nick Timothy wrote in 2015 that CNG's investment in the U.K.'s civil nuclear industry could enable it "to build weaknesses into computer systems which will allow them to shut down Britain's energy production at will." The Conservatives' former coalition partners were quick to highlight the extent to which May has come to embrace these concerns, with former business minister Vince Cable noting that May had advocated subjecting potential Chinese investors to national security checks whilst serving as home secretary.
For the U.K., talking tough will be easier than being tough. China's reaction to the Hinkley Point suspension has been swift, with Xinhua warning that the U.K. is "running the risk of dampening the hard-won mutual trust with China." Beijing is also likely to apply additional economic pressure in the months ahead, and as London seeks to finalize its post-EU trading relationships, China's leverage will only grow. Yet in the short term, the Hinkley Point decision represents a setback. Since the financial crisis, EU nations have been lining up to secure as big a portion of China's foreign investment as possible. This week, in news that that can only concern Chinese officials, that trend began to go into reverse.
(Full disclosure: the author spent three months working as Theresa May's Parliamentary intern in 2008, and from 2008-2012 was assistant to Sir Malcolm Rifkind, chair of the ISC at the time the Huawei report was published).
*Huawei sent this correction in an emailed statement: "Huawei has signed no contracts with the U.K. Government. We have contracts with suppliers to the U.K. Government and contracts with major companies in the U.K., but no contracts with Government."  The Diplomat regrets the error.
Timothy Stafford is a Research Fellow with Pacific Forum-CSIS.