East China Sea: Japan Rescues Chinese Fishermen Near Disputed Senkaku/Diaoyu Islands
Japan saves 6 Chinese fishermen from their sinking vessel after a collision with a Greek cargo ship.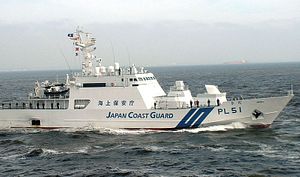 On Thursday morning, a Chinese fishing vessel in the East China Sea collided with a Greek-flagged cargo ship. The Chinese vessel sank, but six of its crew were rescued by Japan's Coast Guard. According to a statement from the Japanese Ministry of Foreign Affairs, the Japan Coast Guard arrived on the scene in response to a distress call from the cargo ship, the 300-meter Anangel Courage.
The collision took place "in international waters approximately 67 kilometers northwest of Uotsuri Island of the Senkaku Islands," according to Japan's MOFA. The Senkakus – known as the Diaoyu Islands in Chinese – are also claimed by the Chinese, and recently tensions around the disputed features have spiked.
Japan's Foreign Ministry has reported that, beginning on August 5, Chinese Coast Guard vessels have escorted hundreds of Chinese fishing vessels into the 12 nautical mile territorial sea around the Senkaku/Diaoyu Islands. As of August 10, Japan's MOFA said, there were "approximately 200 to 300 fishing vessels operating in the contiguous zone of the Senkaku Islands, and a large number of Chinese government vessels, in this case as many as 15, congregated in the same waters and then repeatedly entered Japan's territorial waters following Chinese fishing vessels."
Accordingly, Japan lodged a series of protests over what it called "escalatory actions" by China. China brushed the complaints aside, with Foreign Ministry spokesperson Hua Chunying saying, "The Chinese side is working to properly manage situation in the relevant waters." Hua also reiterated China's position that it has "indisputable sovereignty" over the Diaoyu Islands "and the adjacent waters."
According to Japanese media, the Chinese ambassador to Japan explained the influx of fishing vessels as in response to abnormal concentrations of fish near the area, rather than a strategic move.
Against this backdrop, what seems to be a fairly routine rescue mission by a coast guard vessel takes on geopolitical connotations. For one, it's noteworthy that Japan's ships were apparently the first on the scene, despite a usually high concentration of Chinese Coast Guard ships in the region. China's Foreign Ministry said that its own ships were working with Japanese vessels to search for the eight fishermen who remained missing. "[B]oth Chinese and Japanese government ships are making their best efforts to search," Hua said in a statement.
Japan's MOFA said that it had notified Beijing of the incident and the Japan Coast Guard's response, and added that the Chinese government "expressed its gratitude."
Some of Chinese netizens also expressed their own gratitude. One comment, shared nearly 300 times at the time of this writing, called Japan's rescue mission an act of "extreme benevolence," and also praised China for thanking Japan. Another commenter, responding to a report on the incident from Phoenix News, said, "This time we really should thank Japan from the bottom of our hearts! But the Diaoyu Islands still are ours."