How the US Misjudged the South China Sea, Part I
A look at the U.S. position and policy, and why it failed to produce the desired response.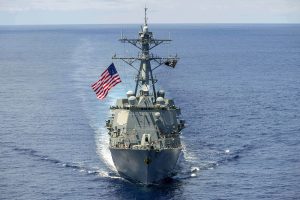 Since President Barack Obama took office in 2008, his administration has made achievements in both domestic and foreign affairs. In terms of politics and diplomacy, he is committed to become a peaceful president through conducting smart power diplomacy, which so far has included promoting his vision of a world free of nuclear weapons; ending the war in Iraq; accelerating withdrawal of forces and the end of military mission in Afghanistan; restraining U.S. involvement in Libya and Syria; championing the Iran nuclear deal framework; and normalizing relations with Cuba.
However, in contrast to his policy trends and preferences, which tend toward contracting U.S. strategic commitments overseas, the U.S. has conducted a strategic expansion in the Asia-Pacific, which is evidenced by its deep involvement in regional security issues. Unfortunately, with the country immersed in domestic concerns, the White House's attention to regional affairs is limited. Coupled with a lack of staff who have a deep understanding of Asian culture, "hawks" and the military have come to dominate East Asian affairs in the past few years. As a result, U.S. security policy aimed at de-escalating conflicts and tensions has been ineffective and even counteractive, as reflected by the case of the South China Sea (SCS).
The United States has made two misjudgments in its SCS policy under the Obama administration. First, it mistakenly assumes that China is seeking to take full control of the waters  and to expel the U.S. presence in this area. And second, it falsely believed that U.S. is able to force China to clarify its SCS claims and further to give up the nine-dash line through a set of "combo punches."
To be frank, the "combo punches" have been effective to some extent, but whether in the expected way is doubtful. The truth is the United States has overreacted due to the two misjudgments mentioned above. This approach not only humiliates China, but also forces Beijing to counterattack. What's worse, it further raised tensions and increased Sino-U.S. conflicts. It is really the Obama administration's strategic goal to threaten peace and development in East Asia?
Analyzing the U.S. Position
In response to a rising China, Obama initiated the idea of a "G2" early in his presidency in 2009, yet Beijing was not prepared for this role and did not react to this idea. Later, the United States adopted its "rebalance to Asia" strategy due to the changing security situation in the Asia-Pacific. It conducted a series of measures to balance China in the western Pacific Ocean. In the north, it strengthened the U.S.-Japan-South Korea trilateral security and military cooperation using the excuse of North Korean threat; in the middle, it urged China and Taiwan to make big concession in the South and East China Seas, (particularly focusing its efforts on the Tsai administration in Taiwan); while in the south, it consolidated the U.S.-Australia alliance and increased the U.S. military presence in this region. Meanwhile, the U.S. strengthened military cooperation with ASEAN using the excuse of the SCS disputes. This cooperation includes U.S.ally, the Philippines, quasi-ally Singapore, partners Indonesia, Malaysia, and Brunei, and also its former rival, Vietnam.
Some Chinese researchers hold that the United States is containing China, at least in the security aspect. However, I argue Washington is seeking to counterbalance China rather than contain it. After all, the U.S. has strengthened its cooperation with China in the economic, cultural, educational, and scientific fields. If Washington chose to contain China on security issue, this would effectively mean the U.S. is financing its rival, which is neither reasonable nor effective. As an experienced hegemon, it is unlikely that the United States would adopt such a contradictory strategy. Instead, it's more likely that Washington believes that regional peace and stability rely on the balance of power, and it is the U.S. responsibility and interest to play the role of a balancer. Thus preventing and balancing a rising China and maintaining freedom of military navigation is a realistic choice for Washington.
The U.S. considers China to be breaking the balance of power in the Asia-Pacific. On one hand, China's recent growing assertiveness in the SCS has caused concerns in ASEAN, particularly among ASEAN claimants. They chose to side with the U.S. for security reasons. On the other hand, Washington itself felt its military activities in other countries' EZZ and territorial waters were under threat. Once China's expanding naval power gave it the capability to carry out anti-access and area denial, the United States would have to give up military activities in these waters, a situation which even the Soviet Union could not achieve during the Cold War. As a result, the U.S. increased its military support to ASEAN, especially ASEAN claimants, and meanwhile urged China to restrain itself and increase its military transparency in the SCS. When Washington found this approach to be ineffective, it changed course to conduct further measures.
The SCS dispute has evolved into three-layers: the U.S. and China; China and ASEAN; as well as China and ASEAN claimants. Six parties are involved in the disputes over the sovereignty of these maritime features; while in terms of maritime delimitation, seven parties (including Indonesia) are involved. From the perspective of great power politics, the United States and China are major players; in contrast, ASEAN and the claimants are less significant and tend to follow the U.S. agenda. In this case, SCS is more of a political and strategic struggle than a legal and economic issue. That is the reason for the great power politics between U.S. and China in the SCS.
From 2009 to 2013, U.S. has manipulated the SCS issue behind the scenes, (see, for example, its reaction to the Scarborough Shoal incident of 2012). Since the HD-981 oil rig incident in 2014, Washington changed its role to become a player, as shown when U.S. Defense Secretary Chuck Hagel openly criticized China in that year's Shangri-La Dialogue. Later, the U.S. determined to fight with "combo punches" due to China's large scale land reclamation. This "combo" includes taking full advantage of the Philippines' arbitration case; emphasizing freedom of navigation operations (FONOPs) at every chance; inviting more countries to participate in joint patrols; and dialing up on the volume on international organizations' (such as ASEAN, G7, and the EU) and big powers' (like Japan and India) voices on the SCS disputes. These approaches aim to delegitimize the nine-dash line and China's historical claims, to create a "donut" in the SCS — that is, narrowing maritime rights within 12 nautical miles or even 500 meters of occupied maritime features.
This series of actions created a new reality and new rule, which the U.S. forced China to accept. Otherwise, China would have to pay dearly in international society, where China would be portrayed as a "bully" state that undermines peace and stability in the SCS, destroys natural resources and the environment; a lonely power who does not abide by international law.
Evaluating the U.S. Strategy
As an experienced hegemon, the U.S. has distinguished strategic planning capabilities. The "combo punches" mentioned above are very effective at pressing China on multiple fronts: international law and international public opinion; physical control of the waters; China-ASEAN cooperation and the progress of a code of conduct (CoC). The arbitration verdict was also harmful to China's international image, efforts for peaceful rise, peripheral diplomacy and relations with ASEAN, as well as the new type of great power relations with United States.
However, from China's perspective, the U.S. is undoubtedly the driving force and major manipulator behind these negative consequences. What's worse, the U.S. military is challenging the principle of civilian control of the military. Senior military officials continuously comment on the SCS, making remarks that should be delivered by diplomats. For instances, while not naming China, U.S. Pacific Fleet Commander Admiral Scott Swift said some countries were bucking international rules and creating chaos after more than 70 year of stability; Commander of Pacific Command Admiral Harry Harris accused Beijing of being responsible for the tensions in the SCS and hinted that the U.S. should be ready to go to war. The military's top commanders in Pacific are lobbying the National Security Council for a more confrontational approach to China, like Harris' advocacy for more muscular patrols and Japanese engagement. It recalls the days of General MacArthur.
It's widely known that the United States has not ratified UNCLOS; however, it accepted the Convention as a codification of customary international law and generally respected it. However, a U.S. B-52 flew within 2 nautical miles of Cuarteron Reef; the USS Curtis Wilbur destroyer sailed within 12 nm of Triton Island; and the USS William P. Lawrence travelled within 12 nm of Fiery Cross Reef. All these military activities violated not only China's domestic law, but also international law. The United States explained its passage near Cuarteron Reef as a mistake. Yet as for the dangerous activities by the USS Curtis Wilbur, the Pentagon firstly claimed this was an example of "innocent passage"; later it renamed the operation as a demonstration of "freedom of navigation" and even argued this action was "consistent with international law" and a "routine operation." Pentagon spokesperson Jeff Davis claimed that "this operation challenged attempts by the three claimants — China, Taiwan, and Vietnam — to restrict navigation rights and freedoms." Similarly, Defense Department spokesperson Bill Urban said the navigation operation by the USS William P. Lawrence was to challenge "excessive maritime claims are inconsistent with international law as reflected in the Law of the Sea Convention in that they purport to restrict the navigation rights that the US and all states are entitled to exercise."
Here, it's worth mentioning an episode from 2015. On November 13, Representative Nancy Pelosi and her congressional delegation had lunch with several Chinese scholars. During the meeting, she noted that Chinese naval fleet traveled through the Strait of Tanaga when Obama was in Alaska. Pelosi was quite concerned about the patrol. So how to explain why the U.S. sent the USS Lassen to within 12 nm of Subi Reef during China's fifth plenum in October 2015? If, as per Pelosi, China's transit near Alaska was aggressive due to Obama's presence in the state, the timing of the USS Lassen's operation was much more provocative.
What's more, which article of international law says FONOPs should be carried out according to the interpretation of the travelling state? FONOPs within 12 nm of a feature can only be conducted according to either innocent passage or transit passage. When it comes to innocent passage, the state in control of the territorial sea can choose to require non-notification, notification in advance, or approval in advance. China, as the controlling state of the features in question, requires approval in advance. It is reported the U.S. warships operate in accordance with China's domestic law within 12 nm of China's coastal line, but apparently deliberately chose not to do so in the SCS. In this regard, the so called FONOPs by USS William P. Lawrence and Curtis Wilbur not only misinterpreted international law, but also intentionally violated China's domestic law and deliberately humiliated China.
Defense Secretary Ash Carter visited the USS Stennis in the SCS this April. Compared with his trip to the waters near Malaysia last year, this trip was more provocative and contemptuous. The message it sent to China was: "I've come back again; what can you do about it? Do you have the capability to patrol in U.S. waters?" Afterwards, the U.S. request for a port visit to Hong Kong was inevitably refused by the Chinese government. It is quite interesting that the U.S. expected such a privilege after humiliating China.
Reports suggest that the U.S. military plans to conduct two FONOPs in the SCS every quarter. The USS William P. Lawrence's patrol on May 10 within 12 nm of Fiery Cross Reef should be counted as the first operation. In response, China "monitored, followed and issued warnings to the U.S. vessel," according to the Foreign Ministry. A patrol near Scarborough Shoal or Mischief Reef is likely to be the second operation in this quarter. Washington's think tanks and media have hyped the idea that China is going to build an outpost on Scarborough Shoal, a land reclamation operation much larger than other Chinese projects in the Spratlys. The U.S. military is preparing for this operation by flying over Scarborough Shoal. From the U.S. perspective, this operation is a kind of warning; in China's view, it is both a threat and humiliation.
In the eyes of most other countries, FONOPs, introduced in 1979, serve as a tool for the United States to expand its maritime interests based on its naval force and legitimize its unreasonable claims. Obama, commander-in-chief of the U.S. military, is not an aggressive president. He reportedly refused some proposed FONOPs, yet approved a few of the operations when lobbied by the military. The consequences and effectiveness of these operations are questionable. The fact is since October 2015 the muscular actions continuously provoked and humiliated China and forced China to react. The patrol may please those who want to see an expanded military budget; however, it deeply hurts the Sino-U.S. relationship, increases the tensions in the SCS and hinders more realistic solutions (like the negotiation of a CoC).
In part, these counterproductive U.S. actions are driven by a misunderstanding of Chinese actions and goals in the SCS. Part II of this piece, coming tomorrow, will examine China's stance in the SCS and its response to U.S. actions.
Dr. Xue Li is Director of Department of International Strategy at the Institute of World Economics and Politics, Chinese Academy of Social Sciences. Xu Yanzhuo received her doctorate from Durham University (U.K.) in December 2014 and studies international responsibility, the South China Sea disputes, and Chinese foreign policy.