India Eyes Israeli Foliage-Penetrating Radar for Kashmir Border Security
Plus, Obama's UN plans for nuclear testing, "no first use," and more. Weekend links.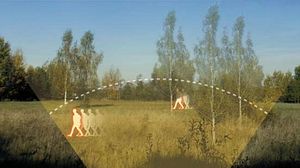 Some defense and security-related stories you may have missed this week:
India eyes advanced Israeli foliage penetrating radar. Israel's Jerusalem Post reports that a delegation from India's Border Security Force will visit the country with a particularly interesting acquisition in mind. The Indian representatives will be consulting with Israel on a radar system that's been described as "foliage penetrating," capable of detecting human and vehicular activity in dense forests. In the Indian use case, the radar would be a handy monitoring tool for the increasingly less porous Line of Control with Pakistan, the de facto boundary in the disputed territory of Kashmir. India already runs fencing and patrols the area to prevent Pakistani infiltration into its side, but the Israeli radars could considerably improve intelligence, surveillance, and reconnaissance of the difficult terrain. The radar system in question is likely the Elbit FPR-10, a Wide-Area-Persistent Surveillance (WAPS) system (PDF). According to the manufacturer, the radar performs optimally in temperature conditions between 20 – 50 degrees centigrade, which may be a problem in the high-variance mountainous climates of Kashmir, where temperatures may reach lows of -20 degrees in the winter and highs in the 30s during the summer.
A wide debate on Kashmir in India. We've run plenty of coverage on the ongoing uprisings in India-administered Kashmir, but it's always helpful to have a birds-eye view of the broader debate in India. Shashank Joshi, at the Lowy Institute's Interpreter, provides a helpful rundown of how prominent Indian commentators have approached the latest bout of instability in the Valley.
Fighter drones for Tokyo? Continuing down the path to military normalization, Japan is looking to develop a prototype "drone fighter jet" over a two-decade timespan, according to Reuters. Reuters notes that the ask will be included in Tokyo's impending 2017 defense budget, which is expected to be its largest ever at $51 billion.
CTBT via UNSC? U.S. President Barack Obama may look to spearhead an effort at the United Nations Security Council to strengthen the norm against nuclear testing on the 20th anniversary of the Comprehensive Test Ban Treaty (CTBT). Over at The Wire, Devirupa Mitra has a deep dive into how that might affect U.S.-India ties as Delhi continues to hold apprehensions about the treaty. India has said it won't form a position until it sees a draft resolution.
No first use spooks Japan, South Korea. The Asahi Shimbun reports on why Japan and South Korea aren't too thrilled by Obama's consideration of a "no first use" declaratory posture for the United States. The move is under consideration by the Obama administration and has spurred considerable debate among nuclear experts. Elbridge Colby in Foreign Policy lays out a realist case against adopting the posture. For the affirmative case, I recommend this 2010 International Security article by Michael S. Gerson.