India's PM Lays Out Big Ideas in Independence Day Address
On India's 70th independence day, Narendra Modi laid out a wide vision, touching on several themes.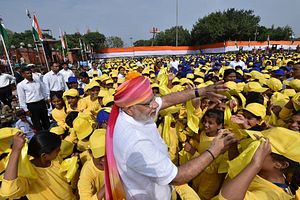 On Monday, August 15, Indian Prime Minister Narendra Modi hoisted the Indian flag up at the Red Fort in Delhi and delivered the traditional prime ministerial speech to mark the anniversary of India's independence from British colonial rule. Beginning with hearty wishes to the nation, he declared that the resolve of this country's 1.25 billion strong population was to move from 'swaraj' (freedom and self governance) to 'suraj' (good governance), where every citizen, official, and politician followed their responsibilities. Here are some of the key themes addressed in the speech that followed:
First, Modi emphasized administrative responsibility, accountability and sensitivity to the common man with constant emphasis and reminders. The government, according to Modi, lived up to this ideal through its policies, which enabled the country to move from a time when people waited for days outside hospitals to one where citizens could increasingly register online and get timely treatment, through which the number of people with access to rail connectivity increased, and tickets were now sold at the rate of 15,000 per minute (instead of 2000), which allowed for faster income tax refunds for the honest tax payer and transparency and speed in passport applications – all through the increased digitization of government services.
Secondly, he stressed efficiency and speed in bringing forth changes geared towards benefiting the common man in India. This, Modi said, has been the aim of increased renewable energy investment (India has seen a 40 percent increase in wind energy and 116 percent increase in solar power), the one nation-one grid policy to streamline electricity transmission, and of linking the universal ID or 'Aadhar' card with government schemes to scale up direct benefits. Reducing redundancies caused by a multiplicity of laws hampered efficiency, and the government has been involved in doing away with the same, he added. Youth empowerment was an important part of the efficiency escalation process he identified, and attempts towards attaining it included skill development initiatives and opportunities for small shopkeepers to stay open for longer hours at par with malls. Finally, workers could now transfer their Employee Provident Fund (EPF) when they transferred jobs, through a universal account number instead of letting the money stagnate in government coffers.
Improvement in quality of life, a third important theme, involving reflections on households across a spectrum. Rural areas and semi urban areas saw the opportunities for increased access to funds and loans through the 'Prime Minister Jan Dhan Yojana' and 10,000 villages that had received no electricity since independence had received connectivity within 500 days of his promise to deliver it. He went on to declare that 40,000,000 liquefied petroleum gas (LPG) connections had been established within 60 weeks by his government (compared to 140,000,000 across 60 years of independence) and 20,000,000 new toilets were built with the aim of combating open defecation. Further, to conserve both energy and money, heavily subsidized LED bulbs have been distributed to several households that could not afford them. The middle and upper middle class stood to gain through the Real Estate Bill, he explained, which regulated builders. Citizens across the nation stood to gain because of the government's ability to trap inflation at six percent (versus the predecessors government's 10 percent), the re-negeotiated energy agreements with Qatar, and the progress with Chabahar port in Iran.
Empowering farmers, naturally, featured as another key area in his address. Moves in this regard included facilitation of pulse cultivation to meet demands, better water management, micro irrigation, distribution of solar pumps to reduce input costs, research and development of over 100 new seed varieties, increased fertilizer production, and the construction of additional godowns for storage, Modi noted. The 'Soil Health Card' initiative allowed farmers to additionally work on the sustenance of the land itself, the prime minister added.
The fifth theme in his speech was, the empowerment of women. Drawing on his 'Beti Bachao, Beti Padhao' pledge (Save the daughter, Educate the daughter), Modi noted that initiatives to this end included insurance policies geared towards women, vaccination policies, the fact that 80 percent of first timer loans under the 'Mudra' scheme of the government went to women, and the near doubling of salaries for women in the weaving sector. He stressed also the need to integrate policies toward women within larger government schemes.
Turning around stagnant sectors to ensure 'last man delivery' was the sixth key focus in Modi's speech. He touched upon a range of initiatives from the almost complete clearance of old dues to sugarcane farmers, to the systematic replacement of smoke stoves with gas stoves (500,000,000 in about three years), to rejuvenating the post offices and eliminating redundancies by enabling them to function as banks in some regards. Modi also declared with pride that this turnaround extended to failing public sector units – key examples of which were Air India and the telecom company BSNL, which reported operating profits for the first time in years.
Honouring the past and memory of Indians was the final important theme – one that was woven throughout his speech. Beginning with an eloquent tribute to the memory of India's freedom fighters, Modi constantly touched upon ideas of past, memory, and heritage. He made multiple references to the Hindu canons and characters, to both spiritual and political leaders, and even a fleeting, but strong mention of the 350th anniversary of Sikh guru Guru Gobind Singh. History loomed large in Modi's attempt to explain how his government was different from those in the past – with its aim to 'reform, perform and transport', its commitment to create an image of his country rather than just his government and its focus on "substance over symbolism" and "empowerment over entitlement." These ideas rang also in his reminder of the efforts the government took to releasing files related to freedom fighter Subhash Chandra Bose, his promise to increase freedom fighters' families' pensions by 20 percent, and to create museums in memory of tribal heroes and freedom fighters.
While this can hardly be called a theme given the few sparse minutes devoted to it, aspects of foreign policy were discussed in a most unusual way by the prime minister, almost towards the end of his speech. He spoke of his disapproval of non-violent methods and why, instead of fighting each other, India and its neighbors ought to fight poverty together – as a SAARC initiative. He also drew a distinction, painting the pictures of two forms of governance – one led by humanitarian values and the other by glorifying terrorism. The death of children in Peshawar brought tears to the eyes of Indians, he declared, indicating that this was a culture that grew out of humanity. He then expressed his puzzlement that there were other nations that chose instead to celebrate such acts of terrorism, that targeted the innocent – and said that the world outside could see the difference between the two, without dropping any direct allusions. Modi then went on to say that he felt pride when the people of Balochistan, Gilgit and Pakistan-occupied Kashmir expressed their gratitude to him – and said that it was a matter of pride for the nation as a whole.
In many ways, the speech to herald in the seventieth year of Indian independence seemed to be one in which Modi attempted to remind the nation of the 'acche din' or 'good days' he promised in his energetic election campaign back in 2014. However, he concluded with the traditional appeal to all Indians to unite in an endeavor to make the country great and once more pay homage to those who brought the country thus far – and left in his wake resounding applause and, perhaps, some questions too.