Japan, Indonesia Eye Stronger Defense Ties
Senior defense officials discuss cybersecurity and potential deals.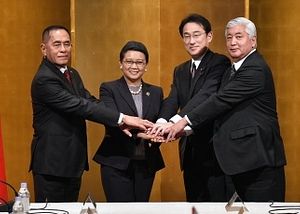 Japan and Indonesia held discussions this week aimed at strengthening their defense ties, the Indonesian defense ministry said in a statement Thursday.
Japanese senior defense officials met with their Indonesian counterparts on August 4 to discuss how the two sides could improve their defense relations. The meetings were led by Indonesian Defense Minister Ryamizard Ryacudu and Japan's Deputy Defense Minister Ro Manabe.
As I have noted before, converging interests between Japan and Indonesia have led both to eye closer defense ties in recent years. Indonesia is seeking to boost its maritime and aerial capabilities for tasks ranging from sea patrols to rescue operations, and Japan has been one of the countries it has been looking to for assistance in this regard. Japan, for its part, has been strengthening its ties with ASEAN states including Indonesia and is also looking for opportunities to export such technologies following decision in April 2014 to ease long-standing ban on international military sales.
Those converging interests have slowly resulted in growing collaboration. Following a visit by President Joko "Jokowi" Widodo in early 2015, Jakarta and Tokyo boosted their strategic partnership with a strong focus on maritime security and inked a memorandum of understanding to expand cooperation on defense cooperation and exchanges. In December 2015, the two sides also finally launched their "two-plus-two" security talks between their defense and foreign ministers, which was initially agreed to under Jokowi's predecessor Susilo Bambang Yudhoyono in 2013. It was the first ever such dialogue between Japan and a Southeast Asian country (Tokyo has this arrangement with a few other countries including the United States and Australia). During that meeting, they agreed to initiate negotiations for an agreement on the transfer of defense equipment and technology.
Both sides are continuing to explore opportunities for cooperation in 2016, and the meeting this week was a case in point. According to a statement by the Indonesian defense ministry, Japan expressed a desire to boost defense ties particularly in the area of cybersecurity and amphibious aircraft procurement. "We want to actively cooperate in the field of cybersecurity and amphibious aircraft. We want to work towards cooperating on the US-2," Ro Manabe was quoted as saying.
The US-2 amphibious aircraft is by no means a new discussion point in the bilateral defense relationship. Last year, Ryacudu indicated that Indonesia was considering buying the ShinMaywa US-2 amphibious aircraft from Japan. As I noted then, Indonesia's acquisition of the US-2, an amphibious, fixed-wing aircraft ideal for search and rescue operations and already in use by Japan's Self-Defense Forces, would seem to make sense. As Ryamizard himself has admitted, the US-2 does not require land infrastructure because it can land on and take off from the sea, which is quite convenient for Indonesia given its status as an archipelagic state. The US-2 is also known for its long operational range, which would enable it to reach distant islands in Indonesia quickly if needed.
During the meeting, Ryacudu again reiterated Indonesia's interest in the aircraft, though he also noted that while procurement was achievable, it would still need to be discussed and communicated with the Indonesian military.
He also conveyed his hope that Indonesia-Japan defense relations would continue to strengthen under Japan's newly appointed defense minister, Tomomi Inada. Inada, who replaced Gen Nakatani in that post following a cabinet reshuffle this week, was previously the ruling party policy chief.