More Deadly Missiles: Upgraded Warship Rejoins China's South Sea Fleet
A 6,100-ton destroyer is slated to return to active duty with the Chinese navy and it is deadlier than ever.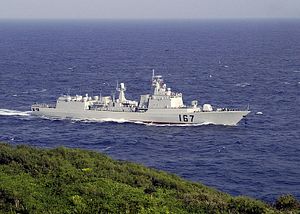 China's only Type 051B Luhai-class destroyer Shenzhen is set to return to active duty with the South Sea Fleet, the People's Liberation Army Navy's (PLAN) fleet responsible for operations in the South China Sea, IHS Jane's Defense Weekly reports.
First commissioned in 1998, the 6,100-ton destroyer was retrofitted with a new 32-cell medium-range vertical launch system (VLS) capable of firing the medium-range HQ-16 surface-to-air missile. "These new 32 HQ-16 surface-to-air missiles (SAM) have an approximate range of 50-60 kilometers and can engage very low flying and high altitude targets," I explained elsewhere (See: "China Upgrades Older Warships With New Missile Systems"). The missiles aboard the ship are most likely the HHQ-16s latest two variants, the HQ-16B or C.
The addition of the new VLS has quadrupled the ship's firepower and also significantly extended the operational range of the Shenzen's missile systems.  The upgraded Type 051B Luhai-class destroyer has also been equipped with two new Type 1130 Gatling cannons, for a close-range defense against incoming supersonic anti-ship missiles.
The two Type 1130 close-in weapon systems (CIWS), "can spit out 10,000 one pound 30mm shells a minute at incoming supersonic missiles. These upgrades will increase the Shenzhen's defense against anti-ship missile, enemy aircraft and enable it to provide some level of air defense cover to other warships near it," Popular Science explained in April.  The ship will also likely now be able to accommodate a Ka-28 anti-submarine warfare helicopter in its hangar.
Furthermore, the ship's surface and air search radars underwent upgrades. "The rotating planar phased-array antenna (derived from the Russian-designed radar system known as 'Top Plate') has been moved from the aft to the forward mast, which will remove the blind arc it would previously have exhibited," according to IHS Jane's Defense Weekly.
In terms of overall combat capabilities, the Shenzen will be comparable to the smaller 4,000-ton Type 054A Jiangkai II-class frigates, also fitted with a HQ-16 VLS, Type 730 (a variant of the Type 1130) CIWS), and similar surface and air search radars systems.  As I explained previously, the PLAN is also in the process of upgrading a number of other surface warships:
The PLAN is also currently overhauling two of its Sovremennyy-class destroyers, the Hangzhou and Fuzhou, and is intending to upgrade two more ships of the class, all purchased from Russia in the 1990s and 2000s. The PLAN is primarily replacing Russian-made weapons systems with newer Chinese hardware, including new Chinese electronics systems and sensors, as well as new cannons and missile systems.
The PLAN has also been expanding its fleet of Type 052D Luyang III-class destroyer, dubbed "Chinese Aegis," as I reported earlier (See: "China Launches Yet Another Carrier Killer Destroyer").