New Zealand to Upgrade Anti-Submarine Warfare Capability
The Royal New Zealand Air Force is slated to upgrade its fleet of six P-3K2 Orion maritime patrol aircraft.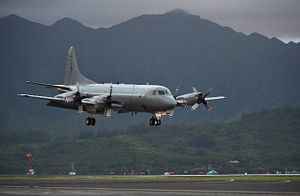 The New Zealand Ministry of Defense has awarded U.S. aircraft maker Boeing a $24.1 million contract for the upgrade of six P-3K2 Orion maritime patrol aircraft, New Zealand's Minister of Defense Gerry Brownlee announced on August 24.
"Knowing what is happening underwater is integral to monitoring submarine activity," Brownlee said. "This is particularly important in the Asia-Pacific region, which is home to two-thirds of the world's submarines. The current Orion systems are old and have become less reliable."
The Royal New Zealand Air Force (RNZAF) currently operates a fleet of six P3K2 Orion maritime patrol aircraft. The RNZAF took delivery of the first five P-3B Orion planes all the way back in 1966. In 1985, a sixth used aircraft was purchased from the Royal Australian Air Force (RAAF). All six aircraft were upgraded with new avionics and new radio systems in the 1980s under the defense ministry's Project RIGEL.
The new upgrade will equip the aircraft with a new underwater intelligence, surveillance, and reconnaissance capability package in order to boost the P-3K2 planes' anti-submarine warfare capabilities.  This so-called anti-submarine acoustic processing system will be very similar to the one installed aboard the U.S. Navy's P-8A Poseidon maritime surveillance aircraft.
"Maintaining an advantage against stealthy undersea adversaries is crucial for most maritime nations," said Lance Towers, the director of Boeing Electronic & Information Solutions. "The Boeing technology added to New Zealand's P-3 fleet incorporates more than 40 years of experience in undersea warfare and acoustics intelligence, providing a capability that is unique in the Asia-Pacific region."
In detail, Boeing will install an advanced acoustic processor with its software into the mission system of the P-3K2. Boeing's advanced acoustic system is capable of localizing and tracking submarines. It processes and displays information from deployed sonobuoys floating in the water on tactical displays aboard the P-3K2.
"Anti-submarine warfare is a key part of the New Zealand Defense Force's combat capability," said the head of the RNZAF, Air Vice Marshall Tony Davies. "This upgrade will ensure that the P-3K2 remains credible and valued by our partners as the New Zealand Defense Force's only asset capable of wide area underwater surveillance."
Boeing has teamed up with local companies, including Safe Air, Beca, and Marops Ltd. of New Zealand and Sonartech Atlas of Australia, to provide through-life or integrated logistics support for the aircraft. The upgrade is slated to be completed by the end of 2018. The RNZAF's six P-3K2 Orion maritime patrol aircraft are expected to retire from service in the 2020s.