Philippines' Duterte to Attend ASEAN Meetings in Laos
Visit looks set to be leader's first foreign trip.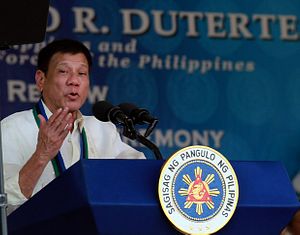 Philippine President Rodrigo Duterte will attend the next round of ASEAN summitry in Laos in early September in what is set to be his first overseas trip and an early foreign policy test, officials confirmed this week.
Philippine Foreign Secretary Perfecto Yasay confirmed to The Manila Times on Monday that Duterte would be participating in the ASEAN summit next month.
"He (Duterte) has confirmed his participation in the summit this coming September in Vientiane, Laos," Yasay said.
Duterte's visit to Laos looks set to be his first ever overseas visit as president following his inauguration on June 30. Duterte had earlier elected to skip the Asia-Europe Meeting in Mongolia due to domestic concerns; he was represented by Yasay.
Duterte's interactions in Laos will include the usual set of ASEAN-related meetings, which will cover a range of political-security, economic and socio-cultural issues. The South China Sea issue will be watched most closely by outside observers.
But the Philippine president will also have the opportunity to have several bilateral meetings with other major countries present, which will include Australia, China, India, Japan, New Zealand, Russia, South Korea, and the United States.
The Philippines is set to chair ASEAN next year, and the chairmanship will be officially handed over from Laos to the Philippines in line with the regional grouping's system of annually rotating chairs.
Beyond visiting Laos, Yasay also added that Duterte was eyeing other "working visits" to ASEAN countries after the summit. This would be in line with the traditional practice of new Southeast Asian leaders paying initial visits to neighboring states.
However, Yasay said that a trip China was not a priority for Duterte in spite of rumors that he might be looking to visit Beijing soon.
"I don't think visiting China is the priority of the President compared to visiting the ASEAN member states," he said.