What Yuriko Koike's Governorship Triumph in Tokyo Means for Japan
Yuriko Koike comes to the governorship of Tokyo with a complex political background.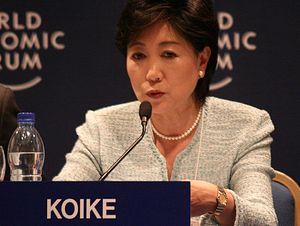 Yuriko Koike, 64, a former Japanese defense and environment minister, was elected to serve as Tokyo's next governor on Sunday. She defeated her rival, Hiroya Masuda, in a landslide victory, winning by a margin of over one million vote. Koike will become the first woman to hold the Tokyo governorship and becomes one of just three women to head one of Japan's 47 prefectures.
Koike, a member of Japan's ruling Liberal Democratic Party, ran as an independent, without her party's support. "I will lead Tokyo politics in an unprecedented manner, a Tokyo you have never seen," she told supporters after her victory. "While feeling the weight of this result, I want to thoroughly push the metropolitan government forward as the new governor." Her two immediate predecessors—Yoichi Masuzoe and Naoki Inose—resigned after financial scandals.
Koike's victory will set her on path to take over Tokyo's administration as the country gears up for the 2020 Summer Olympics and Paralympics. Koike will travel to Brazil as one of her first official tasks, as the representative of the next city to host the games. She has vowed to address the city's budgetary preparedness for the 2020 Olympics amid cost overruns and mismanagement scandals.
Her victory as the first women to take on the governorship of Tokyo—the world's most populous metropolitan area—has drawn particular attention both inside and outside of Japan. Japanese politics continues to be dominated by men, with women comprising just 9 percent of all national-level lawmakers. Her independent campaign was met with intense negative campaigning, featuring harsh sexist language. Shintaro Ishihara, Tokyo's former longtime governor and ultraconservative LDP stalwart, had warned voters that "We cannot leave Tokyo to a woman with too much make-up."
Despite the sexist backlash to her candidacy, Koike triumphed, remarking that she was "used to it." Addressing perceptions that Japan continues to have setbacks for working women, unlike other advanced democracies, Koike vowed to support policies that would promote better workplace conditions for women. "I received so much support from women this election. The support made me think deeply that I have a responsibility to work on the issues of waiting lines for day care centers, elderly care, and work-life balance," she told the press.
Koike has specifically pledged to increase daycare facilities for working Japanese women, buttressing Japanese Prime Minister Shinzo Abe's national-level efforts to increase women's labor force participation within Tokyo. Abe, unlike lower-level and retired LDP politicians, did not speak either in favor of or against Koike's candidacy. Devin Stewart, a Japan expert at the Carnegie Council for Ethics in International Affairs, told The Diplomat that, in the context of the LDP's broader position in Japanese politics, Koike's victory was significant "because it shows that the ruling LDP is not invulnerable." Stewart added that Koike's triumph as an independent "shows that candidates who are relatively outsiders can make ground in Japan."
Koike's broader political positions place her firmly in the LDP's mainline. Her views are in line with the LDP's conservative nationalists; she has favored historical revisionism in Japanese textbooks and continued Diet visits to the controversial Yasukuni Shrine, where over 1,000 World War II war criminals are enshrined. She is also a senior member of Nippon Kaigi, the influential nationalist organization aiming to revise Japan's post-war constitution. Of the three primary candidates vying to succeed Inose as Tokyo governor, Koike shared the most with Japan's nationalist right.
She is additionally known for her interest in foreign affairs, particularly for her expertise on the Middle East (she speaks fluent Arabic). In the mid-2000s, American media referred to her as "Japan's Condi Rice." Koike is also known for her strong criticism of North Korea and favors strong economic sanctions against Pyongyang.
Ultimately, Koike's win, while no doubt a significant milestone for women's political participation in Japan, leaves her responsible for stewarding Tokyo past the financial scandals of her predecessors as the city prepares for the Olympics. If she resists scandal and lasts the four year term she has been elected to, she will remain in office through the start of the Tokyo Olympics. It remains to be seen if Koike will use her pulpit as the leader of Japan's most important city to have her voice heard on the national stage. Moreover, given the difficult months of campaigning and her effective isolation from the LDP for the duration of the campaign, Koike could challenge the ruling party's perceived dominance on the national stage. Much will depend on how the new governor decides to begin her term.