Will Kuwait Purchase Pakistan's New Fighter Jet?
Pakistan has offered the JF-17 fighter jet and Super Mushshak trainer aircraft to the Kuwait Air Force.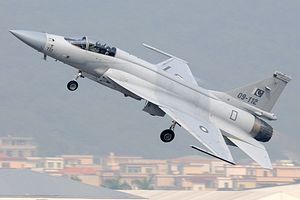 The chief of air staff of the Pakistan Air Force (PAF), Air Chief Marshall Sohail Aman, offered the possible sale of Pakistan Aeronautical Complex/Chengdu Aerospace Corporation (PAC/CAC) JF-17 Thunder fighter jets and PAC Super Mushshak trainer aircraft to his Kuwaiti counterpart, Major General Abdullah Yaqoob Al-Fodri, during a four day visit to Kuwait last week.
Up until now, Pakistan has failed to secure a large export contract for its first domestically developed and produced combat aircraft. Despite good military-to-military relations between Pakistan and Kuwait—among other things, Kuwaiti pilots train in Pakistan—prospects for a sale are slim given that Kuwait recently ordered 28 Eurofighter Typhoons fighter jets for an estimated $9 billion.
Pakistan, however, could still succeed in pitching the JF-17B two-seat trainer variant to Kuwait for lead-in-fighter training. As I reported previously (See: "Two-Seat Variant of China-Pakistan JF-17 Fighter Jet to Fly in 2016"), Islamabad is expecting the maiden flight of the two-seat JF-17B variant to take place by the end of this year. The PAF plans to officially induct the first JF-17B lead-in-fighter trainer (LIFT) aircraft in April 2017.
Pakistan produced a total number of 16 JF-17 Thunder aircraft in 2015 and intends to increase production to 24 fighter aircraft in 2016. Pakistan produces 58 percent of the airframe and China 42 percent. The JF-17 is intended to replace the PAF's fleet of Dassault Mirage III/5 fighter jets by 2o20. Overall, there are 65 JF-17 aircraft currently in service with the PAF.
"The JF-17 is a lightweight, single-engine, multirole combat aircraft, powered by a Russian-designed but Chinese-built Klimov RD-93 (RD-33 derivative) turbofan, capable of reaching a top speed of Mach 1.6. The fighter purportedly has an operational range of around 1,200 kilometers (745 miles)," I noted previously.
According to IHS Jane's Defense Weekly, the JF-17 has "seven underwing/fuselage hardpoints, and is equipped with an internal GSh-23-2 twin-barrel cannon. Weapon options include up to four PL-5, -7, -8 or -9 short-range air-to-air missiles (AAMs) or four PL-12/SD-10B medium-range AAMs; two C-802A anti-ship missiles; two anti-radiation missiles; five 500 kg bombs; twin launchers for up to eight 250 kg, MK-20, GBU-12 or anti-runway bombs; single 1,000 kg bomb or GBU-10; or up to three mission pods."
In comparison to the JF-17, Pakistan has had more success in exporting its MFI-17 Super Mushshak military training aircraft, a PAC licence-built variant of the Saab MFI-17 Supporter aircraft, and is close to scoring a major export order, according to IHS Jane's Defense Weekly. Islamabad appears to be in the final stages of concluding a deal to export 52 Super Mushshak trainer aircraft to Turkey. Previous customers of the MFI-17 have included Iran, Iraq, Oman, and Saudi Arabia.