China's Terrorist Problem Goes Global
An attack in Kyrgyzstan drives home what Beijing has long feared: Uyghur militants are integrating into global networks.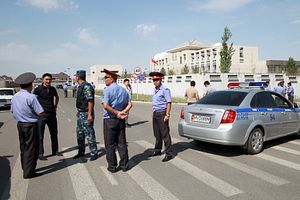 On August 30, the Chinese embassy on the outskirts of the Kyrgyz capital, Bishkek, was attacked by a suicide bomber who drove a Mitsubishi Delica van packed with explosives into its security gates, injuring two Kyrgyz security guards and three embassy staff.
While no group has claimed responsibility for the attack, Kyrgyzstan's Deputy Prime Minister Jenish Razakov told journalists immediately after the attack that it was the work of "terrorists." Beijing meanwhile has been quick to follow suit and the Ministry of Foreign Affairs has "demanded" that the Kyrgyz government "take immediate and necessary measures to ensure the safety of Chinese people and institutions."
Various Chinese observers have gone further to assert that the attack is the work of Uyghur terrorists. Li Wei, an anti-terrorism expert at the China Institutes of Contemporary International ­Relations, for example, has claimed that the Turkestan Islamic Party (TIP) most likely carried out the attack.
On September 6, Kyrgyz news agency AKIpress reported that the Kyrgyz State National Security Committee has disclosed the names of people suspected of carrying out the attack on the embassy. According to this report, the suicide bomber was a Uyghur and "a member of the Eastern Turkestan Islamic Movement" (ETIM) who "had a passport registered in the name of a Tajik citizen." An ethnic Uzbek, Izzotillo Mashrapovich Sattybayev, who "underwent training in Syria in carrying out acts of terrorism and sabotage," is also suspected to have assisted the suicide bomber in making the explosive device and procuring the vehicle used in the attack. Finally, the report notes that "'several hours before the terrorist attack on August 30" Sattybayev left the country "on an Osh-Istanbul flight" using a Tajik passport.
The question remains, however, as to this attack's ultimate significance.
One view simply sees this attack as an inevitable by-product of China's growing presence in regions long beset by terrorism. An editorial in the Global Times following the embassy attack, for instance, noted simply that as "China has become a major power" it is increasingly likely that "China will get dragged into international disputes" and become a terrorist target.
Yet this ignores the role that China's own policies – both within Xinjiang and in Central Asia and the Middle East – have played in stimulating the threat of terrorism to China's interests.
Within Xinjiang, a region historically dominated by Turkic-Muslim ethnic groups such as the Uyghur, China has been pursuing a muscular strategy of integration since the establishment of the People's Republic in 1949. This strategy has been defined by tight political, social and cultural control (including via Han Chinese domination of the regional government, regulation of religion, and outright suppression of dissent), encouragement of Han Chinese settlement, and state-led economic modernization.
Although this approach has yielded significant economic development in the region, it has also engendered sometimes violent opposition from the Uyghur population, who bridle against demographic dilution, political marginalization, and continued state interference in the practice of religion. Such factors have also resulted in large numbers of Uyghurs seeking to migrate from China in recent years, either legally or illegally.
Externally, the attacks of 9/11 and the George W. Bush administration's "global war on terror" enabled Beijing to link incidents of Uyghur opposition and anti-state violence to the malign influence of Islamist terrorism practiced by al-Qaeda. This tactic was successful with the Bush administration recognizing the "East Turkestan Islamic Movement" (ETIM) – a group Beijing claimed was "supported and funded" by Osama bin Laden – as an "international terrorist organization" in September 2002.
For the rest of the 2000s, Beijing repeated this charge of strong connections between incidents in Xinjiang and ETIM and its successor organization, the TIP. While the claim of al-Qaeda's direct support of ETIM has been widely disputed, and there is little evidence that the group successfully mounted an attack in Xinjiang, it did have a presence in Afghanistan from 1998 until the post-9/11 U.S. invasion.
Subsequently, the group shifted its base operations into Waziristan, Pakistan, where its leader, Hasan Mahsum, was killed during a Pakistani military operation in October 2003. TIP emerged as a successor organization in 2006 and remained based in Waziristan, allied with the Pakistani Taliban, al-Qaeda and the Islamic Movement of Uzbekistan (IMU).
Beijing's assertion of TIP's connection to attacks and incidents in China has grown as a result of a number of high-profile attacks since 2012, such as the October 28, 2013 SUV attack in Tiananmen Square, the March 1, 2014 Kunming railway station attack and the April 30, 2014 suicide bombing at Urumqi central railway station. These incidents suggested an expanding geographic reach and level of sophistication not previously attributed to TIP and may reflect the group's closer alignment with al-Qaeda.
In parallel with these developments, the core external locus of Uyghur militancy has shifted from Af-Pak to the wider Middle East, particularly with the outbreak of the Syrian crisis and the rise of Islamic State. Since 2012, Chinese and Syrian government officials have maintained that "East Turkestan terrorist organizations" have developed a presence in Syria.
These claims have been borne out by mounting evidence of TIP's battlefield presence in Latakia and Idlib. Significantly, and reflective of the group's historical connection to the Af-Pak theater, TIP is aligned with al-Qaeda's affiliate, Jabhat al Nursa. TIP's loyalty to al-Qaeda was reaffirmed in May this year with the release of an audio message from the group's leader Abdul Haq, in which he denounced Islamic State's caliphate as "illegitimate."
There are a number of troubling implications flowing from these developments for Beijing.
First, the apparent linkage of Uyghur militants not only to long-standing sanctuaries along the Af-Pak frontier but also to the jihadist "witches' brew" of Syria, points to an unprecedented trans-nationalization of Uyghur terrorism. While the exact number of Uyghurs involved in fighting in Syria remains difficult to determine, it appears to have grown significantly since 2012.  The danger for Beijing is that some may either return to Xinjiang or seek to influence or recruit others. Also of note here is the AKIpress report's narrative describing the attack as the work of an ethnic Uyghur and Uzbek with direct connections to the conflict in Syria. This raises the probability that TIP was involved given the strong linkages between the group and al-Qaeda and the IMU in the past.
Second, the increasing involvement of TIP in Syria has prompted Beijing to begin to modify what has been a "hands off" approach to the Syrian crisis. Most notably, on August 14, People's Liberation Army (Navy) (PLAN) Rear Admiral Guan Youfei (director of the Office for International Military Cooperation of China's Central Military Commission) visited Damascus where he attended meetings with senior Syrian and Russian military officials, including Syrian Minister of Defense Fahad Jassim al-Freij, to discuss increased military cooperation, including intelligence sharing.
Admiral Guan's visit, with its focus on improving "military-to-military" cooperation, suggests that Beijing may now have arrived at the conclusion that supporting Bashar al-Assad is the most viable option to effectively combat the growth of TIP, with Zhao Weiming, professor of Middle East Studies at Shanghai International Studies University, noting that this "could be the first step for further cooperation."
Third, the well-documented cases of significant Uyghur migration via people smuggling networks through Southeast Asia since 2009 have already created problems for Beijing not only with transit countries such as Malaysia, Indonesia, and Thailand but also Turkey – often the ultimate destination for Uyghur emigres.
Finally, Turkey's long-standing sympathy for the cause of Uyghur separatism has combined with the geopolitical dynamics of the Syrian crisis to produce a major point of contention between Ankara and Beijing. Since 2013, there have been increasing reports in Middle Eastern media claiming Ankara's complicity in the recruitment of some of the Uyghurs fleeing Xinjiang into jihadist groups fighting the Assad regime in Syria.
These claims have been echoed in China, with Chinese media reporting on cases of prospective Uyghur recruits being supplied with forged Turkish documents and directed to seek the assistance of Turkish embassies if apprehended in Southeast Asia. Chinese authorities have also reported uncovering a people smuggling ring in January 2015 involving Turkish citizens and a number of Uyghurs. According to Global Times, the ring was orchestrated by "a Uyghur living in Turkey and a "Turkish suspect" who "charged 60,000 yuan ($9,680) per person" and also procured Turkish passports for their prospective clients.
Taken together, these dynamics suggest that the attack on the Chinese embassy in Bishkek is but the tip of the iceberg for Beijing, belying the claim that it is simply being "dragged into international disputes" as its global footprint grows.
Dr. Michael Clarke is Associate Professor at the National Security College, Australian National University and is the author of Xinjiang and China's Rise in Central Asia – A History (Routledge 2011).