Islam Karimov Is Dead, Long Live Islam Karimov
Signs point to a funeral tomorrow. Who will show up?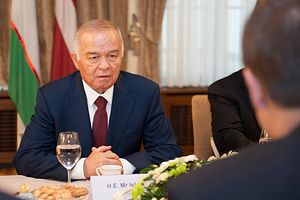 CHOLPON-ATA — Looks like the question of Schrodinger's Dictator has been solved by the Turks. Turkey's Prime Minister Binali Yildirim expressed his condolences over the death of Uzbekistan's long-time president live on Turkish state TV.
"President of Uzbekistan Islam Karimov has died. May Allah rest his soul. On behalf of the Republic of Turkey to express deep condolences to the people of Uzbekistan," he said.
And with that, the proverbial cat was out of the bag. For days, Central Asia watchers have been asking each other if Karimov was dead yet. The Uzbeks have been dodgy about acknowledging Karimov's death, but confirmations have been slowly trickling in.
On September 1–Uzbekistan's 25th Independence day–Russian President Vladimir Putin congratulated Uzbekistan and Karimov. Meanwhile, regional news sources began reporting what looked like funeral preparations in Karimov's hometown of Samarkand–cleaning of the famous Registan and the closing of the Samarkand airport on September 3 to all but specially authorized flights.
On Friday, Reuters said three diplomatic sources had confirmed Karimov's death at 78 after suffering a stroke last weekend. The funeral is expected to be held Saturday and a Kazakh source told Reuters that the Kazakh President Nursultan Nazarbayev will cut short a trip to China to attend. Putin is presently in Vladivostok, but has also been reported to be flying back to attend. Meanwhile, in Kyrgyzstan one parliamentary leader–Ata Meken's head Omurbek Tekebayev–urged President Almazbek Atambayev to attend the funeral.
Tekebayev said missing the funeral would be a "diplomatic mistake."
Tensions between Kyrgyzstan and Uzbekistan have been at a heightened level for a few weeks, touched off by an Uzbek helicopter landing several troops on a disputed border mountain on August 22. Then four Kyrgyz were detained by Uzbek authorities in the disputed area. A flare-up earlier this year over the same mountain drew vitriol from the Kyrgyz president. This time he was headed off by news of Karimov's sudden illness and possible death (and Atambayev may have been saving his choice words for Roza Otunbayeva).
But as Eurasianet reported today, the situation on the mountain persists, with Uzbekistan landing more helicopters.
It remains unclear who will be Uzbekistan's next president, and that uncertainty cannot rest easy on the country's neighbors–least of all Kyrgyzstan. Per the Uzbek Constitution (Which Karimov never followed anyway) the chairman of the upper house of parliament, Nigmatilla Yuldoshev, should take over in the interim and orchestrate elections within three months. Most analysts dismiss Yuldoshev as a serious option, floating Prime Minister Shavkat Mirziyoyev and his deputy, Finance Minister Rustam Azimov instead.
For Kyrgyzstan, the next Uzbek president could either choose to stick to the status quo between the countries, go a step further and push the border issue, or play nice, setting a new tone between the countries. Most analysts seem to expect more of the same from Uzbekistan, a transition similar to that which ushered Gurbanguly Berdimuhamadov from obscurity into the Turkmen presidency in 2007.
For now, the Kyrgyz government is dispatching Prime Minister Sooronbai Jeenbekov to Uzbekistan, but Tekebayev and others think that isn't enough. Atambayev is still expected to open the 2nd World Nomad Games tomorrow evening. The Games have been a massive focus for the Kyrgyz government, to the point the Kyrgyz seem a little sick of hearing about them. Nonetheless, thousands are expected to descend on Cholpon-ata to attend.
The timing is terrible, to say the least. But Atambayev has a chance to at least attempt to put Uzbek-Kyrgyz relations on a better keel, if not an even one, by taking a flight to Samarkand and skipping the first night of the Nomad Games in Cholpon-Ata.