Let Taiwan Join the Global Aviation Body
"To ensure the highest standards of air safety worldwide, ICAO cannot afford to exclude Taiwan."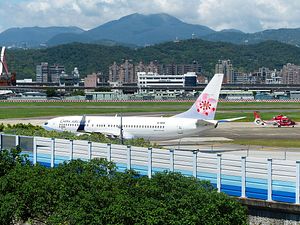 The International Civil Aviation Organization (ICAO) is scheduled to hold its triennial meeting September 27-October 7 in Montreal. Due to its status, Taiwan is not a recognized member of ICAO. However, Taiwan has been soliciting support from the United States for its participation as an observer in the 39th Session of the ICAO Assembly. The United States must come forward as it did in 2013 to support Taiwan's effort to participate, no matter how Beijing reacts.
The ICAO is the body that regulates and supervises civilian aviation around the world. The ICAO endorsed a global strategy for strengthening aviation security worldwide post 9/11, stating that the success of the initiative lies in a uniform approach to establishing consistent standards. Deficiencies in any part of the system are a threat to the whole, with the ICAO position that these must be addressed through bolstering international cooperation in aviation security and harmonizing implementation of security measures.
Taiwan's civil aviation authorities have full responsibility for administering the Taipei Flight Information Region (FIR) — one of the busiest air transport hubs in Asia. But Taiwan is forced to obtain updated standards and other ICAO information indirectly through other nations, nongovernmental organizations, neighboring FIRs, and private companies, a complicated and needlessly time-consuming process. This situation impacts Taiwan's ability to smoothly implement the latest Standards and Recommended Practices (SARP). It also means that the country must spend more time, money and effort than ICAO members on improving aviation safety and security.
Aviation safety and security transcends national borders. To ensure the highest standards of air safety worldwide, ICAO cannot afford to exclude Taiwan from participation in its activities. It is very important and necessary that Taiwan participates in relevant organizations, especially since the Taipei FIR covers 180,000 square nautical miles and borders four other FIRs (Fukuoka, Manila, Hong Kong, and Shanghai). It is located off mainland China's eastern seaboard and between Japan and the Philippines. In 2015, the Taipei FIR provided services to nearly 1.53 million controlled flights carrying 58 million travelers entering, leaving, or transiting through Taiwan.
Every week, between Taiwan and the United States, there are 541 direct flights. In 2009, 365,000 Americans traveled to Taiwan for business and leisure, and in 2008 Taipei International Airport was ranked the world's 15th largest airport by cargo volume. Aviation safety in Taiwan is in the best interests of both U.S. economic and civil activity. Furthermore, on a weekly basis, there are roughly 150 scheduled flights to and from Europe; 660 to and from Japan; and over 1,200 across the Taiwan Strait. Not being a member of ICAO, Taiwan sometimes doesn't have access to even its technical information.
As a key international transport hub, Taiwanese airspace is critically important to the global community. Allowing Taiwan to participate in ICAO will ensure that it has access to the technical information it needs to continue to conform its civil aviation practices to evolving international safety standards. This will help guarantee the safety of travelers and airliners from the United States as well as from other countries around the globe.
According to the resolutions adopted by the 38th ICAO Assembly, important and closely related issues to be discussed at the 39th Assembly—including safety, navigation services, security, environmental protection, and economic matters—require close cooperation among countries. This further demonstrates the need for Taiwan to attend the Assembly on a regular basis, enabling it to keep up-to-date with important matters and assist the Assembly in ensuring the safe, secure, and sustainable development of international civil aviation.
Taiwan is too big to ignore and the time has come for allowing the government of Taiwan observership, which will ensure that it has access to the technical information it needs to conform its civil aviation practices to evolving international safety standards. Closing the Taipei FIR hole in ICAO's global information network will benefit travel industries and economic development, which is in ICAO's basic interests.
Since Taiwan's participation in international organizations hinges on China's amity, it is extremely important that the United States show more convincing support for Taiwan's participation in ICAO. After all, Taiwan's attempts have been moderate and reasonable, but China does not have much incentive to budge if there is not a certain level of U.S. pressure. Moreover, the United States remains Taiwan's best friend and its actions set the benchmark for the level of support of others. A supportive U.S. stance has the potential to push China to emulate U.S. policy and has a wide sphere of influence in Beijing.
Taiwan's international status has been in limbo for decades. I strongly urge that U.S. to come forward as it did in 2013 to support Taiwan's effort to participate at global aviation body, no matter how Beijing reacts.
Kent Wang is a Research Fellow at the Institute for Taiwan-America Studies. He publishes frequently on the Taiwan issue in Sino-American relations, as well as other topics on East Asian international politics and regional security.