Everyone Wins When ICAO Includes Taiwan
Excluding Taiwan from ICAO is a threat to global aviation safety.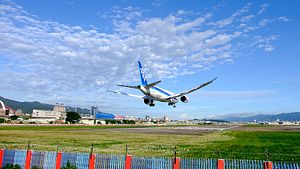 The International Civil Aviation Organization (ICAO), a United Nations specialized agency created in 1944, is holding its 39th Assembly in Montreal from September 27 to October 7. Unfortunately, despite being a significant actor in global aviation and responsible for air safety in a key area of East Asia, Taiwan was not invited to participate in the triennial meeting due to political considerations. As Taiwan was present at the 2013 Assembly, the ICAO's decision not to include Taiwan this year is a step backward, and thus represents a serious loss to international air traffic safety.
The ICAO Assembly formulates regulations and standards that are to be adopted by countries all over the world in order to create a "safe, efficient, secure, economically sustainable and environmentally responsible civil aviation sector." Taiwan seeks to participate in the ICAO Assembly because it is an indispensable part of global aviation in charge of large number of aircraft in the Taipei Flight Information Region (Taipei FIR). Taiwan's Civil Aeronautics Administration (CAA) is the sole managing authority for the Taipei FIR, which covers 180,000 square nautical miles, provided over 1.53 million instances of air traffic control services and handled 58 million incoming and outgoing passengers in 2015. It is important for the CAA to keep track of aviation regulation changes to ensure the safety of domestic and international travelers.
It is ironic that ICAO in recent years launched a campaign called "No Country Left Behind." Considering Taipei FIR's crucial role in East Asia's air travel picture, excluding Taiwan from the Assembly hurts not only Taiwan but also the rest of the world. In order to ensure safe operations within the Taipei FIR, Taiwan's CAA still complies with all of the ICAO standards and regulations. However, to obtain the latest information, Taiwan is forced to rely on indirect channels since it has been barred from the ICAO for the past 40 years. Without direct and timely access to the information, delays are possible in incorporating new standards and regulations into its air traffic control operations. These delays could impact safety and efficiency in the Taipei FIR and harm global aviation.
International air safety extends beyond national borders. Air traffic safety is a fundamental human right. It should not be restricted by political factors or by any other irrelevant preconditions. It is unwise that in a year of terrorist attacks on airports from Brussels to Istanbul, Taiwan is being excluded from the Assembly for political reasons. The ICAO Council's unfortunate decision has contradicted its goal of a "seamless sky," leaving a loophole hard to close at a crucial time in which unified cooperation is urgently needed to safeguard the air travel environment from crimes and threats.
As a major East Asian aviation player and an economic and technology powerhouse, Taiwan has much to offer to ICAO. Only through its direct participation in ICAO's Assembly and related meetings can Taiwan acquire the necessary insights into the organization's thinking, take the necessary actions in a timely manner, and contribute to international air safety and the continued development of the industry. Taiwan will forge ahead its efforts to engage fully and professionally in ICAO's proceedings, and work hard with like-minded allies and stakeholders to gain support for its meaningful participation so that everybody is a winner!
Stanley Kao is Representative at the Taipei Economic and Cultural Representative Office in the United States.