More Women Face North Korean Prison Camp: Report
North Korea expanded one of its notorious prison camps to make room for women, a US NGO reports.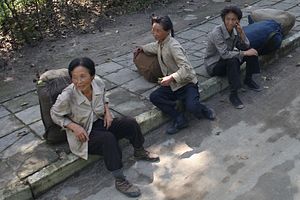 North Korea expanded one of its infamous prison camps to accommodate women who've attempted to flee the regime, a report by a U.S.-based NGO has found.
The reclusive nation added a women's section to a reeducation through labor camp in the country's far north in 2009, according to an analysis of satellite imagery published Tuesday by the Committee for Human Rights in North Korea (HRNK).
The images show the addition of significant structures to Kyo-hwa-so No. 12, aka Camp 12, two years before current leader Kim Jong-un came to power, corroborating prior defector testimony that the prison had been opened to women.
Based on the testimony of former detainees, the facility is believed to have increased its prisoner population almost four-fold in a decade, to 5,000 in 2010, the last full year of former leader Kim Jong-il's rule. About a fifth of the inmates are female, according to HRNK's report, most of them refugees repatriated from China.
Greg Scarlatoiu, executive director of HRNK, said the findings showed repression by the regime was disproportionately affecting women.
"Once they get married, North Korean women no longer have to spend as much time working in public mobilization campaigns, and they have more time to dedicate to the home front," Scarlatoiu told The Diplomat. "So, it is primarily women who get arrested and imprisoned for having crossed the border without government approval, or for perceived wrongdoing at the markets."
Scarlatoiu said the expansion of the prison also highlighted the precarious situation for defectors, whose number has plummeted amid ramped up border security under the younger Kim's rule.
"Leaving the country without government approval is considered a criminal act in North Korea," he said. "Thus, anyone who has left the country without government approval clearly faces a well-founded fear of persecution. The imprisonment of more women returned from China at Camp 12 further reinforces that point."
Unlike the more notorious penal labor colonies called kwan-li-so, one of which was the setting of the best-seller "Escape From Camp 14," kyo-hwa-so house regular criminals as well as political prisoners. Both forms of prison camp force detainees to carry out hard labor and both are thought to have similarly dire conditions.
As a former inmate at Kyo-hwa-so No. 12, Lee Jun-ha has described witnessing dozens of deaths each month due to malnutrition, work accidents and torture.
"Back then an average of 30 to 40 corpses a month were cremated in a huge charcoal burner on top of a mountain called 'Mt. Bulmang,'" Lee wrote in an account published by the Daily NK in 2009. "You know, they say that even a fox, when his time is up, goes back to his own cave and dies there. But not in North Korea. Dead bodies were not sent home."
North Korea's labor camps are estimated to hold upwards of 120,000 people, and are a key reason for a 2014 UN Commission of Inquiry report's finding that the country is witness to human rights abuses "without parallel in the contemporary world."