Obama Cancels Scheduled Meeting With Philippine President Rodrigo Duterte
The meeting would have been the first between the two leaders since Duterte's inauguration.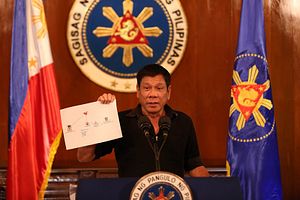 On Monday, U.S. President Barack Obama cancelled a meeting with his Philippines counterpart Rodrigo Duterte after Duterte insulted Obama, calling him a "son of a bitch" in Tagalog at a press conference. The meeting would have been the first between the two leaders. Duterte was inaugurated as president in the Philipppines at the end of June 2016 and has been known for his tendency to freely use insults against foreign leaders, including Pope Francis. Instead of meeting with Duterte, the leader of an important U.S. treaty ally in Southeast Asia, Obama will meet with South Korean President Park Geun-hye, White house National Security Council spokesperson Ned Price clarified.
Duterte's comments came ahead of his trip to Laos for a series of summits led by the ten-member Association of Southeast Asian Nations (ASEAN). Unprovoked by the United States and in answer to a question from a reporter, Duterte, hewing to his typically plain-spoken style, said that he would not tolerate any criticism or questioning by the United States of his controversial tolerance and even encouragement of extrajudicial killings in the Philippines. "I am a president of a sovereign state and we have long ceased to be a colony. I do not have any master except the Filipino people, nobody but nobody. You must be respectful. Do not just throw questions. Putang ina (Son of a bitch) I will swear at you in that forum," Duterte remarked. "Who is he to confront me?" Duterte added.
According to the Associated Press, since Duterte came to power, more than 2,000 drug dealers and users have been killed in the Philippines, drawing widespread criticism from human rights groups. Duterte, as the mayor of Davao City before he became president, had been criticized for encouraging vigilante justice. His government officially denies condoning extrajudicial killings. Moreover, earlier in August, the U.S. State Department expressed concerns over extrajudicial killings in the Philippines and strongly condemned homophobic remarks by Duterte toward the U.S. envoy in Manila. Duterte had additionally described U.S. Secretary of State John Kerry as "crazy" in August.
Obama's decision to cancel his scheduled meeting with Duterte is a significant development on what is likely the U.S. president's final trip to Asia before he leaves office. The White House's decision to cancel the meeting sends a strong signal at the highest levels of the bilateral relationship that Duterte's diplomatic style is untenable in the context of keeping the U.S.-Philippines relationship in good stead at a time of growing regional challenges. The meeting between the two leaders would have provided an important forum for exchanging views on a range of issues, including military cooperation under the recently activated Enhanced Defense Cooperation Act (EDCA), which was finalized and signed in 2014, and the aftermath of Manila's disputes with China in the South China Sea after the July 12 decision by a tribunal based at the Permanent Court of Arbitration.
Obama, asked by reporters in Hangzhou, China, on the sidelines of the G20 meeting, said that he would have met with Duterte if the meeting would result in productive dialogue. "I always want to make sure that if I'm having a meeting that it's actually productive, and that we're getting something done," Obama told reporters. "We recognize the significant burden that the drug trade plays not just in the Philippines but around the world, and fighting narco-trafficking is tough. But we will always assert the need to have due process and to engage in that fight against drugs in a way that's consistent with basic international norms. And so, undoubtedly, if and when we have a meeting this is something that is going to be brought up," Obama added.
The U.S. president arrived in Vientiane, Laos, late Monday evening for a three-day visit where he is expected to emphasize the United States' economic and security commitments to Southeast Asia.