Russia's Deadliest Sub Test Fires 2 Nuclear-Capable Ballistic Missiles
The missile test took place in the White Sea on September 27.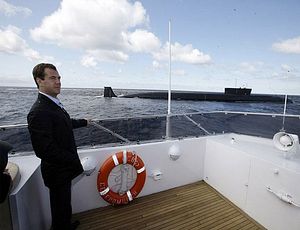 The nuclear-powered ballistic missile submarine (SSBN) Yuri Dolgoruky test fired two Bulava (RSM-56) intercontinental ballistic missiles (ICBM) from a submerged position in the White Sea off the northwest coast of Russia on September 27, the Russian Ministry of Defense announced.
"Today, on September 27, the Yuri Dolgoruky strategic nuclear-powered ballistic missile submarine conducted experimental launches of two Bulava intercontinental ballistic missiles from the White Sea to the Kura firing range on the Kamchatka Peninsula," the ministry said in a statement, according to TASS news agency.
"Both missiles were fired from the submarine's silos in a routine regime. The first missile's warhead completed the entire cycle of the flight program and successfully hit the designated targets at the firing range. The second missile self-liquidated after the first stage of the flight program," the statement reads.
The last test of the Bulava submarine-launched ICBM took place in November 2015, when the SSBN Vladimir Monomakh successfully test fired two Bulava ICBMs from a submerged position in the White Sea. The two ICBMs reportedly hit targets in the Kamchatka region in Russia's Far East (See: "Confirmed: 'Russia's Deadliest Sub' Test Fires 2 Ballistic Missiles").
Since 2004, the missile has been tested 25 times, with varying degrees of success. The last five tests, conducted between September 2014 and September 2016, were reportedly all successful. The Bulava is the cornerstone of Russia's sea-based nuclear triad. As I noted elsewhere:
Each Borei-class SSBN can carry from 12 to 16 Bulava (RSM-56) intercontinental ballistic missiles (ICBM)–a sea-based variant of the Topol-M SS-27–armed with 6-10 warheads per missile. Consequently, one submarine can carry between 72 to 160 hypersonic, independently maneuverable warheads, yielding 100-150 kilotons apiece. The Bulava missile purportedly has a range of over 8,300 kilometers (5,157 miles) and is specifically designed to evade Western ballistic missile defense shields. The new ICBM is intended to be the cornerstone of the sea-based component of Russia's nuclear triad.
Both the Yuri Dolgoruky and Vladimir Monomakh are Project 955 Borei-class ("North Wind") aka Dolgoruky-class SSBNs, the first new class of SSBNs since the end of the Soviet Union. The new subs were designed by Rubin Marine Equipment Design Bureau and assembled by Northern Machine Building Enterprise at the Sevmash shipyard, located in Severodvinsk, a port city on Russia's White Sea.
The Borei-class was specifically designed to replace Project 941 Typhoon-class and Project 667 BDRM Delta IV-class subs. The Russian Navy expects to field a total of eight Borei-class SSBNs over the next two decades. The Yuri Dolgoruky, commissioned in 2014, is the lead ship of the class and currently serves in the Russian Navy's Northern Fleet. The Vladimir Monomakh joined Russia's Pacific Fleet this month.